[?]
Not a member? Sign-up now, it's free!
Login
[?]
These are links to some of the major sections in the mixtape collective.
Lists: Browse various lists that are generated by the loads of data we have collected.
Contests: Check out the latest contests, see previous winners, and find out how you can be a part
Music: Check out our ever-growing database of musical knowledge! Use it to find any artist, album, or track that has been entered since the birth of the site and rate and find detailed usage statistics.
Main
[?]
Tired of looking at the same old pages? Try checking out a random one, you never know what you might find...
Random!
The Dwight K. Schrute Mega Mix of POWER!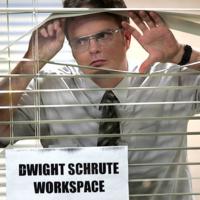 The Dwight K. Schrute Mega Mix of POWER!
Created by:
bootylicious
Tracks:
15
Length:
00:56:15
Keywords
1. Dwight K. Schrute
2. PUMP YOU UP
3. Motivation
Created on
4/28/07 09:48pm
Level
5
Points
2276
Total visitors
60
Unique visitors
34
description:
Anyone who has seen much of The Office (the US version), knows that Dwight K. Schrute often uses music to motivate himself before a sales call or performance review. This mix, inspired by Mr. Schrute, is a mix of power songs that I imagine Dwight would probably listen to in order to pump himself up... especially a few towards the end.. because you KNOW Dwight listens to Dragonforce.. I mean, seriously, can you imagine Dwight NOT liking Dragonforce? Impossible, I tell you.
tracklist
1
Lightning Bolt : Hello Morning
The intro is entirely essential to the flow and success of the mixtape.. starts it off slow and quiet.. prepar [...]

SHOW MORE

Track 1 from Wonderful Rainbow
Length: 00:00:55
Year: 2003
Track Description:
The intro is entirely essential to the flow and success of the mixtape.. starts it off slow and quiet.. preparing to...

SHOW LESS

2
Lightning Bolt : Assassins
SET YOU OFF!

SHOW MORE

Track 2 from Wonderful Rainbow
Length: 00:03:43
Year: 2003
Track Description:
SET YOU OFF!

SHOW LESS

3
Der Tante Renate : 666 Deluxe
An excellent track from this german band.. i'm not quite sure if Dwight would listen to them, but if he did, h [...]

SHOW MORE

Track 3 from Schecter
Length: 00:03:36
Year: 2005
Track Description:
An excellent track from this german band.. i'm not quite sure if Dwight would listen to them, but if he did, he'd be pumped the fuck up.

SHOW LESS

4
Please Inform the Captain This is a Hijack : Ice Monkey
I love this song for some reason.. its just the way he says ICE MONKEYS I guess.

SHOW MORE

Track 5 from Please Inform the Captain This is a Hijack
Length: 00:02:49
Year: 0000
Track Description:
I love this song for some reason.. its just the way he says ICE MONKEYS I guess.

SHOW LESS

5
Mogwai : Glasgow Mega-Snake
An excellent track from Mogwai.. I think it's safe to assume that Dwight would get a kick out of Mega-Snakes.. [...]

SHOW MORE

Track 2 from Mr. Beast
Length: 00:03:35
Year: 2006
Track Description:
An excellent track from Mogwai.. I think it's safe to assume that Dwight would get a kick out of Mega-Snakes..

SHOW LESS

6
Russian Circles : Death Rides a Horse
A nice instrumental track that Dwight would surely listen to..

SHOW MORE

Track 3 from Enter
Length: 00:05:46
Year: 2006
Track Description:
A nice instrumental track that Dwight would surely listen to..

SHOW LESS

7
HORSE the band : The Greatest Weight
The keyboards/synths/whatever in this song are effin killer.. awesome song.. builds you up, pumps you up.. let [...]

SHOW MORE

Track 5 from Beautiful Songs by Men
Length: 00:04:35
Year: 2002
Track Description:
The keyboards/synths/whatever in this song are effin killer.. awesome song.. builds you up, pumps you up.. lets you rest for just one second and ... SCREAEAAAAAEAEEAAA!

SHOW LESS

8
Circle Jerks : When the Shit Hits the Fan
So maybe Dwight wouldnt listen to circle jerks.. but he would be creepy enough to participate in one. This son [...]

SHOW MORE

Track 4 from Golden Shower of Hits
Length: 00:02:34
Year: 1983
Track Description:
So maybe Dwight wouldnt listen to circle jerks.. but he would be creepy enough to participate in one. This song gets me psyched up for some reason.. maybe its the way the vocalist keeps yelling WHEN THE SHIT HITS THE FAN!!!

SHOW LESS

9
Wrangler Brutes : Slam Dunk
SLAAAAAAAAAAM DUNK! At 53 seconds, theres not much else to say here. Build up and release.

SHOW MORE

Track 13 from Zulu
Length: 00:00:53
Year: 0000
Track Description:
SLAAAAAAAAAAM DUNK! At 53 seconds, theres not much else to say here. Build up and release.

SHOW LESS

10
Metallica : Motorbreath
You know Dwight listens to Metallica.. and assuming he does, this has got to be one of his favorite PUMP UP so [...]

SHOW MORE

Track 3 from Kill 'em All
Length: 00:03:04
Year: 1983
Track Description:
You know Dwight listens to Metallica.. and assuming he does, this has got to be one of his favorite PUMP UP songs.

SHOW LESS

11
In Flames : Food For The Gods
I imagine that if Dwight knew about In Flames, he would probably listen to them. And he would probably enjoy r [...]

SHOW MORE

Track 2 from Whoracle
Length: 00:04:21
Year: 1997
Track Description:
I imagine that if Dwight knew about In Flames, he would probably listen to them. And he would probably enjoy rocking out to this song, which moves us into the section where Dwight will shine because..

SHOW LESS

12
Dragonforce : Storming the Burning Fields
Don't even try to tell me Dwight Schrute doesn't listen to Dragonforce... Dragonforce flows through the man's [...]

SHOW MORE

Track 3 from Inhuman Rampage
Length: 00:05:19
Year: 2005
Track Description:
Don't even try to tell me Dwight Schrute doesn't listen to Dragonforce... Dragonforce flows through the man's veins!

SHOW LESS

13
Rhapsody : Steelgods of the Last Apocalypse
I swear, he eats this shit up like a fat kid eatting cake... (and i mean shit in an entirely good way in this [...]

SHOW MORE

Track 8 from Power of the Dragonflame
Length: 00:05:48
Year: 2002
Track Description:
I swear, he eats this shit up like a fat kid eatting cake... (and i mean shit in an entirely good way in this sentence).

SHOW LESS

14
The Lord Weird Slough Feg : Addendum Galactus
Oh, ok ONE more EPIC song to rock your socks off before heading into the big meeting.. I think Dwight would ch [...]

SHOW MORE

Track 12 from Traveller
Length: 00:04:34
Year: 2003
Track Description:
Oh, ok ONE more EPIC song to rock your socks off before heading into the big meeting.. I think Dwight would choose this song by the Lord Weird Slough Feg.. I think he would..

SHOW LESS

15
Motley Crue : Wild Side
It wouldn't be a Dwight K. Schrute motivational pump you up mixtape without one of Dwight's favorite motivatio [...]

SHOW MORE

Track 1 from Girls, Girls, Girls
Length: 00:04:43
Year: 1987
Track Description:
It wouldn't be a Dwight K. Schrute motivational pump you up mixtape without one of Dwight's favorite motivational pump you up songs..

SHOW LESS
Tag Board
You must log in to leave a tag
Stuff
Quick Jump
bootylicious's other mixes
Related mixes
recent visitors
show all