[?]
Not a member? Sign-up now, it's free!
Login
[?]
These are links to some of the major sections in the mixtape collective.
Lists: Browse various lists that are generated by the loads of data we have collected.
Contests: Check out the latest contests, see previous winners, and find out how you can be a part
Music: Check out our ever-growing database of musical knowledge! Use it to find any artist, album, or track that has been entered since the birth of the site and rate and find detailed usage statistics.
Main
[?]
Tired of looking at the same old pages? Try checking out a random one, you never know what you might find...
Random!
some people should never dance, yet we still do...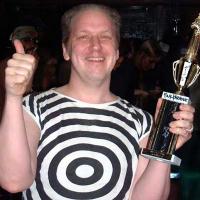 some people should never dance, yet we still do...
Created by:
youandme
Tracks:
18
Length:
01:08:36
Keywords
1. Mix Contest 11
2. Mix Contest 11
3. Mix Contest 11
Created on
4/18/07 03:25pm
Level
6
Points
2877
Total visitors
107
Unique visitors
56
This mix was ranked #6 out of 20 entries for this contest
description:
i am one of them. my friends and i have planned several dance parties which always end up poorly due to the fact that most of us need to be absolutely belligerent before we can even fathom wanting to shake our asses. this mix pretty much sums up how we do. nothing special, i'm hungover and my creative juices just aren't flowing.
tracklist
1
The Spinners : It's a Shame
nothing like some motown to get our white butts moving...

SHOW MORE

Track 1 from 2nd Time Around
Length: 00:03:16
Year: 1970
Track Description:
nothing like some motown to get our white butts moving...

SHOW LESS

2
The Temptations : Get Ready
hip-swinging and shoulder-moving ensues... get ready.

SHOW MORE

Track 4 from Gettin' Ready
Length: 00:02:40
Year: 1966
Track Description:
hip-swinging and shoulder-moving ensues... get ready.

SHOW LESS

3
Subtle : The Mercury Craze
pull out the big guns once a few shots have been taken and inhibitions have been drowned out.

SHOW MORE

Track 7 from For Hero: For Fool
Length: 00:04:40
Year: 2006
Track Description:
pull out the big guns once a few shots have been taken and inhibitions have been drowned out.

SHOW LESS

4
Daft Punk : Da Funk
i know, i know... this song on a dance mix. not very original. but damn it, who doesn't like to dance to it? [...]

SHOW MORE

Track 4 from Homework
Length: 00:05:28
Year: 1997
Track Description:
i know, i know... this song on a dance mix. not very original. but damn it, who doesn't like to dance to it?

SHOW LESS

5
Girl Talk : Bounce That
our house is shaking. the neighbors are probably getting angry. this track is so hilarious, i fucking love it. [...]

SHOW MORE

Track 12 from Night Ripper
Length: 00:03:23
Year: 2006
Track Description:
our house is shaking. the neighbors are probably getting angry. this track is so hilarious, i fucking love it.

SHOW LESS

6
The Avalanches : Frontier Psychiatry
frustrations occur when transitioning from 'night ripper' tracks... but i thought this one worked.

SHOW MORE

Track 13 from Since I Left You...
Length: 00:04:48
Year: 2001
Track Description:
frustrations occur when transitioning from 'night ripper' tracks... but i thought this one worked.

SHOW LESS

7
RJD2 : 1976
the new rjd2 makes me want to cry; however, this track is sure to get us white folk feeling pretty dang funky. [...]

SHOW MORE

Track 3 from Since We Last Spoke
Length: 00:02:27
Year: 2004
Track Description:
the new rjd2 makes me want to cry; however, this track is sure to get us white folk feeling pretty dang funky.

SHOW LESS

8
Ratatat : Wildcat
the dancing at this point is still probably coherent, although the "rawr!"s spilling out of our drunken mouths [...]

SHOW MORE

Track 4 from Classics
Length: 00:04:20
Year: 2006
Track Description:
the dancing at this point is still probably coherent, although the "rawr!"s spilling out of our drunken mouths probably sound utterly ridiculous.

SHOW LESS

9
Blondie : Atomic
drunken gallops are a given.

SHOW MORE

Track 9 from Eat to the Beat
Length: 00:04:39
Year: 1979
Track Description:
drunken gallops are a given.

SHOW LESS

10
Spoon : I Turn My Camera On
glasses drop and smash on the floor. we'll worry about it in the morning.

SHOW MORE

Track 3 from Gimme Fiction
Length: 00:03:32
Year: 2005
Track Description:
glasses drop and smash on the floor. we'll worry about it in the morning.

SHOW LESS

11
Of Montreal : Rapture Rapes the Muses
don't even get me started on this song.

SHOW MORE

Track 5 from Satanic Panic In the Attic
Length: 00:03:03
Year: 2004
Track Description:
don't even get me started on this song.

SHOW LESS

12
The Rapture : Out of the Races and Onto the Tracks
someone's likely to fall down during the "shake shake shake shake" rant. it's probably me. 'can't hang falls d [...]

SHOW MORE

Track 1 from Out of the Races and Onto the Tracks
Length: 00:04:03
Year: 2001
Track Description:
someone's likely to fall down during the "shake shake shake shake" rant. it's probably me. 'can't hang falls down' strikes again.

SHOW LESS

13
The Flaming Lips : Fight Test
funny we should dance to a song called fight test, because ultimately, if i drink too much whiskey, i will fig [...]

SHOW MORE

Track 1 from Yoshimi Battles the Pink Robots
Length: 00:04:14
Year: 2002
Track Description:
funny we should dance to a song called fight test, because ultimately, if i drink too much whiskey, i will fight someone by the end of the night. it just happens.

SHOW LESS

14
Goldfrapp : U Never Know
all the sluts like this one. drunken people rubbing bodies. time for a cigarette break.

SHOW MORE

Track 4 from Supernature
Length: 00:03:24
Year: 2006
Track Description:
all the sluts like this one. drunken people rubbing bodies. time for a cigarette break.

SHOW LESS

15
Lovage : Book of the Month
too much sex for this crowd - someone's bound to piss someone else off...

SHOW MORE

Track 8 from Music to Make Love to Your Old Lady By
Length: 00:04:28
Year: 2001
Track Description:
too much sex for this crowd - someone's bound to piss someone else off...

SHOW LESS

16
Murder City Devils : Rum to Whiskey
the party reaches the impending out of control level. fights ensue, bottles are broken, fists fly.

SHOW MORE

Track 6 from R.I.P.
Length: 00:03:21
Year: 2003
Track Description:
the party reaches the impending out of control level. fights ensue, bottles are broken, fists fly.

SHOW LESS

17
Botch : Rock Lobster
but since we're a bunch of pussy white kids, we run out of steam fairly quickly...

SHOW MORE

Track 14 from Unifying Themes Redux [Hydrahead]
Length: 00:03:09
Year: 2006
Track Description:
but since we're a bunch of pussy white kids, we run out of steam fairly quickly...

SHOW LESS

18
Ween : Homo Rainbow
and all fall into a pile on the ground. we do love each other, after all. and sorry about your eye... goodnigh [...]

SHOW MORE

Track 14 from Live at Stubb's 7/2000 (disc 2)
Length: 00:03:41
Year: 2003
Track Description:
and all fall into a pile on the ground. we do love each other, after all. and sorry about your eye... goodnight.

SHOW LESS
Tag Board
You must log in to leave a tag
Stuff
Quick Jump
youandme's other mixes
Related mixes
recent visitors
show all