[?]
Not a member? Sign-up now, it's free!
Login
[?]
These are links to some of the major sections in the mixtape collective.
Lists: Browse various lists that are generated by the loads of data we have collected.
Contests: Check out the latest contests, see previous winners, and find out how you can be a part
Music: Check out our ever-growing database of musical knowledge! Use it to find any artist, album, or track that has been entered since the birth of the site and rate and find detailed usage statistics.
Main
[?]
Tired of looking at the same old pages? Try checking out a random one, you never know what you might find...
Random!
A Night on the Town with Steve and Doug Butabi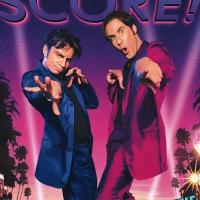 A Night on the Town with Steve and Doug Butabi
Created by:
mogizzle
Tracks:
11
Length:
00:45:59
Keywords
1. Mix Contest 11
2. Mix Contest 11
3. Mix Contest 11
Created on
4/18/07 06:26pm
Level
3
Points
1749
Total visitors
74
Unique visitors
30
This mix was ranked #19 out of 20 entries for this contest
description:
Steve and Doug Butabi's quest to gain entrance to one of the trendiest clubs in the world, The Roxbury, is filled with hilarity and cheesy 90's techno. PARTY ON DUDE!
tracklist
1
Corona : Rhythm of the Night
Doug Butabi: Is that a mirror in your pocket?
Cambi: What?
Doug Butabi: 'Cause I can see myself in y [...]

SHOW MORE

Track 0 from
Length: 00:03:27
Year:
Track Description:
Doug Butabi: Is that a mirror in your pocket?
Cambi: What?
Doug Butabi: 'Cause I can see myself in your pants!

SHOW LESS

2
Robin S : Show Me Love
Steve: From dusk 'til dawn. You, sir, are a party animal!

SHOW MORE

Track 0 from
Length: 00:04:11
Year:
Track Description:
Steve: From dusk 'til dawn. You, sir, are a party animal!

SHOW LESS

3
Technotronic : Pump Up the Jam
Doug Butabi: Are you seeing planes? Is your name Tattoo? Because swear to God, you're living on Fantasy Island [...]

SHOW MORE

Track 0 from
Length: 00:03:32
Year:
Track Description:
Doug Butabi: Are you seeing planes? Is your name Tattoo? Because swear to God, you're living on Fantasy Island.

SHOW LESS

4
La Bouche : Be My Lover
Steve: What's up? What's up? What's up? What's up? What's up?
Doug: Steve, slow down.
Steve: I can't [...]

SHOW MORE

Track 0 from
Length: 00:05:35
Year:
Track Description:
Steve: What's up? What's up? What's up? What's up? What's up?
Doug: Steve, slow down.
Steve: I can't help it man, it's hottie overload.
Doug: Just pace yourself.
Steve: Ok... What's up?... 2, 3, 4. What's up?... 2, 3, 4...

SHOW LESS

5
Amber : This is Your Night
Doug Butabi: So... you guys wanna make out or what?

SHOW MORE

Track 0 from
Length: 00:03:59
Year:
Track Description:
Doug Butabi: So... you guys wanna make out or what?

SHOW LESS

6
No Mercy : Where Do You Go
Doug Butabi: So... you want to dance?
Girl: We're not in the club yet.
Doug Butabi: Right.

SHOW MORE

Track 0 from
Length: 00:03:49
Year:
Track Description:
Doug Butabi: So... you want to dance?
Girl: We're not in the club yet.
Doug Butabi: Right.

SHOW LESS

7
Snap : Rhythm is a Dancer
Steve Butabi: Oh my god, Doug. This is the most amazing place I've ever been.
Richard Grieco: Guys, guys. [...]

SHOW MORE

Track 0 from
Length: 00:03:40
Year:
Track Description:
Steve Butabi: Oh my god, Doug. This is the most amazing place I've ever been.
Richard Grieco: Guys, guys. This is the coat room. The club's in here.

SHOW LESS

8
Darude : Sandstorm (Original Mix)
Doug Butabi: So anyways, I was standing there waiting to use the pay phone.
Steve Butabi: Yeah, he was, s [...]

SHOW MORE

Track 2 from Sandstorn (Single)
Length: 00:07:24
Year: 2000
Track Description:
Doug Butabi: So anyways, I was standing there waiting to use the pay phone.
Steve Butabi: Yeah, he was, seriously.
Doug Butabi: And this guy who was on the phone, turns around and tips his hat like this.
Steve Butabi: And who do you think that guy was?
Doug Butabi: Emilio Estevez.
Steve Butabi: The Mighty Duck man, I swear to God, I was there.
Doug Butabi: Of course you were, you were the one who yelled the Breakfast Clubber's name.
Steve Butabi: I was like, "Emilio."

SHOW LESS

9
XTM ft. Annia : Fly on the Wings of Love
Doug Butabi: Idiot.
Craig: You know Doug, just because you and your brother are having problems, that's n [...]

SHOW MORE

Track 0 from
Length: 00:03:33
Year:
Track Description:
Doug Butabi: Idiot.
Craig: You know Doug, just because you and your brother are having problems, that's no reason to refer to my intellectual capacity in a diminutive manner.

SHOW LESS

10
Scooter : The Logical Song
Steve Butabi: Good, how are you?
Doug Butabi: About 8 o'clock, 8:15. Yeah, all the time.
Steve Butab [...]

SHOW MORE

Track 0 from
Length: 00:03:57
Year:
Track Description:
Steve Butabi: Good, how are you?
Doug Butabi: About 8 o'clock, 8:15. Yeah, all the time.
Steve Butabi: BMW.
Doug Butabi: Right at sunset.
Steve Butabi: Vanilla mostly.

SHOW LESS

11
Haddaway : What is Love
Doug Butabi: You can take away our phones and you can take away our keys, but you can NOT take away our dreams [...]

SHOW MORE

Track 0 from
Length: 00:02:52
Year:
Track Description:
Doug Butabi: You can take away our phones and you can take away our keys, but you can NOT take away our dreams.
Steve Butabi: Yeah, because we're, like, sleeping when we have them.

SHOW LESS
Tag Board
You must log in to leave a tag
Stuff
Quick Jump
mogizzle's other mixes
Related mixes
recent visitors
show all