[?]
Not a member? Sign-up now, it's free!
Login
[?]
These are links to some of the major sections in the mixtape collective.
Lists: Browse various lists that are generated by the loads of data we have collected.
Contests: Check out the latest contests, see previous winners, and find out how you can be a part
Music: Check out our ever-growing database of musical knowledge! Use it to find any artist, album, or track that has been entered since the birth of the site and rate and find detailed usage statistics.
Main
[?]
Tired of looking at the same old pages? Try checking out a random one, you never know what you might find...
Random!
I HATE PANTS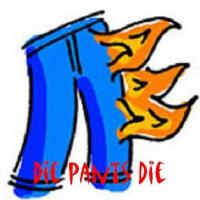 I HATE PANTS
Created by:
Rachael
Tracks:
16
Length:
01:03:34
Keywords
1. Mix Contest 14
2. Mix Contest 14
3. Mix Contest 14
Created on
8/01/07 09:55pm
Level
6
Points
2781
Total visitors
77
Unique visitors
42
This mix was ranked #3 out of 13 entries for this contest
description:
Winter is really pissing me off. All your summery road trip mixes are making me bitter. I'm sick of wearing pants. I want to wear dresses and skirts again and do summery things in them...like jumping over sprinklers.

Spare a little thought for those of us in the southern hemisphere, slowly turning albino, while you cruise along in your red convertibles with your hair flowing in the warm ocean breeze.

This is my bitter winter road trip mix. It's a bit late, but oh well.

I'm not really bitter. Winter will be over soon and then it will be your turn.

This mix should have been the soundtrack to a road trip I should have taken during the uni break. Last year I went to Kallala Beach with a few of my friends, but we didn't get to go this year. Maybe next year...
tracklist
1
The Shins : Australia
This just seems appropriate. Plus it's catchy and it's sure to pump us all up.

SHOW MORE

Track 2 from Wincing the Night Away
Length: 00:03:56
Year: 2006
Track Description:
This just seems appropriate. Plus it's catchy and it's sure to pump us all up.

SHOW LESS

2
The Beach Boys : Wouldn't It Be Nice
I can just imagine all my friends singing along and attempting the harmonies. Yes sir, there was no way this w [...]

SHOW MORE

Track 1 from Pet Sounds
Length: 00:02:25
Year: 1966
Track Description:
I can just imagine all my friends singing along and attempting the harmonies. Yes sir, there was no way this wasn't going in here.

SHOW LESS

3
Belles Will Ring : Park Benches
This just flows so well and it'll put a smile on Lauren's face.

SHOW MORE

Track 4 from Mood Patterns
Length: 00:04:06
Year: 2007
Track Description:
This just flows so well and it'll put a smile on Lauren's face.

SHOW LESS

4
The Smiths : This Charming Man
YEAH!

SHOW MORE

Track 6 from The Smiths
Length: 00:02:42
Year: 1984
Track Description:
YEAH!

SHOW LESS

5
The Stone Roses : She Bangs the Drum
YEAH!

SHOW MORE

Track 2 from The Stone Roses
Length: 00:03:45
Year: 1989
Track Description:
YEAH!

SHOW LESS

6
The Strokes : Someday
This will take us back to highschool. And that's bound to be fun.

SHOW MORE

Track 5 from Is This It?
Length: 00:03:07
Year: 2000
Track Description:
This will take us back to highschool. And that's bound to be fun.

SHOW LESS

7
The Decemberists : The Infanta
FUCK YEAH!

SHOW MORE

Track 1 from Picaresque
Length: 00:05:07
Year: 2005
Track Description:
FUCK YEAH!

SHOW LESS

8
Radiohead : The National Anthem
I remember listening to Radiohead last time we went down, so I thought I'd go there again.

SHOW MORE

Track 3 from Kid A
Length: 00:05:51
Year: 2000
Track Description:
I remember listening to Radiohead last time we went down, so I thought I'd go there again.

SHOW LESS

9
Ratatat : Tropicana
Instrumentals are essential because every now and then you need to stop singing and talk amongst yourselves. [...]

SHOW MORE

Track 5 from Classics
Length: 00:04:36
Year: 2006
Track Description:
Instrumentals are essential because every now and then you need to stop singing and talk amongst yourselves.

SHOW LESS

10
David Bowie : Time
This is one of my all time favourite Bowie songs. It's pure genius and if people can't sing along with me that [...]

SHOW MORE

Track 6 from Aladdin Sane
Length: 00:05:09
Year: 1973
Track Description:
This is one of my all time favourite Bowie songs. It's pure genius and if people can't sing along with me that's fine because they can always join in with the 'la la' s.

SHOW LESS

11
Simon & Garfunkel : America
This just seemed appropiate as well.

Now I have a song on here called Australia and a song on he [...]

SHOW MORE

Track 19 from The Best of Simon & Garfunkel
Length: 00:03:37
Year: 1999
Track Description:
This just seemed appropiate as well.

Now I have a song on here called Australia and a song on here called America. awwwww, how lovely.

SHOW LESS

12
Love : A House Is Not A Motel
Love are perfect for road trips. Yes, I said perfect.

SHOW MORE

Track 2 from Forever Changes
Length: 00:03:31
Year: 1967
Track Description:
Love are perfect for road trips. Yes, I said perfect.

SHOW LESS

13
The Beatles : Strawberry Fields Forever
YEAH!

SHOW MORE

Track 8 from Magical Mystery Tour
Length: 00:04:10
Year: 1967
Track Description:
YEAH!

SHOW LESS

14
Jimi Hendrix Experience : Driving South
Another instrumental.

We'll be driving south. It fits.

SHOW MORE

Track 7 from BBC Sessions (Disc 1)
Length: 00:05:31
Year: 0000
Track Description:
Another instrumental.

We'll be driving south. It fits.

SHOW LESS

15
Bob Dylan : Highway 61 Revisited
YEAH!

SHOW MORE

Track 7 from Highway 61 Revisited
Length: 00:03:30
Year: 1965
Track Description:
YEAH!

SHOW LESS

16
Johnny Cash : Big River
YEAH! Let's continue listening to Johnny. Joe Beam, yeah that's a good one. You can hear his neck snap.

SHOW MORE

Track 7 from The Essential Johnny Cash
Length: 00:02:31
Year: 2002
Track Description:
YEAH! Let's continue listening to Johnny. Joe Beam, yeah that's a good one. You can hear his neck snap.

SHOW LESS
Tag Board
You must log in to leave a tag
Stuff
Quick Jump
Rachael's other mixes
Related mixes
recent visitors
show all