[?]
Not a member? Sign-up now, it's free!
Login
[?]
These are links to some of the major sections in the mixtape collective.
Lists: Browse various lists that are generated by the loads of data we have collected.
Contests: Check out the latest contests, see previous winners, and find out how you can be a part
Music: Check out our ever-growing database of musical knowledge! Use it to find any artist, album, or track that has been entered since the birth of the site and rate and find detailed usage statistics.
Main
[?]
Tired of looking at the same old pages? Try checking out a random one, you never know what you might find...
Random!
Sha La La, Man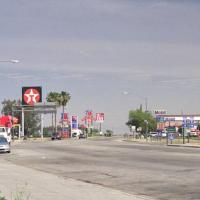 Sha La La, Man
Created by:
RyanTheTruck
Tracks:
19
Length:
01:18:27
Keywords
1. Mix Contest 14
2. Mix Contest 14
3. Mix Contest 14
Created on
7/29/07 08:42pm
Level
6
Points
2767
Total visitors
84
Unique visitors
44
This mix was ranked #2 out of 13 entries for this contest
description:
This is a very appropriate contest for me because my band is leaving on Tuesday for a five-week national tour across this great nation of ours in a big, gray, sketchy-looking twenty year old van. Suffice to say, we've been making massive amounts of mixtapes along every imaginable theme (we're up to about 40 hours...not even close to what we need). Maybe I'll see some of you out there? Our dates are posted at myspace.com/iloveitthefuckingmost.

The important thing to remember is that despite the work and effort that goes into planning and preparation, road trips are SO MUCH FUN! Hopefully this mix is too.
tracklist
1
Pavement : Range Life
Setting the mood is key. This here's a ramblin', lackadaisical kinda tune that's super evocative of those lon [...]

SHOW MORE

Track 9 from Crooked Rain, Crooked Rain
Length: 00:04:54
Year: 1992
Track Description:
Setting the mood is key. This here's a ramblin', lackadaisical kinda tune that's super evocative of those long stretches on the 5 between LA and SF.

SHOW LESS

2
Minutemen : Tour-Spiel
"We'd fight at practice then jam econo." Sounds about right.

SHOW MORE

Track 5 from Project: Mersh
Length: 00:02:45
Year: 1985
Track Description:
"We'd fight at practice then jam econo." Sounds about right.

SHOW LESS

3
Harry Nilsson : Driving Along
Nothing inspires an up-with-people anthem about the loss of connection between folks like douchebags driving i [...]

SHOW MORE

Track 2 from Nilsson Schmilsson
Length: 00:02:05
Year: 1973
Track Description:
Nothing inspires an up-with-people anthem about the loss of connection between folks like douchebags driving in their hummers chimpin' away on their cell phonez.

SHOW LESS

4
Frank Black : Calistan
This is about the point when I really start digging this album. No road trip would be complete without it. "Us [...]

SHOW MORE

Track 4 from Teenager of the Year
Length: 00:03:22
Year: 1994
Track Description:
This is about the point when I really start digging this album. No road trip would be complete without it. "Used to be 16 lanes, used to Nuevo Spain, used to be Juan Wayne." Plus I'm always down with albums about California, especially LA.

SHOW LESS

5
Meat Puppets : Lost
"II" is my favorite album of all time ever. Any track on it totally suits this mix, so we might as well go wit [...]

SHOW MORE

Track 3 from II
Length: 00:03:28
Year: 1999
Track Description:
"II" is my favorite album of all time ever. Any track on it totally suits this mix, so we might as well go with the one about being lost on the freeway.

SHOW LESS

6
Bob Dylan : Days of 49
One time my dad was driving me from San Diego to Santa Cruz and I put Dylan on and he scoffed and said "Bob Dy [...]

SHOW MORE

Track 4 from Self Portrait
Length: 00:05:27
Year: 1970
Track Description:
One time my dad was driving me from San Diego to Santa Cruz and I put Dylan on and he scoffed and said "Bob Dylan...THERE'S a guy who never smoked any dope" really sarcastically.

SHOW LESS

7
The Kinks : Drivin'
Brits on a Sunday drive through the countryside of their vast empire. Too bad Blur missed the irony.

SHOW MORE

Track 4 from Arthur or the Decline and Fall of the British Empire
Length: 00:03:21
Year: 1969
Track Description:
Brits on a Sunday drive through the countryside of their vast empire. Too bad Blur missed the irony.

SHOW LESS

8
The Fall : Fortress/Deer Park
The Kinks of punk: just too British to really catch on. "Deer Park" is a quintessential monotonous keys/bass F [...]

SHOW MORE

Track 4 from Hex Enduction Hour
Length: 00:06:39
Year: 1981
Track Description:
The Kinks of punk: just too British to really catch on. "Deer Park" is a quintessential monotonous keys/bass Fall jam, but especially, well, driving.

SHOW LESS

9
Rancid : Journey to the End of the East Bay
"Four kids on tour, 3000 miles, in a four door car not knowin' what was going on." I can't help but relate to [...]

SHOW MORE

Track 11 from ...and Out Come the Wolves
Length: 00:03:11
Year: 1995
Track Description:
"Four kids on tour, 3000 miles, in a four door car not knowin' what was going on." I can't help but relate to this song in a way I never did when I was 15 now that I've done just that. It's a trip to have been a punk kid and into Bay Area bands like Rancid and Op Ivy and Green Day and Screeching Weasel and now live in Oakland and be a part of the current punk scene and see firsthand the kinds of people, places, and things those bands sung about.

SHOW LESS

10
Flying Burrito Brothers : Wheels
This and "Six Days on the Road" hellof invented that trucker-core style of country music you see on sale at ga [...]

SHOW MORE

Track 6 from Gilded Palace of Sin
Length: 00:03:04
Year: 1969
Track Description:
This and "Six Days on the Road" hellof invented that trucker-core style of country music you see on sale at gas stations off the freeway in the middle of nowhere.

SHOW LESS

11
Mercury Rev : Goddess on a Highway
Goddess on a highway, goddess in a car? Got us on a highway, got us on a car? Big pun!

SHOW MORE

Track 8 from Deserter's Songs
Length: 00:03:45
Year: 1998
Track Description:
Goddess on a highway, goddess in a car? Got us on a highway, got us on a car? Big pun!

SHOW LESS

12
Brian Eno : Burning Airlines Give You So Much More
Gotta include the one everybody wants to sing along with. I like the part about microcameras hidden in Regina' [...]

SHOW MORE

Track 1 from Taking Tiger Mountain (By Strategy)
Length: 00:03:17
Year: 1974
Track Description:
Gotta include the one everybody wants to sing along with. I like the part about microcameras hidden in Regina's hair.

SHOW LESS

13
Can : Full Moon on the Highway
CAN doing Chuck Berry (well, not literally, but it's there). Straight ahead rocker with a wailing, ghostly gee [...]

SHOW MORE

Track 1 from Landed
Length: 00:03:32
Year: 1975
Track Description:
CAN doing Chuck Berry (well, not literally, but it's there). Straight ahead rocker with a wailing, ghostly geetar line. Fucking awesome.

SHOW LESS

14
The Amps : Pacer
Another crucial road trip record. Kim Deal rules my world. And my pants. Ever seen the video for this? Kim Gor [...]

SHOW MORE

Track 1 from Pacer
Length: 00:02:31
Year: 1995
Track Description:
Another crucial road trip record. Kim Deal rules my world. And my pants. Ever seen the video for this? Kim Gordon directed it and its the Amps driving around in go-carts and it doesn't suit the song at all.

SHOW LESS

15
The Rolling Stones : Travelling Man
Ripping Stonez jam from the remastered/expanded "Exile."

SHOW MORE

Track 19 from Exile on Main Street (expanded)
Length: 00:06:00
Year: 2006
Track Description:
Ripping Stonez jam from the remastered/expanded "Exile."

SHOW LESS

16
Liz Phair : Fuck and Run
A track for track female response to "Exile on Main St." Fucking awesome album. PS - like what I did there? So [...]

SHOW MORE

Track 10 from Exile in Guyville
Length: 00:03:07
Year: 1993
Track Description:
A track for track female response to "Exile on Main St." Fucking awesome album. PS - like what I did there? Song by the synthesis of macho rock and chick rock, song by THE formative cock rock band and then another toughass rock lady's take on it.

SHOW LESS

17
Creedence Clearwater Revival : Ramble Tamble
No, not "Playing in a travelling band," sax ruins it. This one's a way underrated Creedence jam.

SHOW MORE

Track 1 from Cosmo's Factory
Length: 00:07:10
Year: 1970
Track Description:
No, not "Playing in a travelling band," sax ruins it. This one's a way underrated Creedence jam.

SHOW LESS

18
T. Rex : The Motivator
I used to hate T-Rex because I thought "Bang a Gong" was annoying and my friends kept trying to get me to list [...]

SHOW MORE

Track 9 from Electric Warrior
Length: 00:04:00
Year: 1971
Track Description:
I used to hate T-Rex because I thought "Bang a Gong" was annoying and my friends kept trying to get me to listen to the whole album and I finally did a few years ago when driving in the Anza-Borrego desert. Needless to say, I can't imagine any extended drive without this album. This is my fave song from it.

SHOW LESS

19
Van Morrison : Moonshine Whiskey
Van Morrison's lyrical babbling at its best ("oooh, bubbles"). Great song for the evening end of the drive. Th [...]

SHOW MORE

Track 9 from tupelo honey
Length: 00:06:49
Year: 1971
Track Description:
Van Morrison's lyrical babbling at its best ("oooh, bubbles"). Great song for the evening end of the drive. The "streamlined promenade" part is fun to sing along with.

SHOW LESS
Tag Board
You must log in to leave a tag
Stuff
Quick Jump
RyanTheTruck's other mixes
Related mixes
recent visitors
show all