[?]
Not a member? Sign-up now, it's free!
Login
[?]
These are links to some of the major sections in the mixtape collective.
Lists: Browse various lists that are generated by the loads of data we have collected.
Contests: Check out the latest contests, see previous winners, and find out how you can be a part
Music: Check out our ever-growing database of musical knowledge! Use it to find any artist, album, or track that has been entered since the birth of the site and rate and find detailed usage statistics.
Main
[?]
Tired of looking at the same old pages? Try checking out a random one, you never know what you might find...
Random!
Remember, Remember...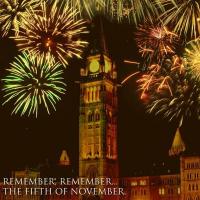 Remember, Remember...
Created by:
johnny_luddite
Tracks:
11
Length:
00:43:00
Keywords
1. November 5th
2. Guy Fawkes
3. Fireworks
Created on
11/01/07 10:26pm
Level
5
Points
2055
Total visitors
37
Unique visitors
23
description:
Remember, remember the 5th of December, gunpowder, treason and plot....

In dear old England on November the 5th, people will have bonfire/firework parties as they remember old Guy Fawkes, a man who tried to blow up Parliament back in the day, and who was hung, drawn and qaurtered for his trouble. His big problem was that the gunpowder he had stashed under the houses of parliament got wet, so it would not ignite! Anyhow, in the weeks leading up to Guy Fawkes night, kids used to carry around a stuffed effigy of Guy Fawkes, shouting 'A Penny For The Guy'. This was actually a way to hustle for money so they could buy fireworks to blow each other up with. There used to be a lot of exploded frogs round my way in the weeks leading up to the fifth. On the big day, folks have bonfire parties, (the Guy Fawkes dummies get thrown on the bonfire) let off fireworks and eat and drink a lot. If this paints a picture of a weird holiday, well, ok, but I always liked it, and here is a mix to go with the day!
tracklist
1
The Clash : London's Burning
There could not be another opener for this mix. Perfect punk, and the kind of deal ol' Mr Fawkes had in mind. [...]

SHOW MORE

Track 2 from The Essential Clash
Length: 00:01:59
Year: 2003
Track Description:
There could not be another opener for this mix. Perfect punk, and the kind of deal ol' Mr Fawkes had in mind.

SHOW LESS

2
The Crazy World Of Arthur Brown : Fire
He was the God of hellfire and he brought you...a one of hit in the UK. Arthur Brown still acts crazy, still w [...]

SHOW MORE

Track 3 from The Crazy World Of Arthur Brown
Length: 00:03:02
Year: 0000
Track Description:
He was the God of hellfire and he brought you...a one of hit in the UK. Arthur Brown still acts crazy, still works, and still sets fire to his head onstage. Nice...

SHOW LESS

3
Jimi Hendrix : Fire
Different song, same title. Jimi sings 'Let me stand next to your fire.' The origin of this is supposed to be [...]

SHOW MORE

Track 2 from Experience Hendrix
Length: 00:02:43
Year: 1998
Track Description:
Different song, same title. Jimi sings 'Let me stand next to your fire.' The origin of this is supposed to be that when Jimi first landed in England, his manager hooked him up with a band, and the bass player Noel Redding took the great man home to meet his Mum. Jimi was not reacting to the British winter all that well, and so asked if he could stand next to the fire. I would so like that to be true!

SHOW LESS

4
Brian Eno : Baby's on Fire
This k9ind of experience IS neccessary for her learning!

SHOW MORE

Track 3 from Here Come the Warm Jets
Length: 00:05:21
Year: 2004
Track Description:
This k9ind of experience IS neccessary for her learning!

SHOW LESS

5
Afirka Bambaataa : Burn
I saw Afrika Bambaataa play in a sweaty nightclub once. There was no fire, but a lot smoke as I recall...

SHOW MORE

Track 7 from Zulu Nation War Chant
Length: 00:03:30
Year: 0000
Track Description:
I saw Afrika Bambaataa play in a sweaty nightclub once. There was no fire, but a lot smoke as I recall...

SHOW LESS

6
Bob Marley & The Wailers : Burnin' And Lootin'
Guy Fawkes and his co conspirators were revolutionaries of a sort, this does not feel at all out of place.

SHOW MORE

Track 7 from Burnin'
Length: 00:04:14
Year: 0000
Track Description:
Guy Fawkes and his co conspirators were revolutionaries of a sort, this does not feel at all out of place.

SHOW LESS

7
Burning Spear : Fire Down Below
Couldn't leave the world of reggae without hearing from the excellent Mr Spear.

SHOW MORE

Track 3 from Studio One Presents Burning Spear
Length: 00:03:30
Year: 0000
Track Description:
Couldn't leave the world of reggae without hearing from the excellent Mr Spear.

SHOW LESS

8
The Doors : Light My Fire
This might be just about sex, but if a revolution does not have time for that, I have no time for it!

SHOW MORE

Track 2 from The Best of the Doors
Length: 00:07:08
Year: 1987
Track Description:
This might be just about sex, but if a revolution does not have time for that, I have no time for it!

SHOW LESS

9
Dick Dale : Smoke On The Water
..."Fire in the sky." I had to have this song on here, but I thought not this time by Deep Purple. The King of [...]

SHOW MORE

Track 5 from Spacial Distortion
Length: 00:03:52
Year: 0000
Track Description:
..."Fire in the sky." I had to have this song on here, but I thought not this time by Deep Purple. The King of the surf guitar turns this into the sludgy mess a million teenage would be rock guitarists could only dream of!

SHOW LESS

10
Portishead : It's a Fire
It certainly is. I am gratified to find so much good music I like to fit into this theme!

SHOW MORE

Track 6 from Dummy
Length: 00:03:47
Year: 1994
Track Description:
It certainly is. I am gratified to find so much good music I like to fit into this theme!

SHOW LESS

11
Green On Red : Ballad Of Guy Fawkes
I was going to end this on a cop out and put 9in Elton's 'song for guy' when I remembered this. Green On Red a [...]

SHOW MORE

Track 3 from No Free Lunch
Length: 00:03:54
Year: 0000
Track Description:
I was going to end this on a cop out and put 9in Elton's 'song for guy' when I remembered this. Green On Red are one of those bands who were never that big, yet I am mildly shocked that there was none of their stuff here on MTC. Now there is. Enjoy Novemeber 5th kids, and remember, always keep your fireworks in a sealed metal box under the supervision of an adult. Oh yeah, and if you plan to blow up the British parliament, use dry gunpowder for fucks sake!

SHOW LESS
Tag Board
You must log in to leave a tag
Stuff
Quick Jump
johnny_luddite's other mixes
Related mixes
recent visitors
show all