[?]
Not a member? Sign-up now, it's free!
Login
[?]
These are links to some of the major sections in the mixtape collective.
Lists: Browse various lists that are generated by the loads of data we have collected.
Contests: Check out the latest contests, see previous winners, and find out how you can be a part
Music: Check out our ever-growing database of musical knowledge! Use it to find any artist, album, or track that has been entered since the birth of the site and rate and find detailed usage statistics.
Main
[?]
Tired of looking at the same old pages? Try checking out a random one, you never know what you might find...
Random!
ALL OVER THE SHOP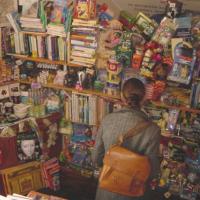 ALL OVER THE SHOP
Created by:
johnny_luddite
Tracks:
12
Length:
00:42:20
Keywords
1. eclectic
2. spectrum
3. grooviness
Created on
6/25/07 12:09am
Level
6
Points
2506
Total visitors
46
Unique visitors
28
description:
I have a cheap mp3 player which keeps me in touch with syncopated beat during times of stress. The music I listen to is all over the shop at the best of times, coming from many an era and genre. The other day though, the random play button produced a transition so perfect and so not at all obvious that I knew that a mix made up from some of the far flung corners of my musical taste was in order. Here we go then, with the accidental transition that prompted this whole thing kicking us off.
tracklist
1
Gene Krupa : Drum Boogie
My favorite kind of 40s big band music, with the upfront drums and ever so slight hint of sex and danger. Krup [...]

SHOW MORE

Track 3 from Drums, Drums, Drums
Length: 00:03:09
Year: 0000
Track Description:
My favorite kind of 40s big band music, with the upfront drums and ever so slight hint of sex and danger. Krupa was a pretty glamorous figure, all wild brilliantined manhood behind his kit and in its way, this truly rocks.

SHOW LESS

2
The White Stripes : Seven Nation Army
I know, there is wonderful new stuff around from them, but when my mp3 player through up the transition from ' [...]

SHOW MORE

Track 1 from Elephant
Length: 00:03:51
Year: 2003
Track Description:
I know, there is wonderful new stuff around from them, but when my mp3 player through up the transition from 'Drum Boogie' to this, it sounded like both bands had planned it that way. It is maybe the most perfect accidental transition I have ever come across, and just thinking about it makes me happy in a slightly unsettling way.

SHOW LESS

3
Dick Dale : Pipeline (with Stevie Ray Vaughan)
Dick Dale, one of California's most neglected yet valuable assets and his take on the old Ventures guitar inst [...]

SHOW MORE

Track 18 from King Of The Surf Guitar
Length: 00:02:58
Year: 0000
Track Description:
Dick Dale, one of California's most neglected yet valuable assets and his take on the old Ventures guitar instrumental, with SRV in tow. Years ago, I was walking to the tube station on the way home from work in Camden, London, when I passed a pub with some nasty live music blaring out. It sounded like a metal version of surf guitar. I went in, and lo and behold, it was Dick Dale, complete with Agent Orange as his backing band, playing insanely loud rocky versions of his surf guitar past. It was a wonderful and highly unlikely night, and if I have told this story before, who cares, this is what we old bastards do.

SHOW LESS

4
Manfred Mann : Pretty Flamingo
Changing lanes now. This has been a favorite of mine ever since I heard it as a kid in the 60s. In later life, [...]

SHOW MORE

Track 1 from Pretty Flamingo
Length: 00:02:30
Year: 1966
Track Description:
Changing lanes now. This has been a favorite of mine ever since I heard it as a kid in the 60s. In later life, the singer on this, Paul Jones, presented a couple of blues radio shows in the UK. I had reason to talk to him when booking someone onto his show once as a guest and he seemed like a nice bloke. Banal as anecdotes go, but there you have it.

SHOW LESS

5
Sufjan Stevens : The Dress Looks Nice on you
This is the kind of music I would have liked to have played when I was younger, but I lacked the discipline to [...]

SHOW MORE

Track 0 from
Length: 00:02:34
Year:
Track Description:
This is the kind of music I would have liked to have played when I was younger, but I lacked the discipline to avoid the obligatory twenty minute guitar solo and let the melody breathe. Thank goodness for Sufjan!

SHOW LESS

6
Queen Ida : My Girl Josephine
Don't think I have ever put a zydeco track in a mix here before, but I should have done. I like to think that [...]

SHOW MORE

Track 9 from Queen Ida in San Francisco
Length: 00:04:33
Year: 0000
Track Description:
Don't think I have ever put a zydeco track in a mix here before, but I should have done. I like to think that Sufjan Stevens would be happy to have his song played next to this.

SHOW LESS

7
David Bowie : Young Americans
I remember when this first came out, and I was so outraged that there were no third hand Chuck Berry riffs in [...]

SHOW MORE

Track 1 from Young Americans
Length: 00:05:10
Year: 1975
Track Description:
I remember when this first came out, and I was so outraged that there were no third hand Chuck Berry riffs in there and that Ziggy had finally been replaced by this anorexic soulboy. Needless to say, a week or so later, and this single was being worn to death on my shitty Fidelity stereo, and a stolen "Young Americans" poster was up on my wall. "Do you remember your President Nixon" indeed. Fantastic track then and now.

SHOW LESS

8
Smokey Robinson & The Miracles : That's What Love Is Made Of
This is so bloody joyous. Early Smokey, and with an innocence that can only come from having the voice of an a [...]

SHOW MORE

Track 15 from Anthology: Disc 1
Length: 00:02:51
Year: 0000
Track Description:
This is so bloody joyous. Early Smokey, and with an innocence that can only come from having the voice of an angel and the wink of a devil.

SHOW LESS

9
Jon Spencer Blues Explosion : Orange
A bit different from Smokey I feel but there is room in my heart for both.

SHOW MORE

Track 7 from Orange
Length: 00:02:59
Year: 1994
Track Description:
A bit different from Smokey I feel but there is room in my heart for both.

SHOW LESS

10
Jeff Beck Group : Morning Dew
The 1968 version of Becks band featured Rod Stewart (hey, don't walk out just yet)and Ronnie Wood (I mean it, [...]

SHOW MORE

Track 3 from Truth
Length: 00:04:42
Year: 0000
Track Description:
The 1968 version of Becks band featured Rod Stewart (hey, don't walk out just yet)and Ronnie Wood (I mean it, come back here) and is very loose in the way 1968 rock was, but there is something really delicious about this.

SHOW LESS

11
Beck : Broken Train
Yeah, I know, Jeff Beck to Beck in one move, so what, but there is another link. Both tracks are pretty quirky [...]

SHOW MORE

Track 7 from Midnite Vultures
Length: 00:04:11
Year: 1999
Track Description:
Yeah, I know, Jeff Beck to Beck in one move, so what, but there is another link. Both tracks are pretty quirky, one track comes from the 60s, the other kind of wishes it did...the hits go on!

SHOW LESS

12
The Beatles : Julia
Most of what I say is meaningless. The Beck track got me in the mood for this lovely sad song.

SHOW MORE

Track 17 from The Beatles (White Album)
Length: 00:02:52
Year: 1968
Track Description:
Most of what I say is meaningless. The Beck track got me in the mood for this lovely sad song.

SHOW LESS
Tag Board
You must log in to leave a tag
Stuff
Quick Jump
johnny_luddite's other mixes
Related mixes
recent visitors
show all