[?]
Not a member? Sign-up now, it's free!
Login
[?]
These are links to some of the major sections in the mixtape collective.
Lists: Browse various lists that are generated by the loads of data we have collected.
Contests: Check out the latest contests, see previous winners, and find out how you can be a part
Music: Check out our ever-growing database of musical knowledge! Use it to find any artist, album, or track that has been entered since the birth of the site and rate and find detailed usage statistics.
Main
[?]
Tired of looking at the same old pages? Try checking out a random one, you never know what you might find...
Random!
a compromise of sorts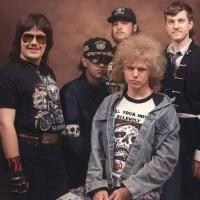 a compromise of sorts
Created by:
youandme
Tracks:
16
Length:
01:09:02
Keywords
1. we like
2. different things
3. obviously
Created on
11/09/07 03:11pm
Level
4
Points
1753
Total visitors
31
Unique visitors
24
description:
i started working with a new chef. we open together one or two days a week, which is only two hours or so spent together listening to music of our choice. the past two weeks, i've noticed that both of us are showing up earlier and earlier, trying to beat each other out for the stereo. we like extremely different music, and for me, being the music slut that i am, this is a rather big deal. i'm tired of listening to sublime, slightly stoopid, mtv rap, and "stronger." i'm sure he's tired of ween and mike patton. tomorrow, i'm going to try this out. it's a mix of guilty pleasures, standards, and a few slightly inaccessible hip-hop tracks that i think we will both enjoy. some of it isn't stuff i'd normally post up here or even listen to on a regular basis, but i figured, if i made it, why the hell not put it up here?
tracklist
1
Kanye West : Two Words (feat. Mos Def, Freeway and the Harlem Boys Choir)
start off with something goddamn catchy and fairly safe; know he likes this. hopefully it will encourage him t [...]

SHOW MORE

Track 18 from College Dropout
Length: 00:04:26
Year: 2004
Track Description:
start off with something goddamn catchy and fairly safe; know he likes this. hopefully it will encourage him to enjoy the rest...

SHOW LESS

2
Eric B. & Rakim : Follow the Leader
don't think it's possible to dislike this one.

SHOW MORE

Track 1 from Follow the Leader
Length: 00:05:37
Year: 1988
Track Description:
don't think it's possible to dislike this one.

SHOW LESS

3
Gang Starr : Full Clip
i can make your head explode just by my lyrical content.

SHOW MORE

Track 2 from Full Clip: A Decade of Gang Starr (Disc 1)
Length: 00:03:37
Year: 1999
Track Description:
i can make your head explode just by my lyrical content.

SHOW LESS

4
Handsome Boy Modeling School : If It Wasn't for You (feat. De La Soul & Starchild Excalibur)
listening to the three sets of lyrics makes this. i didn't realize it the first couple times i heard it... i c [...]

SHOW MORE

Track 2 from White People
Length: 00:04:37
Year: 2004
Track Description:
listening to the three sets of lyrics makes this. i didn't realize it the first couple times i heard it... i can be a bit slow...

SHOW LESS

5
Mos Def : Mathematics
yet another safe one that i know he likes.

SHOW MORE

Track 16 from Black On Both Sides
Length: 00:04:06
Year: 1999
Track Description:
yet another safe one that i know he likes.

SHOW LESS

6
Deltron 3030 : Things You Can Do
my favorite del, along with positive contact.

SHOW MORE

Track 4 from Deltron 3030
Length: 00:04:59
Year: 2001
Track Description:
my favorite del, along with positive contact.

SHOW LESS

7
Jay-Z : Lucifer
alright so embarrassing as it is, i actually like this.

SHOW MORE

Track 12 from The Black Album
Length: 00:03:14
Year: 2006
Track Description:
alright so embarrassing as it is, i actually like this.

SHOW LESS

8
Peeping Tom : Your Neighborhood Spaceman (feat. Jel & Odd Nosdam)
a little nervous about this one, but not so much that i won't include it.

SHOW MORE

Track 5 from Peeping Tom
Length: 00:05:45
Year: 2006
Track Description:
a little nervous about this one, but not so much that i won't include it.

SHOW LESS

9
cLOUDDEAD : Apt. A, Part 2
another chancey one; however, i'm stubborn.

SHOW MORE

Track 2 from cLOUDDEAD
Length: 00:05:52
Year: 2001
Track Description:
another chancey one; however, i'm stubborn.

SHOW LESS

10
Immortal Technique : The Point of No Return
cheese rap. guilty pleasure.

SHOW MORE

Track 2 from Revolutionary, Volume 2
Length: 00:04:01
Year: 2003
Track Description:
cheese rap. guilty pleasure.

SHOW LESS

11
A Tribe Called Quest : Check the Rime
suggestion from my roommate. awesome.

SHOW MORE

Track 8 from Hits, Rarities & Remixes
Length: 00:03:36
Year: 2003
Track Description:
suggestion from my roommate. awesome.

SHOW LESS

12
People Under the Stairs : Youth Explosion
this one makes me so happy. giddy, even.

SHOW MORE

Track 3 from Question in the Form of an Answer
Length: 00:04:41
Year: 2000
Track Description:
this one makes me so happy. giddy, even.

SHOW LESS

13
Quasimoto : Low Class Conspiracy

SHOW MORE

Track 7 from The Unseen
Length: 00:02:28
Year: 2000
Track Description:


SHOW LESS

14
Fatlip : What's Up Fatlip?
one of my staples.

SHOW MORE

Track 18 from The Loneliest Punk
Length: 00:03:22
Year: 2005
Track Description:
one of my staples.

SHOW LESS

15
Hieroglyphics : Classic
yesssss.

SHOW MORE

Track 6 from Full Circle
Length: 00:03:08
Year: 2003
Track Description:
yesssss.

SHOW LESS

16
Kanye West : Gone featuring Consequence & Cam'Ron
closing it off with another safe one. i admit i love cam'ron's part. eep.

SHOW MORE

Track 19 from Late Registration
Length: 00:05:33
Year: 2005
Track Description:
closing it off with another safe one. i admit i love cam'ron's part. eep.

SHOW LESS
Tag Board
You must log in to leave a tag
Stuff
Quick Jump
youandme's other mixes
Related mixes
recent visitors
show all