[?]
Not a member? Sign-up now, it's free!
Login
[?]
These are links to some of the major sections in the mixtape collective.
Lists: Browse various lists that are generated by the loads of data we have collected.
Contests: Check out the latest contests, see previous winners, and find out how you can be a part
Music: Check out our ever-growing database of musical knowledge! Use it to find any artist, album, or track that has been entered since the birth of the site and rate and find detailed usage statistics.
Main
[?]
Tired of looking at the same old pages? Try checking out a random one, you never know what you might find...
Random!
Chin up, nose up, let's go!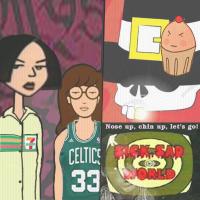 Chin up, nose up, let's go!
Created by:
derhay
Tracks:
19
Length:
01:19:28
Keywords
1. Birthday
2. Aging
3. Inspire Me
Created on
3/12/08 05:10pm
Level
4
Points
1790
Total visitors
36
Unique visitors
23
description:
Daria - You really want to do this?
Jane - You know, just because people are cliquey and snotty is no reason not to like them.
Daria - Or hate them.
Jane - Chin up, nose up, let's go.

"The Invitation" - Episode #102 - March 10, 1997 (Written by Anne D. Bernstein)

This month I turn thirty three and I don't know how I feel about it. Should I get a Larry Bird jersey to celebrate? I had my second dream, in a week, about riding a bike with 12' wheels. Should I get more health insurance? Should I ride my bike more? (Yes.) Should I hang outside 7-Elevens and give unsolicited advice? Should I look for a John Tesh tee on e-bay?

Lacking inspiration for this milestone (millstone?), I spent some time researching what some of my favorite artists were up to when they were turning 33 and at 33. There are some definite, inspiring ups and some cautionary downs.

This mix serves as a reminder to make this a great year.

After looking up over 130 artists, these are things I learned:
Jimmy Page was a heroin addict and lost his young son in 1977. The Clash broke up and Joe Strummer started The Clash Mark Two, in 1985. The Police broke up and Stung starred in Dune in 1984. Jarvis Cocker was 32, in 1996, when he and Peter Mansell invaded the stage at The Brits during MJ's performance of "Earthsong". Also, in 1996 at 33, Ian Astbury disbands The Cult. Why do mommy and daddy fight?

Artists born during the same months:
Lou Reed and John Cale in March of 1942
Marianne Faithful and Patti Smith in December of 1946
Billy Bragg and Shane MacGowan in December of 1957
Bernard Sumner and John Lydon in January 1956
David Gahan and Ian Astbury in May of 1962
*Matt Cameron and Mike Bordin in November of 1962
*Beth Gibbons and Robert Del Naja in January of 1965

Dean DeLeo was 33 when STP worked on Purple and Robert DeLeo was 33 while making No. 4. I have great respect for their work on both albums and I needed to mention this factoid. Inspiring? Check.

Honorable "track length is too long, sucker!" Mention list:
(1) John Michael Osbourne (December 1948) "I Don't Know"

I'm with you, Ozzy. "Don't ask me, I don't know."

(2) Tim Booth (February 1960) - James "Low Low Low"

"I'm a member of an ape-like race
At the asshole end of the twentieth century
This film's a thriller of the mind
Will we destroy our homes, release ourselves from the
Weights of gravity
I'll be amazed if we survive"

Si. I feel this too. You can, "Dye my eyes and call me pretty" too. :)

(3) Ben Fold (September 1966) "Your Redneck Past"

"If you're afraid they might discover your redneck past
There are a hundred ways to cover your redneck past
They'll never send you home"

I admit that I can't run away from my redneck past. What step is that? Is this step before or after shaving off my Roy Orbison sideburns?

In conclusion, the only band I have is my three-piece family, so I'll take steps to keep everyone happy and together. I'll be checking in with this mix to see how I'm doing. Happy March, folks.
tracklist
1
Goldfrapp : Utopia
Alison Elizabeth Goldfrapp (May 1966)

Get this truck started. Do I focus more on the disorder tha [...]

SHOW MORE

Track 8 from Felt Mountain
Length: 00:04:16
Year: 2000
Track Description:
Alison Elizabeth Goldfrapp (May 1966)

Get this truck started. Do I focus more on the disorder than the utopia that I actually have? Yes. Steam steamy.

SHOW LESS

2
Kristin Hersh : Echo
Kristin Hersh (August 1966)

I was quite anxious to see where Kristin was at 33, and what she was [...]

SHOW MORE

Track 1 from Sky Motel
Length: 00:03:42
Year: 1999
Track Description:
Kristin Hersh (August 1966)

I was quite anxious to see where Kristin was at 33, and what she was writing. I wasn't disappointed.

SHOW LESS

3
The House Of Love : Never
Guy Chadwick (March 1956)
I started to listen to The House of Love because of Chadwick's cover "Fall In [...]

SHOW MORE

Track 7 from The House Of Love
Length: 00:03:43
Year: 1990
Track Description:
Guy Chadwick (March 1956)
I started to listen to The House of Love because of Chadwick's cover "Fall In Love With Me", by David Bowie, Iggy Pop, Hunt Sales and Tony Sales. (phenomenal song)

I love the lyric, "Never, never gonna let you down."


SHOW LESS

4
Suzanne Vega : In Liverpool
Suzanne Vega (July 1959)

This is one of my Bury Me With It songs. Love love love it. The lyric - [...]

SHOW MORE

Track 3 from 99.9 F°
Length: 00:04:40
Year: 1992
Track Description:
Suzanne Vega (July 1959)

This is one of my Bury Me With It songs. Love love love it. The lyric -
And the boy in the belfry
He's crazy, he's throwing himself
Down from the top of the tower
Like a hunchback in heaven
He's ringing the bells in the church
For the last half an hour
He sounds like he's missing something
Or someone that he knows he can't
Have now and if he isn't
I certainly am

Has always fascinated me and has had different meanings to me, over the years. Now, "missing something or someone" ties to my fear of not living in the moment and letting someone important to me down.

SHOW LESS

5
Dan the Automator : King of NY (ft. Kool Keith)
Dan Nakamura (1967)

Kool Keith only sang on this killer track, Dan wrote the lyrics and did the r [...]

SHOW MORE

Track 2 from A Much Better Tomorrow
Length: 00:03:53
Year: 2000
Track Description:
Dan Nakamura (1967)

Kool Keith only sang on this killer track, Dan wrote the lyrics and did the rest. If I could generate 5% of the cool factor of this song, I would be doing OK.

SHOW LESS

6
David Bowie : Up the Hill Backwards
David Robert Jones (January 1947)

"The vacuum created
by the arrival of freedom
And t [...]

SHOW MORE

Track 2 from Scary Monsters (and Super Creeps)
Length: 00:03:12
Year: 1980
Track Description:
David Robert Jones (January 1947)

"The vacuum created
by the arrival of freedom
And the possibilities it seems to offer
It's got nothing to do with you,
if one can grasp it
It's got nothing to do with you,
if one can grasp it"

I don't seem to do well with too much freedom, I tend to think too much about myself. Excellent song.

SHOW LESS

7
The Cure : From the Edge of the Deep Green Sea
Robert Smith (April 1959)

"And so we watch the sun come up
from the edge of the deep green [...]

SHOW MORE

Track 4 from Wish
Length: 00:07:46
Year: 1992
Track Description:
Robert Smith (April 1959)

"And so we watch the sun come up
from the edge of the deep green sea.
And she listens like her head's on fire,
like she wants to believe in me.
So I try
Put your hands in the sky
Surrender
Remember
We'll be here forever
and we'll never say goodbye..."

Love love love, again. Head on fire? Check. Fear of the void? Check.

SHOW LESS

8
The Dandy Warhols : Get Off
Courtney Taylor-Taylor (July 1967)

I have little time for CT-T, the artist, after seeing his gene [...]

SHOW MORE

Track 7 from Thirteen Tales From Urban Bohemia
Length: 00:03:11
Year: 2000
Track Description:
Courtney Taylor-Taylor (July 1967)

I have little time for CT-T, the artist, after seeing his general douchery on Dig!, but he hit the nail on the head with this song for me.

SHOW LESS

9
Morrissey : You're the One for Me, Fatty
Steven Patrick Morrissey (May 1959)

For my wife to sing to me. See my bike dream reference above. [...]

SHOW MORE

Track 7 from Your Arsenal
Length: 00:02:57
Year: 1992
Track Description:
Steven Patrick Morrissey (May 1959)

For my wife to sing to me. See my bike dream reference above. Great, great song.

SHOW LESS

10
Roxy Music : Still Falls the Rain
Bryan Ferry (September 1948)

Yes yes yes.

SHOW MORE

Track 4 from Manifesto
Length: 00:04:14
Year: 1979
Track Description:
Bryan Ferry (September 1948)

Yes yes yes.

SHOW LESS

11
Deftones : Hole In the Earth
"Chino" - Camillo Wong Moreno (June 1973)

SHOW MORE

Track 1 from Saturday Night Wrist
Length: 00:04:11
Year: 2006
Track Description:
"Chino" - Camillo Wong Moreno (June 1973)

SHOW LESS

12
Peter Murphy : Marlene Dietrich's Favourite Poem
Peter John Murphy (July 1957)

Spot on.

SHOW MORE

Track 4 from Deep
Length: 00:05:20
Year: 1990
Track Description:
Peter John Murphy (July 1957)

Spot on.

SHOW LESS

13
Marianne Faithfull : Witches' Song
Marianne Faithful (December 1946)

This song fits with my theory about people born between Decembe [...]

SHOW MORE

Track 2 from Broken Englsih
Length: 00:04:44
Year: 1979
Track Description:
Marianne Faithful (December 1946)

This song fits with my theory about people born between December 21st and 31st. Love this song. Stunning, amazing, spot on...

SHOW LESS

14
Iggy Pop : I Need More
James Newell Osterberg, Jr. (April 1947)

Look the lyrics up yourself. Ha ha! I feel your sentimen [...]

SHOW MORE

Track 8 from Soldier
Length: 00:04:04
Year: 1980
Track Description:
James Newell Osterberg, Jr. (April 1947)

Look the lyrics up yourself. Ha ha! I feel your sentiment, Ig.

SHOW LESS

15
DJ Shadow : You Made It
Josh Davis (1973)

I love this song and this departure for Shadow. This is the only keep from The [...]

SHOW MORE

Track 15 from The Outsider
Length: 00:02:47
Year: 2006
Track Description:
Josh Davis (1973)

I love this song and this departure for Shadow. This is the only keep from The Outsider, for me, but the fact that this song exists tells me that I don't have to stay with what I've been doing for years.

SHOW LESS

16
The Creatures : Fury Eyes
Siouxsie Sioux - Janet Susan Ballion (May 1957)
"Budgie" - Peter Edward Clarke (Aug 1957)

[...]

SHOW MORE

Track 10 from Boomerang
Length: 00:02:10
Year: 1990
Track Description:
Siouxsie Sioux - Janet Susan Ballion (May 1957)
"Budgie" - Peter Edward Clarke (Aug 1957)

Boomerang was the second album to be released by The Creatures. They were my favorite married couple. They divorced in 2007, and I'm still dealing with it poorly. This album was recorded in Andalusia, Spain. Several songs are about their experiences in Spain. I have daydreamed about what experiences they might have had whilst making this album. Bliss.

SHOW LESS

17
Public Image Ltd. : Disappointed
John Joseph Lydon (January 1956)

"Isn't that what friends are for?" Thanks, Sir Lydon.

SHOW MORE

Track 2 from 9
Length: 00:05:34
Year: 1989
Track Description:
John Joseph Lydon (January 1956)

"Isn't that what friends are for?" Thanks, Sir Lydon.

SHOW LESS

18
Massive Attack : Inertia Creeps (Radio Edit)
Robert Del Naja (January 1965)
[no further comment - none needed]

SHOW MORE

Track 2 from Singles 90-98 (Disc 11)
Length: 00:04:11
Year: 1998
Track Description:
Robert Del Naja (January 1965)
[no further comment - none needed]

SHOW LESS

19
UNKLE : Restless (Feat. Josh Homme)
James Lavelle (1974) Josh Homme (1973)

Incredible way to keep the adrenalin up after the "Inertia [...]

SHOW MORE

Track 4 from War Stories
Length: 00:04:53
Year: 2007
Track Description:
James Lavelle (1974) Josh Homme (1973)

Incredible way to keep the adrenalin up after the "Inertia" build up.

SHOW LESS
Tag Board
You must log in to leave a tag
Stuff
Quick Jump
derhay's other mixes
Related mixes
recent visitors
show all