[?]
Not a member? Sign-up now, it's free!
Login
[?]
These are links to some of the major sections in the mixtape collective.
Lists: Browse various lists that are generated by the loads of data we have collected.
Contests: Check out the latest contests, see previous winners, and find out how you can be a part
Music: Check out our ever-growing database of musical knowledge! Use it to find any artist, album, or track that has been entered since the birth of the site and rate and find detailed usage statistics.
Main
[?]
Tired of looking at the same old pages? Try checking out a random one, you never know what you might find...
Random!
music for fleshy ones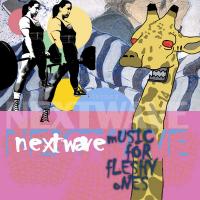 music for fleshy ones
Created by:
derhay
Tracks:
21
Length:
01:13:43
Keywords
1. Comic Book
2. Tribute
3. Much Bullets
Created on
10/17/06 04:10pm
Level
4
Points
1964
Total visitors
56
Unique visitors
40
description:
This is a tribute slash soundtrack to the first trade of NextWave from Marvel. Comprises chapter one through six.
tracklist
1
Thunder Thighs : NextWave Theme Song
This song is available to download at SHOW MORE
Track 0 from marvel.com
Length: 00:02:50
Year: 2006
Track Description:
This song is available to download at http://www .marvel.com/news/all.65

SHOW LESS

2
Cornelius : I Hate Hate
H.A.T.E. is the High Anti-Terrorism Effort. NextWave was formed by H.A.T.E., and we join up with the gang afte [...]

SHOW MORE

Track 8 from Point
Length: 00:01:44
Year: 2001
Track Description:
H.A.T.E. is the High Anti-Terrorism Effort. NextWave was formed by H.A.T.E., and we join up with the gang after they have gone rogue from the Effort. I love how the comic genre is defied and made fun of. Have I mentioned I love this book?

SHOW LESS

3
The Delgados : All You Need Is Hate
This promotional message brought to you by H.A.T.E. I really like The
Delgados, especially "I Fought The [...]

SHOW MORE

Track 2 from Hate
Length: 00:02:53
Year: 2002
Track Description:
This promotional message brought to you by H.A.T.E. I really like The
Delgados, especially "I Fought The Angels." This is a fun, Beatles-esque song.

SHOW LESS

4
ABBA : The Visitors (Crackin' Up)
The Captain - "His NAME is THE CAPTAIN!" - More cheese, but this is one of my favorite ABBA songs. (It follows [...]

SHOW MORE

Track 8 from More ABBA Gold
Length: 00:04:29
Year: 1993
Track Description:
The Captain - "His NAME is THE CAPTAIN!" - More cheese, but this is one of my favorite ABBA songs. (It follows track 3 well, too.) The title and keyboard solo are too perfect. Okay, Bowie's "New Killer Star" was the best title, but the song didn't fit this mix, for me. Enjoy.

SHOW LESS

5
The Damage Manual : Damage Addict
The Captain - Chris
Connelly, Martin Atkins, Jah Wobble, Geordie Walker and Lee Fraser. Their the poo, s [...]

SHOW MORE

Track 2 from 1
Length: 00:04:15
Year: 2000
Track Description:
The Captain - Chris
Connelly, Martin Atkins, Jah Wobble, Geordie Walker and Lee Fraser. Their the poo, so take a whiff. My recent Ministry phase introduced me
to this group. I really like what I've heard. Bitchin'

SHOW LESS

6
Snake River Conspiracy : Somebody Hates You
Chapter One - I couldn't leave this H.A.T.E. track off. I love this psuedo gameshow/psycho head trip of a song [...]

SHOW MORE

Track 9 from Sonic Jihad
Length: 00:03:56
Year: 2000
Track Description:
Chapter One - I couldn't leave this H.A.T.E. track off. I love this psuedo gameshow/psycho head trip of a song. I don't know why SRC fell off the face of the Earth.

SHOW LESS

7
The Creatures : Turn It On
Monica Rambeau - I was listening to this the other night and it dawned on me that this would make a cool song [...]

SHOW MORE

Track 3 from Anima Animus
Length: 00:04:11
Year: 1998
Track Description:
Monica Rambeau - I was listening to this the other night and it dawned on me that this would make a cool song for Captain Marvel.

SHOW LESS

8
My Vitrol : Alpha Waves
Monica - also - Great album opener from My Vitrol. Great, building instrumental.

SHOW MORE

Track 1 from Finelines
Length: 00:02:17
Year: 2001
Track Description:
Monica - also - Great album opener from My Vitrol. Great, building instrumental.

SHOW LESS

9
Anthrax : Random Acts of Senseless Violence
Dirk Anger - Director of H.A.T.E. "Formed and employed the Nextwave Squad, until they went piratey." [...]

SHOW MORE

Track 1 from Stomp 442
Length: 00:04:02
Year: 1995
Track Description:
Dirk Anger - Director of H.A.T.E. "Formed and employed the Nextwave Squad, until they went piratey."

SHOW LESS

10
Billy Idol : Shock to the System
Chapter Three - I have this single on cassette. I like the song, and I thought it was just campy enough to
SHOW MORE
Track 0 from Cyberpunk
Length: 00:03:33
Year: 1993
Track Description:
Chapter Three - I have this single on cassette. I like the song, and I thought it was just campy enough to
corroborate with what NextWave, as a comic, was trying to rebel against. This is my ode to Mac Mangel. "C'mere little guy..."

SHOW LESS

11
Bad Brains : Fearless Vampire Killers
Elsa Bloodstone - "...daughter of the near immortal monster hunter Ulysses Bloodstone."

SHOW MORE

Track 0 from Bad Brains
Length: 00:01:07
Year: 1980
Track Description:
Elsa Bloodstone - "...daughter of the near immortal monster hunter Ulysses Bloodstone."

SHOW LESS

12
AC/DC : Fire Your Guns
Elsa Bloodstone - natch - "If I have to beat up a lot of terrible little American proles today, I'm absolutely [...]

SHOW MORE

Track 2 from The Razors Edge
Length: 00:02:53
Year: 1990
Track Description:
Elsa Bloodstone - natch - "If I have to beat up a lot of terrible little American proles today, I'm absolutely going to need more tea, darling."

SHOW LESS

13
The Futureheads : Robot
Aaron - Elsa, "Okay- the robot who follows us around and stares at my chest is rubbish."

SHOW MORE

Track 2 from The Futureheads
Length: 00:02:00
Year: 2004
Track Description:
Aaron - Elsa, "Okay- the robot who follows us around and stares at my chest is rubbish."

SHOW LESS

14
April March : Caribou
Chapter Four - Bad Cop, Bad Kitty - I listened to this song the other night and
it struck me as very fit [...]

SHOW MORE

Track 3 from Chick Habit
Length: 00:03:02
Year: 1995
Track Description:
Chapter Four - Bad Cop, Bad Kitty - I listened to this song the other night and
it struck me as very fitting for this sequence with the wannabe
Transformer. It has a French Spaghetti Wester feel to it. I love April
March.

SHOW LESS

15
The Decemberists : Human Behavior
The Human Resources Dept. (H.A.T.E.) -

SHOW MORE

Track 0 from READ: Interpreting Bjork
Length: 00:04:16
Year: 2004
Track Description:
The Human Resources Dept. (H.A.T.E.) -

SHOW LESS

16
P.O.D. : Boom (The Crystal Method remix)
Tabby - erm, natch again - Liefield's version of her hair made me want a sign around her haid stating "Piso Mo [...]

SHOW MORE

Track 0 from Community Service
Length: 00:03:31
Year: 2002
Track Description:
Tabby - erm, natch again - Liefield's version of her hair made me want a sign around her haid stating "Piso Mojado" for her moppiness. Immonen's version's s'hot.

SHOW LESS

17
Frank Zappa : Valley Girl
Tabby - I knew her as "Boom Boom" from The New Mutants. This song is Moon Unit singing for her dad. Rock! I me [...]

SHOW MORE

Track 2 from Ship Arriving Too Late to Save the Drowning Witch
Length: 00:04:50
Year: 1982
Track Description:
Tabby - I knew her as "Boom Boom" from The New Mutants. This song is Moon Unit singing for her dad. Rock! I mean, "Gnarley."

SHOW LESS

18
Dozer : The Hills Have Eyes
Chapter One - Fin Fang Foom - "...and he's wearing underpants."

SHOW MORE

Track 1 from Call It Conspiracy
Length: 00:04:03
Year: 2003
Track Description:
Chapter One - Fin Fang Foom - "...and he's wearing underpants."

SHOW LESS

19
Oingo Boingo : Reptiles and Samurai
Chapter Six - How many songs could have captured the Combat Pterodactyl Suits AND Samuroid Batch 23? This is o [...]

SHOW MORE

Track 10 from Nothing to Fear
Length: 00:05:18
Year: 1982
Track Description:
Chapter Six - How many songs could have captured the Combat Pterodactyl Suits AND Samuroid Batch 23? This is one of the first songs that I fell in love with from Oingo Boingo. The Encyclopedia Britannica spoken word part slays me.

SHOW LESS

20
PJ Harvey : Dress
Chapter Six - D.A. - I won't give anything away as to why I'm using this track. I
vamped this song by ru [...]

SHOW MORE

Track 3 from Dry
Length: 00:03:18
Year: 1992
Track Description:
Chapter Six - D.A. - I won't give anything away as to why I'm using this track. I
vamped this song by running it through a "Hall" filter. It beefs up the
vocal a little and makes it sound like a live performance.

SHOW LESS

21
Brian Eno : Back in Judy's Jungle
Closing credits et al. I love this quirky song of a rag-tag unit put together for combat.

SHOW MORE

Track 2 from Taking Tiger Mountain (By Strategy)
Length: 00:05:15
Year: 1974
Track Description:
Closing credits et al. I love this quirky song of a rag-tag unit put together for combat.

SHOW LESS
Tag Board
You must log in to leave a tag
Stuff
Quick Jump
derhay's other mixes
Related mixes
recent visitors
show all