[?]
Not a member? Sign-up now, it's free!
Login
[?]
These are links to some of the major sections in the mixtape collective.
Lists: Browse various lists that are generated by the loads of data we have collected.
Contests: Check out the latest contests, see previous winners, and find out how you can be a part
Music: Check out our ever-growing database of musical knowledge! Use it to find any artist, album, or track that has been entered since the birth of the site and rate and find detailed usage statistics.
Main
[?]
Tired of looking at the same old pages? Try checking out a random one, you never know what you might find...
Random!
Gotta Gotta Gotta Get Away.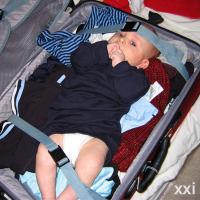 Gotta Gotta Gotta Get Away.
Created by:
derhay
Tracks:
22
Length:
01:19:02
Keywords
1. Mix Contest 21
2. Mix Contest 21
3. Mix Contest 21
Created on
5/06/08 12:45pm
Level
3
Points
1577
Total visitors
38
Unique visitors
24
This mix was ranked #7 out of 7 entries for this contest
description:
Once the plan is set, I'm much less anxious.
tracklist
1
Kiss : Getaway
New addition to my collection. Yeah, this sums up my mood. I've been to three conferences for work, during the [...]

SHOW MORE

Track 4 from Dressed to Kill
Length: 00:02:45
Year: 1975
Track Description:
New addition to my collection. Yeah, this sums up my mood. I've been to three conferences for work, during the last 45 days. "We" were able to accomplish a lot making contacts for work, but I'm burnt out on business. I'm putting my notice in that I'm taking all of July off. Thanks. Killer solo by Ace.

SHOW LESS

2
The Magnetic Fields : The Sun Goes Down and the World Goes Dancing
July 1st, I'm flying out to London on a Concord (this is a dream, right?). I'll arrive with time to check in t [...]

SHOW MORE

Track 20 from 69 Love Songs Vol. 2
Length: 00:02:46
Year: 1999
Track Description:
July 1st, I'm flying out to London on a Concord (this is a dream, right?). I'll arrive with time to check in to my posh hotel, eat a good meal and then go see The Magnetic Fields at Shepherds Bush Empire on July 2. Jealous yet?

SHOW LESS

3
They Might Be Giants : It's Not My Birthday
July 3 marks 12 years from the day that I left Portugal and the day that I finally get to set foot in Virgin R [...]

SHOW MORE

Track 7 from Miscellaneous T
Length: 00:01:51
Year: 1991
Track Description:
July 3 marks 12 years from the day that I left Portugal and the day that I finally get to set foot in Virgin Retail Ltd. This is the song I will sing to myself as I commence the first wave of mass music binging on this trip. This has been a dream of mine for some time.

SHOW LESS

4
Morrissey : At Amber
July 4th, I will celebrate independance at Hyde Park for day 2 of the O2 Wireless Festival. I will try and see [...]

SHOW MORE

Track 2 from My Early Burglary Years
Length: 00:02:44
Year: 1998
Track Description:
July 4th, I will celebrate independance at Hyde Park for day 2 of the O2 Wireless Festival. I will try and see Morrisey (featured here with one of my very favorite songs from Moz), Beck, Guillemots (Track 5), Siouxsie Sioux (Track 6), and New York Dolls.

SHOW LESS

5
Guillemots : Kriss Kross
I can't wait for this album. I've listened to this song so much, recently. Can't wait to see it live.

SHOW MORE

Track 1 from Red
Length: 00:04:24
Year: 2008
Track Description:
I can't wait for this album. I've listened to this song so much, recently. Can't wait to see it live.

SHOW LESS

6
Siouxsie : Loveless
For a long time, up until last year, I would have sold both kidneys to see Siouxsie Sioux and Budgie perform t [...]

SHOW MORE

Track 4 from Mantaray
Length: 00:04:24
Year: 2007
Track Description:
For a long time, up until last year, I would have sold both kidneys to see Siouxsie Sioux and Budgie perform together. They divorced near the end of last Summer. I like this song the most, from her first solo album, mostly out of spite. I don't think she can pull this song off live. There is xylophone played on the track, and I'm pretty sure Budgie will not be playing that part live. After the show, I'm inviting her to travel with me, by train, to Rotterdam. She will accept my proposal.

SHOW LESS

7
Lionrock : She's on the Train
Great, great song. I quiz Siouxsie about her relationship with Budgie and get some closure as to why mommy and [...]

SHOW MORE

Track 7 from City Delirious
Length: 00:04:29
Year: 1998
Track Description:
Great, great song. I quiz Siouxsie about her relationship with Budgie and get some closure as to why mommy and daddy are not together anymore. We will part on good terms and she will have to fly to Pisa, Italy for her show on the 6th. I set up camp and look for vinyl shops until I get to see...

SHOW LESS

8
Devotchka : Queen of the Surface Streets
...DeVotchKa and Murder By Death at the Metropolis Festival at Zuiderpark in Rotterdam (Netherlands) on the 6t [...]

SHOW MORE

Track 4 from Una Volta
Length: 00:05:29
Year: 2003
Track Description:
...DeVotchKa and Murder By Death at the Metropolis Festival at Zuiderpark in Rotterdam (Netherlands) on the 6th. I'm able to find an unused Babel fish (The Hitchhiker's Guide to the Galaxy) and I feel much less like a tourist. This is such a great song and a wonderful addition to this vacay's soundtrack. Does anyone say "vacay"? Next...

SHOW LESS

9
Murder by Death : '52 Ford
...Murder By Death. My nephew introduced me this band, and he can look forward to an awesome birthday present, [...]

SHOW MORE

Track 10 from Red of Tooth and Claw
Length: 00:02:25
Year: 2008
Track Description:
...Murder By Death. My nephew introduced me this band, and he can look forward to an awesome birthday present, in July, for this benevolent act. This band combines what I love about The Denver Sound with Johnny Cash. Great song.

SHOW LESS

10
Placebo : black-eyed
Traveling back toward London, I stop for a night's stay in Bruges, Belgium. I've heard that it's a great spot [...]

SHOW MORE

Track 6 from Black Market Music
Length: 00:03:50
Year: 2000
Track Description:
Traveling back toward London, I stop for a night's stay in Bruges, Belgium. I've heard that it's a great spot for tourists. :)

July 8th I will go to the Doctor Who Exhibit, back in London and see Spamalot (sans Clay) the next night. July 10th I will enjoy seeing Placebo at Mish Mash.

SHOW LESS

11
The Black Keys : Aeroplane Blues
Back to New York. Killer song. I love me some Black Keys.

SHOW MORE

Track 3 from Rubber Factory
Length: 00:02:50
Year: 2004
Track Description:
Back to New York. Killer song. I love me some Black Keys.

SHOW LESS

12
Cerys Matthews : Streets of New York
July 11th: My flight arrives an hour before my wife's flight arrives from SLC. I retrieve my luggage, which in [...]

SHOW MORE

Track 1 from Never Said Goodbye
Length: 00:04:36
Year: 2006
Track Description:
July 11th: My flight arrives an hour before my wife's flight arrives from SLC. I retrieve my luggage, which includes my clothes and two bags of music purchased in Europa. During my brief layover on the 1st, I left some things, for this stretch of the trip, in an airport locker. I meet up with me best friend and we go to our posh hotel suite.

SHOW LESS

13
The Cardigans : Traveling with Charley
This is for day one of our What Not To Wear week of shopping in New York (with or without Clinton and Stacy). [...]

SHOW MORE

Track 2 from Life
Length: 00:04:09
Year: 1995
Track Description:
This is for day one of our What Not To Wear week of shopping in New York (with or without Clinton and Stacy). What a sweet, upbeat song. I imagine us on a movie treadmill with a video of New York streets passing behind us. It's one of those soundtracky songs. Loving it.

SHOW LESS

14
The Cure : Halo
This week is all about my wife (it is the very least I can do - she's letting me go for four weeks). She and I [...]

SHOW MORE

Track 2 from Friday I'm In Love
Length: 00:03:50
Year: 1992
Track Description:
This week is all about my wife (it is the very least I can do - she's letting me go for four weeks). She and I watch What Not To Wear several times every week (thanks TiVo) and I'd love for her to have a chance to improve her wardrobe. The details of my wife's credit card are not important, let's pretend Ophrah, Ryan Seacrest, Stephanie Meyer or someone provides a pre-paid bottomless account, so Megz is allowed to purchase what she wants, without that yucky comsumers' remorse.

My wife made this song real for me. Thank you (forever), sweety.

SHOW LESS

15
Vampire Weekend : M79
Gaining even more steam. What a treamendously great song. More great dining, walking hand-in-hand, and fightin [...]

SHOW MORE

Track 5 from Vampire Weekend
Length: 00:04:17
Year: 2008
Track Description:
Gaining even more steam. What a treamendously great song. More great dining, walking hand-in-hand, and fightin' Gotham's crime. No, scratch that last remark from the record. Great song, I can't help but smile to it.

SHOW LESS

16
DJ Honda : Travellin' Man (Remix) feat. Mos Def
July 18th, we part company at Denver International Airport. This plays in my head as we fly from New York. Oh, [...]

SHOW MORE

Track 8 from We Are Hip Hope. Me. You. Everybody (disc 1)
Length: 00:03:55
Year: 0000
Track Description:
July 18th, we part company at Denver International Airport. This plays in my head as we fly from New York. Oh, the Mighty Mos!

SHOW LESS

17
Jon Spencer Blues Explosion : Calvin
This starts as I approach the exit the airport, enter a cab and ride to the hotel.

SHOW MORE

Track 1 from Acme
Length: 00:03:04
Year: 1998
Track Description:
This starts as I approach the exit the airport, enter a cab and ride to the hotel.

SHOW LESS

18
The New Mastersounds : The Vandenburg Suite
Another dream come true - seeing The New Mastersounds. They play day two at the very first Mile High Music Fes [...]

SHOW MORE

Track 12 from This Is What We Do
Length: 00:03:38
Year: 2005
Track Description:
Another dream come true - seeing The New Mastersounds. They play day two at the very first Mile High Music Festival. I'm stoked, because I will get to see Tom Petty & The Heartbreakers, Flogging Molly, The Roots and Spoon. If The Roots and TNM jam together it is guaranteed that Yanni's head will inexpicably roll from his neck. You read it here first.

SHOW LESS

19
Spoon : All I Got Is Me
I've been feeling this song. Sat. July 19th - maybe they'll perform this one. This starts off my road trip to [...]

SHOW MORE

Track 2 from Don't You Evah
Length: 00:03:26
Year: 2008
Track Description:
I've been feeling this song. Sat. July 19th - maybe they'll perform this one. This starts off my road trip to San Francisco, for one last concert. I have 1,250 plus miles to travel, from Denver to Berkeley, and that should give me time enough to make memories with all (most) of the music I've purchased so far.

SHOW LESS

20
Black Rebel Motorcycle Club : Wishing Well
Fri. July 25th - Greek Theatre - U.C. Berkeley - BRMC and STP (you have to buy a vowel, son). This is my favor [...]

SHOW MORE

Track 3 from Howl Sessions, Vol. 2 - EP
Length: 00:02:13
Year: 2006
Track Description:
Fri. July 25th - Greek Theatre - U.C. Berkeley - BRMC and STP (you have to buy a vowel, son). This is my favorite road trip song from BRMC. Yes!

SHOW LESS

21
Stone Temple Pilots : Interstate Love Song
I get to see Peter, Robert, Nick AND Eric Kretz AND the DeLeo brothers all perform live!?! I must be dreaming. [...]

SHOW MORE

Track 4 from Purple
Length: 00:03:14
Year: 1994
Track Description:
I get to see Peter, Robert, Nick AND Eric Kretz AND the DeLeo brothers all perform live!?! I must be dreaming. This ties in with the road trip vibe, and I'm almost ready to return home.

SHOW LESS

22
'Til Tuesday : Coming Up Close
Take me home on the wings of Delta, Aimee Mann. "Everything sounds like welcome home, come home".

SHOW MORE
Track 2 from Welcome Home
Length: 00:04:43
Year: 1986
Track Description:
Take me home on the wings of Delta, Aimee Mann. "Everything sounds like welcome home, come home".

This is my ideal: time alone with my wife, music shops, concerts, driving, great food and enough memories to get me through the Winter. I hope you enjoyed the trip.

SHOW LESS
Tag Board
You must log in to leave a tag
Stuff
Quick Jump
derhay's other mixes
Related mixes
recent visitors
show all