[?]
Not a member? Sign-up now, it's free!
Login
[?]
These are links to some of the major sections in the mixtape collective.
Lists: Browse various lists that are generated by the loads of data we have collected.
Contests: Check out the latest contests, see previous winners, and find out how you can be a part
Music: Check out our ever-growing database of musical knowledge! Use it to find any artist, album, or track that has been entered since the birth of the site and rate and find detailed usage statistics.
Main
[?]
Tired of looking at the same old pages? Try checking out a random one, you never know what you might find...
Random!
Wine Snobs: Catering to the Masses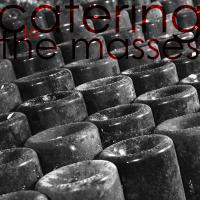 Wine Snobs: Catering to the Masses
Created by:
galaxiepi
Tracks:
17
Length:
01:03:38
Keywords
1. Wine
2. Classic
3. Soul
Created on
6/25/06 11:57am
Level
10
Points
5063
Total visitors
502
Unique visitors
205
description:
I spend my weekends working in a wine tasting room. It's 6 hours of being bored, with the occasional couple or group coming in to parttake in the vino while I toss out flowery adjectives describing said vino. I need music that won't offend old people, yet will keep me somewhat entertained. Thus this mix was born. Mostly old school, mellow, feel good hits, with a smattering of newer artists that don't offend the palate. Fermented 75% in French oak barrels, 25% in steel barrels, so it gives a soft mouthfeel with a surprising crispness at the edges.
tracklist
1
Ray Charles : Georgia on My Mind
I get an overwhelming feeling of contentness when I hear the opening notes to this song. I still haven't even [...]

SHOW MORE

Track 8 from The Very Best of Ray Charles
Length: 00:03:39
Year: 2000
Track Description:
I get an overwhelming feeling of contentness when I hear the opening notes to this song. I still haven't even seen the damn movie, and I believe this song was the one they used in all the ads, but it's been a long love of mine. Smooth and buttery, like a Chardonnay.

SHOW LESS

2
Al Green : Let's Stay Together
"I-I-I... I'm so in love with you." To this day, every time I hear this song I have to grin and shake my head [...]

SHOW MORE

Track 6 from Greatest Hits
Length: 00:03:20
Year: 1995
Track Description:
"I-I-I... I'm so in love with you." To this day, every time I hear this song I have to grin and shake my head with disbelief at how perfect this song truly is. Hearty with a slight berry finish, this is the red Zinfandel of the mix.

SHOW LESS

3
Ella Fitzgerald : Summertime
Quintessential for a relaxed and slightly inebriated summer afternoon. Ella's voice meanders over and around t [...]

SHOW MORE

Track 14 from The Very Best of Ella Fitzgerald
Length: 00:04:58
Year: 1998
Track Description:
Quintessential for a relaxed and slightly inebriated summer afternoon. Ella's voice meanders over and around the lyrics, and Louis Armstrong's raspy, soulful contrast offers that irreplaceable depth found in a white like Viognier. Served chilled, naturally.

SHOW LESS

4
B.B. King : The Thrill is Gone
Usually the first song you think of when you think of the ever-delightful and ever-alive B.B. I saw him perfor [...]

SHOW MORE

Track 7 from Greatest Hits
Length: 00:05:24
Year: 1998
Track Description:
Usually the first song you think of when you think of the ever-delightful and ever-alive B.B. I saw him perform at a winery last summer and was just WAITING for him to bust out with this track. Of course he obliged. I'm pretty sure I was tipsy off of a lovely Barbera at the time, so I think that works. An original, earthy red that has depth and integrity in its structure.

SHOW LESS

5
The Super Super Blues Band : Goin' Down Slow
Muddy Waters. Chuck Berry. Bo Diddley. Howlin' Wolf. FUCK. If it hasn't been apparent by a few of my mixes, I [...]

SHOW MORE

Track 7 from The Super Super Blues Band
Length: 00:04:48
Year: 1968
Track Description:
Muddy Waters. Chuck Berry. Bo Diddley. Howlin' Wolf. FUCK. If it hasn't been apparent by a few of my mixes, I have a proclivity for the blues. The guitar in this song is like a prescription for an ailment you didn't know you had. Of the mix, this is a red blend served at a hole-in-the-wall restaurant that has surprisinginly good taste. Yumminess.

SHOW LESS

6
Fiona Apple : Waltz (Better Than Fine)
This seems like a drastic difference from the last track, but the waltzing piano and the un-Fionalike optimism [...]

SHOW MORE

Track 12 from Extraordinary Machine
Length: 00:03:46
Year: 2005
Track Description:
This seems like a drastic difference from the last track, but the waltzing piano and the un-Fionalike optimism settle it nicely among the older and more established tracks. A young Chablis; light, crisp, with a steely edge.

SHOW LESS

7
Billy Joel : Vienna
A similar piano theme as the previous song. I'm not really a big Billy Joel fan (refer to Chuck Klosterman's c [...]

SHOW MORE

Track 5 from The Stranger
Length: 00:03:35
Year: 1977
Track Description:
A similar piano theme as the previous song. I'm not really a big Billy Joel fan (refer to Chuck Klosterman's chapter on the subject in 'Sex, Drugs, and Cocoa Puffs), but this song has a good "returning to old friends (or family)" kind of tone to it. Which of course is a perfect setting for wine. I would equate this with white Zinfandel-- I hate it, but all the women in my family love the stuff. A sweeter blush wine easily found in box form.

SHOW LESS

8
Ella Fitzgerald : Whatever Lola Wants
You can't compare this to the other Ella song, so I don't think it counts as a double dip. Ella approaches thi [...]

SHOW MORE

Track 10 from Ella Sings Broadway
Length: 00:02:35
Year: 1962
Track Description:
You can't compare this to the other Ella song, so I don't think it counts as a double dip. Ella approaches this song as a Petite Sirah-- anything but petite. Strong, full, tannic... a bold wine that gets what it wants.

SHOW LESS

9
Peggy Lee : Fever
The sparse percussion complements Miss Peggy's smooth and flawless voice. A German Riesling... tart and fruity [...]

SHOW MORE

Track 11 from The Best of Miss Peggy Lee
Length: 00:03:19
Year: 1998
Track Description:
The sparse percussion complements Miss Peggy's smooth and flawless voice. A German Riesling... tart and fruity.

SHOW LESS

10
Nina Simone : I Put a Spell on You
Nina has one of the most original and even grating jazz vocals. Accompanied by a piano and saxophone, the time [...]

SHOW MORE

Track 3 from Nina' Simone's Finest Hour
Length: 00:02:37
Year: 2000
Track Description:
Nina has one of the most original and even grating jazz vocals. Accompanied by a piano and saxophone, the timeless artiste crafts this song into a timeless, bold and deep Chianti.

SHOW LESS

11
Neko Case : Maybe Sparrow
Pinot Gris has become a trendy wine as of late. Dry with just a slight sweet mineral finish, the wine goes wel [...]

SHOW MORE

Track 10 from Fox Confessor Brings the Flood
Length: 00:02:39
Year: 2006
Track Description:
Pinot Gris has become a trendy wine as of late. Dry with just a slight sweet mineral finish, the wine goes well with almost any food. Thus can be said for what I feel is the best track off of Neko's 'Fox Confessor'. Her voice hits some of its best notes on this sentimental and even whimsical song.

SHOW LESS

12
Joni Mitchell : A Case of You
"I could drink a case of you." The necessity of having this Joni track is fairly apparent. A Sauvignon Blanc o [...]

SHOW MORE

Track 9 from Blue
Length: 00:04:24
Year: 1971
Track Description:
"I could drink a case of you." The necessity of having this Joni track is fairly apparent. A Sauvignon Blanc of songs... flavors reminiscient of grass, apples, and smoke.

SHOW LESS

13
Nick Drake : One of These Things First
I like it for its optimistic feel, tinkling piano notes, and steady rhythmn. It's definitely a sweet white Gew [...]

SHOW MORE

Track 0 from Garden State Soundtrack
Length: 00:04:53
Year: 0000
Track Description:
I like it for its optimistic feel, tinkling piano notes, and steady rhythmn. It's definitely a sweet white Gewurztraminer served chilled on an indian summer afternoon.

SHOW LESS

14
Michael Bublé : Quando, Quando, Quando -- duet featuring Nelly Furtado
I only just realized that the only reason I actually LIKE Michael Bublé is because he looks like a lovely boy [...]

SHOW MORE

Track 4 from It's Time
Length: 00:04:45
Year: 2005
Track Description:
I only just realized that the only reason I actually LIKE Michael Bublé is because he looks like a lovely boy I dated. That aside, old ladies LOVE him. His "new Frank Sinatra" thing gets them all a-twitter. I also like this because it has fellow Vancouver Islander Nelly Furtado. I think he's from BC too, actually. Anyway. I don't recommend large quantities of this song. Like a too-sweet dessert Sherry.

SHOW LESS

15
Mirah & the Black Cat Orchestra : Bella Ciao
This is the main album I can listen to on repeat right now. It's Mirah's simple feminine vocals paired with a [...]

SHOW MORE

Track 12 from To All We Stretch the Open Arm
Length: 00:02:01
Year: 2004
Track Description:
This is the main album I can listen to on repeat right now. It's Mirah's simple feminine vocals paired with a very traditionally European band. This song is like the previous in that it features Italian words, but it feels much more authentic than Bublé's store-bought smoothness. It's an Italian Barbaresco with its light elegance.

SHOW LESS

16
Sarah Slean : Duncan
This album wasn't even on Amazon. Nevertheless, I love love love Sarah Slean. She has an amazing voice, beauti [...]

SHOW MORE

Track 3 from Night Bugs
Length: 00:04:09
Year: 2002
Track Description:
This album wasn't even on Amazon. Nevertheless, I love love love Sarah Slean. She has an amazing voice, beautiful and haunting lyrics, and a touch of whimsy in all her songs. She's also incredibly intelligent, and I hold a high level of respect for this Canadian chanteuse. This song is bittersweet, bubbly and reminiscient, like a dry Champagne.

SHOW LESS

17
Billie Holiday : The Very Thought Of You
Billie is a mellow yet complex Merlot. Dark, with deep berry and plum flavors; a classic wine. The opening pia [...]

SHOW MORE

Track 91 from Lady Day: The Complete Billie Holiday on Columbia (1933-1944)
Length: 00:02:46
Year: 2001
Track Description:
Billie is a mellow yet complex Merlot. Dark, with deep berry and plum flavors; a classic wine. The opening piano and her lilting, deep voice instantly transport you to a smoky bar in wartime America.

SHOW LESS
Tag Board
You must log in to leave a tag
Stuff
Quick Jump
galaxiepi's other mixes
Related mixes
recent visitors
show all