[?]
Not a member? Sign-up now, it's free!
Login
[?]
These are links to some of the major sections in the mixtape collective.
Lists: Browse various lists that are generated by the loads of data we have collected.
Contests: Check out the latest contests, see previous winners, and find out how you can be a part
Music: Check out our ever-growing database of musical knowledge! Use it to find any artist, album, or track that has been entered since the birth of the site and rate and find detailed usage statistics.
Main
[?]
Tired of looking at the same old pages? Try checking out a random one, you never know what you might find...
Random!
Dreamscapes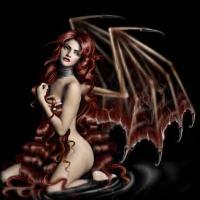 Dreamscapes
Created by:
Calaveth
Tracks:
15
Length:
01:02:48
Keywords
1. Mix Contest 24 - Hell
2. Mix Contest 24 - Hell
3. Mix Contest 24 - Hell
Created on
10/03/08 06:49pm
Level
4
Points
1977
Total visitors
60
Unique visitors
23
This mix was ranked #1 out of 8 entries for this contest
description:
This mixtape contest made me think of an episode when I was around 17 years old - I think it was the last year of high school. I was sick, really sick, and the fever I was running was really bad.
I've always had recurring dreams, the first memories of them are from as early as when I was five years old, and the same dream (and others) recurred time and time again, and many of these dreams took place in, appropriately enough for this contest, Hell.
This time these recurring dreams decided to line up into one big messed up fever dream.
tracklist
1
AC/DC : Hells Bells
This is the first recurring part of the dream, which always begin in the same way, and it's just as weird ever [...]

SHOW MORE

Track 1 from Back in Black
Length: 00:05:11
Year: 1980
Track Description:
This is the first recurring part of the dream, which always begin in the same way, and it's just as weird every time. I'm facing off against some sinister gunslinger with a vaguely familiar face (I'm thinking different faces show up here, bosses, film villains, authority figures of different kind, but I don't really remember). Retrofitting the song into my dream, my nemesis draw his guns as the bells toll to open the mix. Oh, and in the dream, I'm currently like six years old, and I'm not sure why the bad guy is in such a hurry to draw, because it seems I don't have a gun. What's up with that?

SHOW LESS

2
The Breeders : Hellbound
Now things get weird. As I'm shot, repeatedly, I don't bleed or hurt. Instead, I sink into the ground...with e [...]

SHOW MORE

Track 5 from Pod
Length: 00:02:21
Year: 1990
Track Description:
Now things get weird. As I'm shot, repeatedly, I don't bleed or hurt. Instead, I sink into the ground...with each bullet, I sink further down, until I'm swallowed entirely by the muddy ground. Things momentarily go black...

SHOW LESS

3
The Warlocks : Angels In Heaven, Angels In Hell
...but just for a moment, because the next, I'm falling. The most classic dream sequence of all? The annoying [...]

SHOW MORE

Track 4 from Surgery
Length: 00:04:14
Year: 0000
Track Description:
...but just for a moment, because the next, I'm falling. The most classic dream sequence of all? The annoying thing is that I'm accompanied by some dude with wings who is in perfect control of his descent and seems awfully sympathetic about my free falling situation, but not enough to actually help me.

SHOW LESS

4
Eagles of Death Metal : Flames Go Higher
When I eventually make a very ungraceful landing, it's apparent that this is Hell. Flames burst randomly from [...]

SHOW MORE

Track 4 from Peace Love Death Metal
Length: 00:02:54
Year: 2004
Track Description:
When I eventually make a very ungraceful landing, it's apparent that this is Hell. Flames burst randomly from fizzures in the ground, and in the distance that sinners are being tormented. I think. Could be something kinky, too. I also notice that I'm not in the body of a six year old anymore but in my "own" 17 year old one. For whatever reason.

SHOW LESS

5
Virgin Black : Our Wings Are Burning
The dude that descended with me is in bigger trouble as his wings are on fire. Panicked, he runs away, and I d [...]

SHOW MORE

Track 9 from Elegant...and Dying
Length: 00:08:26
Year: 2005
Track Description:
The dude that descended with me is in bigger trouble as his wings are on fire. Panicked, he runs away, and I don't see him again.

SHOW LESS

6
Siouxsie & the Banshees : Something Wicked (This Way Comes)
I'm approached by a group of devils, almost charicature like in their appearance - of course, my subconscious [...]

SHOW MORE

Track 3 from Downside Up (Disc 3)
Length: 00:04:21
Year: 2005
Track Description:
I'm approached by a group of devils, almost charicature like in their appearance - of course, my subconscious is working with what it has available... - and among them is a super fine succubus that looks remarkably like a girl in school. I don't remember any music, but she dances provocatively, and aggressively pulls me close...

SHOW LESS

7
Tom Waits : Everything Goes to Hell
Did I mention this is a recurring dream? I don't know how many times I've met this succubus in my dreams. The [...]

SHOW MORE

Track 2 from Blood Money
Length: 00:03:45
Year: 0000
Track Description:
Did I mention this is a recurring dream? I don't know how many times I've met this succubus in my dreams. The problem? This is where I usually wake up. I hate my subconscious sooo much.

SHOW LESS

8
Handsome Boy Modeling School : I've Been Thinking (feat. Cat Power)
However, yay fevers. This time, we bump and grind and do the nasty until we're interrupted...

SHOW MORE

Track 8 from White People
Length: 00:05:24
Year: 2004
Track Description:
However, yay fevers. This time, we bump and grind and do the nasty until we're interrupted...

SHOW LESS

9
Squirrel Nut Zippers : Hell
Suddenly there's like a big party going on around us. My lover doesn't seem to care, but I'm prudish and embar [...]

SHOW MORE

Track 7 from Hot
Length: 00:03:10
Year: 1996
Track Description:
Suddenly there's like a big party going on around us. My lover doesn't seem to care, but I'm prudish and embarrassed. The jazz band is belting out a great tune, and doesn't seem affected by us at all, hardly recognize that we're there.

SHOW LESS

10
Kaizers Orchestra : Djevelens Orkester
(The song title is "The Devil's Orchestra" in Norwegian...)
Remember the scene in the Disney version of t [...]

SHOW MORE

Track 5 from Evig Pint
Length: 00:03:49
Year: 2003
Track Description:
(The song title is "The Devil's Orchestra" in Norwegian...)
Remember the scene in the Disney version of the Jungle Book where King Louie has a song about being the king of the jungle, or something to that effect when Mowgli show up at his court (it was dubbed to Swedish, the only version I've ever seen)? Well, there's choreographed devils dancing, and Lucifer appears right in the middle of it all as a more sinister King Louie...

SHOW LESS

11
Beck : Devil's Haircut
Very stylish, obviously the only one here who can afford his own stylist. I just wonder...who's his hair dress [...]

SHOW MORE

Track 1 from Odelay
Length: 00:03:14
Year: 1996
Track Description:
Very stylish, obviously the only one here who can afford his own stylist. I just wonder...who's his hair dresser?

SHOW LESS

12
The Rapture : The Devil
Lucifer notices me where I'm hanging around and approaches me. We chit-chat, and obviously I'm not up on what' [...]

SHOW MORE

Track 5 from Pieces of the People We Love
Length: 00:04:37
Year: 2006
Track Description:
Lucifer notices me where I'm hanging around and approaches me. We chit-chat, and obviously I'm not up on what's cool, because he gets very mad and I find it safe to retreat. I hope I didn't insult his hairdo, because dude, it's wicked.

SHOW LESS

13
Dead Meadow : Me and the Devil Blues
I run away, and I find myself being the Devil...*on skis*. Please explain, someone. What do the skis signify? [...]

SHOW MORE

Track 8 from Shivering King And Others
Length: 00:03:37
Year: 2003
Track Description:
I run away, and I find myself being the Devil...*on skis*. Please explain, someone. What do the skis signify? That it's been a really cold winter? Anyway, something interesting must have happened, because it's snow and ice everywhere in Hell, and I'm wading through snow while the Devil (who now has a fur coat?) chases me over snow dunes. Eventually I find a small building that looks remarkably like my old kindergarten, and I hide inside a wardrobe until Lucifer tires of chasing me.

SHOW LESS

14
Ween : Mushroom Festival in Hell
This is the third recurring part of the dream, which I usually had on its own, and typically I would wake up r [...]

SHOW MORE

Track 18 from GodWeenSatan: The Oneness
Length: 00:02:35
Year: 1990
Track Description:
This is the third recurring part of the dream, which I usually had on its own, and typically I would wake up right around here as I was hiding in the dark wardrobe of my kindergarten.

SHOW LESS

15
Gorillaz : Spitting Out the Demons
This time, I woke up with a fever even higher than I had fallen asleep with. When I looked up, I screamed and [...]

SHOW MORE

Track 11 from D-Sides (disc 1)
Length: 00:05:10
Year: 2007
Track Description:
This time, I woke up with a fever even higher than I had fallen asleep with. When I looked up, I screamed and screamed, because I was convinced that the shadows were man-sized spiders, or other monsters. I soon fell asleep again, and started dreaming again...

SHOW LESS
Tag Board
You must log in to leave a tag
Stuff
Quick Jump
Calaveth's other mixes
Related mixes
recent visitors
show all