[?]
Not a member? Sign-up now, it's free!
Login
[?]
These are links to some of the major sections in the mixtape collective.
Lists: Browse various lists that are generated by the loads of data we have collected.
Contests: Check out the latest contests, see previous winners, and find out how you can be a part
Music: Check out our ever-growing database of musical knowledge! Use it to find any artist, album, or track that has been entered since the birth of the site and rate and find detailed usage statistics.
Main
[?]
Tired of looking at the same old pages? Try checking out a random one, you never know what you might find...
Random!
It All Comes Crashing Down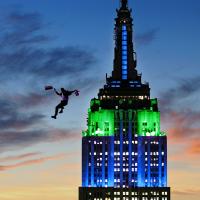 It All Comes Crashing Down
Created by:
Calaveth
Tracks:
14
Length:
01:05:52
Keywords
1. Mix Contest 25
2. Mix Contest 25
3. Mix Contest 25
Created on
10/22/08 02:22pm
Level
3
Points
1543
Total visitors
28
Unique visitors
17
This mix was ranked #6 out of 9 entries for this contest
description:
I'm afraid I ended up with what must be considered a train-wreck, at least as far as this contest is concerned. I like my mix, but for a party? This is a mix for a wake, or a mass suicide.

The theme: A wake for all the stock brokers jumping off buildings. Dress as a mourner or a dead stock broker. Alternative methods of suicide acceptable.
tracklist
1
Squirrel Nut Zippers : Bad Businessman
A jazzy start, with big promises of good deals from bad businessmen.

SHOW MORE

Track 9 from Hot
Length: 00:03:48
Year: 1996
Track Description:
A jazzy start, with big promises of good deals from bad businessmen.

SHOW LESS

2
Nick Cave And The Bad Seeds : Easy Money
Easiest money around - just borrow them. And if you need more, just borrow some more!

SHOW MORE

Track 4 from The Lyre of Orpheus
Length: 00:06:43
Year: 2004
Track Description:
Easiest money around - just borrow them. And if you need more, just borrow some more!

SHOW LESS

3
David Bowie : Telling Lies
Oh, everything's hunky dory!

SHOW MORE

Track 6 from Earthling
Length: 00:04:50
Year: 1997
Track Description:
Oh, everything's hunky dory!

SHOW LESS

4
Jon Spencer Blues Explosion : Money Rock 'n' Roll
We're rolling in money, what do you mean pay you back?

SHOW MORE

Track 3 from Plastic Fang
Length: 00:03:01
Year: 2002
Track Description:
We're rolling in money, what do you mean pay you back?

SHOW LESS

5
Tom Waits : 'Til the Money Runs Out
Er... Yeah, about that.

SHOW MORE

Track 6 from Heartattack and Vine
Length: 00:04:25
Year: 1980
Track Description:
Er... Yeah, about that.

SHOW LESS

6
Queens of the Stone Age : The Sky is Fallin'
"Only a moment I notice
Every dog has his day
I paid attention
Cost me so much today"

SHOW MORE

Track 5 from Songs for the Deaf
Length: 00:06:15
Year: 2002
Track Description:
"Only a moment I notice
Every dog has his day
I paid attention
Cost me so much today"

SHOW LESS

7
The Folk Implosion : Crash
That sound? Just my stock portfolio hitting the ground.

SHOW MORE

Track 9 from Kids
Length: 00:02:05
Year: 1995
Track Description:
That sound? Just my stock portfolio hitting the ground.

SHOW LESS

8
LCD Soundsystem : New York, I Love You But You're Bringing Me Down
Wall Street, to be precise...

SHOW MORE

Track 10 from Sound Of Silver
Length: 00:05:53
Year: 2007
Track Description:
Wall Street, to be precise...

SHOW LESS

9
DJ Shadow : Mutual Slump
Yeah I know, mutuals, not mutual. Not my fault DJ Shadow don't know to name his songs properly...

SHOW MORE

Track 8 from Endtroducing.....
Length: 00:04:04
Year: 1996
Track Description:
Yeah I know, mutuals, not mutual. Not my fault DJ Shadow don't know to name his songs properly...

SHOW LESS

10
Handsome Boy Modeling School : Breakdown (feat. Jack Johnson)
Just a nervous breakdown? At this party, that's nothing.

SHOW MORE

Track 6 from White People
Length: 00:04:09
Year: 2004
Track Description:
Just a nervous breakdown? At this party, that's nothing.

SHOW LESS

11
The Lancaster Orchestra : We're All Gonna Die
Especially considering the line to the roof...

SHOW MORE

Track 6 from With Help From Absent Friends
Length: 00:03:50
Year: 2005
Track Description:
Especially considering the line to the roof...

SHOW LESS

12
Dead Meadow : Between Me and the Ground
Just air baby, and a few dozen floors.

SHOW MORE

Track 2 from Old Growth
Length: 00:03:15
Year: 2008
Track Description:
Just air baby, and a few dozen floors.

SHOW LESS

13
M. Ward : Sad, Sad Song
Alright, if I didn't want to kill myself before, I'm ready now.

SHOW MORE

Track 3 from Transfiguration Of Vincent
Length: 00:03:10
Year: 2003
Track Description:
Alright, if I didn't want to kill myself before, I'm ready now.

SHOW LESS

14
Beware of Safety : To The Roof! Let's Jump And Fall
Everyone to the roof, form a line... The whole mess ends with a soothing instrumental track that has the solut [...]

SHOW MORE

Track 6 from It Is Curtains
Length: 00:10:24
Year: 2007
Track Description:
Everyone to the roof, form a line... The whole mess ends with a soothing instrumental track that has the solution for broke stock brokers.

SHOW LESS
Tag Board
You must log in to leave a tag
Stuff
Quick Jump
Calaveth's other mixes
Related mixes
recent visitors
show all