[?]
Not a member? Sign-up now, it's free!
Login
[?]
These are links to some of the major sections in the mixtape collective.
Lists: Browse various lists that are generated by the loads of data we have collected.
Contests: Check out the latest contests, see previous winners, and find out how you can be a part
Music: Check out our ever-growing database of musical knowledge! Use it to find any artist, album, or track that has been entered since the birth of the site and rate and find detailed usage statistics.
Main
[?]
Tired of looking at the same old pages? Try checking out a random one, you never know what you might find...
Random!
SNOOZE Superior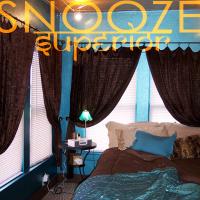 SNOOZE Superior
Created by:
galaxiepi
Tracks:
19
Length:
01:11:38
Keywords
1. Sleepy
2. Lazygoodfornothing
3. Ugh, seriously?
Created on
7/01/06 12:17am
Level
6
Points
2905
Total visitors
133
Unique visitors
63
description:
iHome Mixtape Battle. Me vs. TheLucc. We both have this ever-impressive alarm clock stereo for our iPods. We both use it as a means of waking up to whatever daily drudgery lay ahead, and the song choice is key in starting the day off right. The difference? My song choices are better. Or at least I'd like to think so.
The first 30 seconds are all-important, especially when hitting the snooze button. I don't like to be jarred awake, so something that gradually amplifies is ideal.
And yes, the artwork is my bedroom, complete with my beloved iHome. If they could sponsor me, that'd be super.
tracklist
1
Eels : Grace Kelly Blues
Monday I. A bummed-out royal procession that in its initial melancholy pomp and circumstance, makes the title [...]

SHOW MORE

Track 1 from Daisies of the Galaxy
Length: 00:03:37
Year: 2000
Track Description:
Monday I. A bummed-out royal procession that in its initial melancholy pomp and circumstance, makes the title homage to Grace Kelly rather appropos. Afterward it's the mellow stride typical of the Eels.

SHOW LESS

2
Sigur Rós : Starálfur
Tuesday I. I've been saying I was going to use this in a mix since I joined, and probably 50 people have beat [...]

SHOW MORE

Track 3 from Ágætis Byrjun
Length: 00:06:46
Year: 2001
Track Description:
Tuesday I. I've been saying I was going to use this in a mix since I joined, and probably 50 people have beat me to the punch, but nonetheless here it is. I love, love, love this song, and couldn't think of a better way to start a shitty Tuesday than with a song that spans almost all emotions in a concise and thoughtful 6 minutes and 46 seconds. Already the week is better.

SHOW LESS

3
Ben Folds Five : Song for the Dumped
Wednesday I. Wednesdays are a deserted island in the middle of a work week, farthest from the oasis of the wee [...]

SHOW MORE

Track 4 from Whatever and Ever Amen
Length: 00:03:39
Year: 1997
Track Description:
Wednesday I. Wednesdays are a deserted island in the middle of a work week, farthest from the oasis of the weekend. One needs sustenance to survive. Something lively, enthusiastic, yet a little bitter. That's where Ben Folds comes in. Thanks, man.

SHOW LESS

4
Adventure Time : Girl of the Well
Thursday I. I'm a sucker for tracks with some kind of worldly, international flair. This one starts off with f [...]

SHOW MORE

Track 9 from Dreams of Water Themes
Length: 00:04:10
Year: 2003
Track Description:
Thursday I. I'm a sucker for tracks with some kind of worldly, international flair. This one starts off with flute and what seems like chopped up tribal chanting... soothing, intriguing, and honestly making me want to get up and see the world. I need cheesy descriptions like that to get me out of bed. This is where emo does not apply.

SHOW LESS

5
Blackalicious : First in Flight
Friday I. Awwww yeeeeah. It's Friday. Time to get out of bed and strut-- you've got some plans tonight, young [...]

SHOW MORE

Track 4 from Blazing Arrow
Length: 00:04:32
Year: 2002
Track Description:
Friday I. Awwww yeeeeah. It's Friday. Time to get out of bed and strut-- you've got some plans tonight, young one!

SHOW LESS

6
The Streets : Don't Mug Yourself
Saturday I. "A new day, another morning after." Chances are I'm getting up to go running or work at the weeken [...]

SHOW MORE

Track 9 from Original Pirate Material
Length: 00:02:39
Year: 2002
Track Description:
Saturday I. "A new day, another morning after." Chances are I'm getting up to go running or work at the weekend gig, so something peppy and energetic is necessary to get my lazy self out of my glorious bed. Bring on the British.

SHOW LESS

7
Pinback : Loro
Sunday I. Ahhh... Sunday. Awaken with a leisurely tune, get up and turn the coffee pot on, and get back in bed [...]

SHOW MORE

Track 1 from Loro
Length: 00:03:39
Year: 1999
Track Description:
Sunday I. Ahhh... Sunday. Awaken with a leisurely tune, get up and turn the coffee pot on, and get back in bed to read the paper.

SHOW LESS

8
Jackson 5 : ABC
Monday II. "Oh fuck, who the hell decided to wake up with the fucking Jackson 5??" The reaction to this song i [...]

SHOW MORE

Track 2 from The Ultimate Collection
Length: 00:02:58
Year: 1996
Track Description:
Monday II. "Oh fuck, who the hell decided to wake up with the fucking Jackson 5??" The reaction to this song is either that or a hokey movie montage that includes jumping out of bed, pulling on your red and rainbow short shorts, tube socks, and jiving out the door with school books under your arm and the sun shining on your face. "Shake it, shake it baby. 1, 2, 3 baby. A, B, C baby."

SHOW LESS

9
David Bowie : Ziggy Stardust
Tuesday II. Only Bowie can make Tuesdays tolerable. I would definitely have morning sex with this song. As lon [...]

SHOW MORE

Track 9 from The Rise and Fall of Ziggy Stardust and the Spiders From Mars
Length: 00:03:12
Year: 1972
Track Description:
Tuesday II. Only Bowie can make Tuesdays tolerable. I would definitely have morning sex with this song. As long as it got its spiders from mars checked out. I hear that shit is naaaasty.

SHOW LESS

10
Built to Spill : The Plan
Wednesday II. Again, something a little more lively is needed in mere preparation for all the "Happy Hump Day! [...]

SHOW MORE

Track 1 from Keep It Like a Secret
Length: 00:03:29
Year: 1999
Track Description:
Wednesday II. Again, something a little more lively is needed in mere preparation for all the "Happy Hump Day!" emails you're going to get over the course of the day. I think those make my Wednesdays a little less tolerable. But Built to Spill tells me to keep my chin up, and that I've just got a case of the Wednesdays.

SHOW LESS

11
Edwyn Collins : Girl Like You
Thursday II. "I've never known a girl like you before." I've always loved this song, and its sexy, hip swing i [...]

SHOW MORE

Track 1 from A Casual Introduction: 1981-2001
Length: 00:03:55
Year: 2002
Track Description:
Thursday II. "I've never known a girl like you before." I've always loved this song, and its sexy, hip swing is easy to wake up to. The hipsters in '95 were all over this hot mess.

SHOW LESS

12
Beck : Clap Hands
Friday II. Beck + cowbell + clapping hands + sporadic scratching = a yummy Friday wakeup call.

SHOW MORE

Track 14 from Guerolito
Length: 00:03:19
Year: 2005
Track Description:
Friday II. Beck + cowbell + clapping hands + sporadic scratching = a yummy Friday wakeup call.

SHOW LESS

13
Subtle : f.k.o.
Saturday II. Ohhh... hangover. Please don't let the song be harsh on my melon. And then... Subtle. Such a chil [...]

SHOW MORE

Track 7 from A New White
Length: 00:03:51
Year: 2004
Track Description:
Saturday II. Ohhh... hangover. Please don't let the song be harsh on my melon. And then... Subtle. Such a chill way to wake up, it might make the weekend morning call a little less gnarly.

SHOW LESS

14
Maria Callas : Gianni Schicch: O Mio Babbino Caro
Sunday II. Waking up to opera, especially this piece, especially this singer, on a lazy Sunday, might be one o [...]

SHOW MORE

Track 3 from The Legend
Length: 00:02:38
Year: 2000
Track Description:
Sunday II. Waking up to opera, especially this piece, especially this singer, on a lazy Sunday, might be one of the nicest things ever. It's almost impossible to not have heard it in some form or another in your life. Maria Callas was truly a legend, and she takes on this Puccini work with a delicate reckoning.

SHOW LESS

15
Matthew Good Band : Strange Days
Monday III. "Good morning, don't cop out." A blissfully apathetic look at modern society. Is there any other w [...]

SHOW MORE

Track 3 from Beautiful Midnight
Length: 00:04:20
Year: 1999
Track Description:
Monday III. "Good morning, don't cop out." A blissfully apathetic look at modern society. Is there any other way to start a Monday?
"You're driving/ it's rush hour/ the cars on the freeway are moving/ backwards/ into a wall of fire." Haunting.

SHOW LESS

16
Ween : The Mollusk
Tuesday III. Why not begin the day learning about sealife? God bless you, Ween. Tuesday is now a little less.. [...]

SHOW MORE

Track 2 from The Mollusk
Length: 00:02:37
Year: 1997
Track Description:
Tuesday III. Why not begin the day learning about sealife? God bless you, Ween. Tuesday is now a little less... serious.

SHOW LESS

17
Deftones : No Ordinary Love
Wednesday III. I think Deftones covering Sade is about as good as you can get for today. Mmm... hawt.

SHOW MORE

Track 6 from B-Sides and Rarities
Length: 00:05:34
Year: 2005
Track Description:
Wednesday III. I think Deftones covering Sade is about as good as you can get for today. Mmm... hawt.

SHOW LESS

18
Willie Nelson : Angel Eyes ft. Emmylou Harris
Thursday III. A sweeter, more laid back way to start the day. Unoffensive, rambling country by two legendary a [...]

SHOW MORE

Track 20 from Honeysuckle Rose: Music from the Original Soundtracl
Length: 00:02:32
Year: 1980
Track Description:
Thursday III. A sweeter, more laid back way to start the day. Unoffensive, rambling country by two legendary artists. I could only dream to have the hair that Emmylou has at 60.

SHOW LESS

19
Tone Loc : Wild Thing
Friday III. Fuck yes, bitches. Turning this out with a little Tone Loc. "Please, baby baby, pleeease." If you [...]

SHOW MORE

Track 2 from Loc-ed After Dark
Length: 00:04:11
Year: 1989
Track Description:
Friday III. Fuck yes, bitches. Turning this out with a little Tone Loc. "Please, baby baby, pleeease." If you can listen to this and not a.) smile, or b.) do a little dance, well... I'm sorry.

SHOW LESS
Tag Board
You must log in to leave a tag
Stuff
Quick Jump
galaxiepi's other mixes
Related mixes
recent visitors
show all