[?]
Not a member? Sign-up now, it's free!
Login
[?]
These are links to some of the major sections in the mixtape collective.
Lists: Browse various lists that are generated by the loads of data we have collected.
Contests: Check out the latest contests, see previous winners, and find out how you can be a part
Music: Check out our ever-growing database of musical knowledge! Use it to find any artist, album, or track that has been entered since the birth of the site and rate and find detailed usage statistics.
Main
[?]
Tired of looking at the same old pages? Try checking out a random one, you never know what you might find...
Random!
To Bill With Love (Featuring Music from 1976-1978)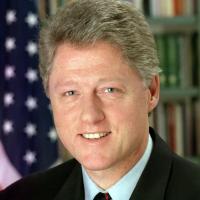 To Bill With Love (Featuring Music from 1976-1978)
Created by:
RetroJoe
Tracks:
19
Length:
01:14:10
Keywords
1. Mix Contest 29
2. Mix Contest 29
3. Mix Contest 29
Created on
2/14/09 10:58am
Level
2
Points
1449
Total visitors
17
Unique visitors
11
This mix was ranked #1 out of 4 entries for this contest
description:
Bill Clinton, the Casanova of politicians, left office with a record 68% approval rating. He was the first Democrat since FDR to win reelection, but was only the second president to be impeached. Under his watch, the average yearly income of Americans rose 13% and the national budget actually showed a rare surplus of over one half of a trillion dollars. With all his flaws, Americans came to love him and most people wished he could have run for a third term. Unfortunately for the history books, the Lewinsky scandal will play a prominent roll, but at the same time his sexual exploits were a significant part of who he was, and this mix is in large part dedicated to that aspect of him. I guess it just goes to show that everyone loves a lover.
tracklist
1
Paul Simon : Love Me Like A Rock
"And if I was the President, the minute the Congress called my name, I say now who do, who do you think you're [...]

SHOW MORE

Track 10 from There Goes Rhymin' Simon
Length: 00:03:32
Year: 1973
Track Description:
"And if I was the President, the minute the Congress called my name, I say now who do, who do you think you're foolin'..." I think his mama must have loved him very much, and rightly so.

SHOW LESS

2
Elvis Presley : It's Now or Never
For Halloween in 1992, I dressed as Elvis (but really as Bill Clinton doing an Elvis impersonation) who tooted [...]

SHOW MORE

Track 15 from Elv1s: 30 #1 Hits
Length: 00:03:20
Year: 2002
Track Description:
For Halloween in 1992, I dressed as Elvis (but really as Bill Clinton doing an Elvis impersonation) who tooted on a sax and serenaded voters by singing "It's Now or Never, Your vote won't wait".

SHOW LESS

3
Atlanta Rhythm Section : So In To You
This song is pretty suggestive sexually; kind of a foreshadowing of things to come further down the line. Bef [...]

SHOW MORE

Track 18 from Sounds of the Seventies: 1977
Length: 00:03:17
Year: 1990
Track Description:
This song is pretty suggestive sexually; kind of a foreshadowing of things to come further down the line. Before the last Presidential election women surprisingly voted more often for the Republican candidate, with the exception of the 2 elections won by Clinton (I guess you could say that they were in to him).

SHOW LESS

4
Fleetwood Mac : Don't Stop
This song of course was used prominently at the celebration bash following Clinton's first win in November 199 [...]

SHOW MORE

Track 4 from Rumours
Length: 00:03:13
Year: 1977
Track Description:
This song of course was used prominently at the celebration bash following Clinton's first win in November 1992. I also chose to use much of the music in this mix to match the year of (and the years surrounding) this song (when Clinton would have been at the age of 30-32).

SHOW LESS

5
Eagles : New Kid in Town
"There's talk on the street, it sounds so familiar. Great expectations; everybody's watching you. People you [...]

SHOW MORE

Track 2 from Hotel California
Length: 00:05:03
Year: 1976
Track Description:
"There's talk on the street, it sounds so familiar. Great expectations; everybody's watching you. People you meet all seem to know you. Even your old friends treat you like you're somethin' new."

SHOW LESS

6
Lucky Thompson : Happy Days Are Here Again
Happier times were ahead for the country, you could feel it in the air. This song features a lengthy sax solo [...]

SHOW MORE

Track 10 from Happy Days
Length: 00:05:25
Year: 1963
Track Description:
Happier times were ahead for the country, you could feel it in the air. This song features a lengthy sax solo and Clinton was probably playing the sax in high school at the time this song came out.

SHOW LESS

7
Wild Cherry : Play that Funky Music
As I just mentioned, Clinton was a sax player and he even performed with one on the Arsenio Hall TV show while [...]

SHOW MORE

Track 1 from '70s One Hit Wonders
Length: 00:05:02
Year: 2005
Track Description:
As I just mentioned, Clinton was a sax player and he even performed with one on the Arsenio Hall TV show while he was campaigning in 1992. It showed that, for a white guy, he had soul, and it caused some, after his win, to declare him the first black president.

SHOW LESS

8
The Village People : In The Navy
I asked his wife to tell him to think twice about it... I sent a letter to Hillary in Arkansas after he one t [...]

SHOW MORE

Track 8 from The Best of The Village People
Length: 00:03:43
Year: 1994
Track Description:
I asked his wife to tell him to think twice about it... I sent a letter to Hillary in Arkansas after he one the election to please have him wait till his second term to overturn the gay ban in the military saying I'd been in the Army and new the mentality he'd be dealing with to try to change that. I thought it would weaken his presidency if he tried a stunt like that right off the bat, and sure enough he went and tried (and failed) to do it anyway...

SHOW LESS

9
The Marvelettes : Don't Mess with Bill
I guess Hilary needed a longer version of this song for the message to sink in that he was "mine o mine". A v [...]

SHOW MORE

Track 18 from The Ultimate Collection
Length: 00:02:51
Year: 1998
Track Description:
I guess Hilary needed a longer version of this song for the message to sink in that he was "mine o mine". A very fine song with a great sax solo to boot (1966 #7, R&B #3).

SHOW LESS

10
Elvin Bishop : Fooled Around and Fell in Love
Well, he fooled around and had what most people (except maybe Bill) considered "sexual relations" with other w [...]

SHOW MORE

Track 5 from Struttin' my Stuff
Length: 00:04:36
Year: 1975
Track Description:
Well, he fooled around and had what most people (except maybe Bill) considered "sexual relations" with other women (since it didn't involve coital intercourse). He eventually admitted, at least in regards to Monica, that he had an inappropriate relationship with her (perhaps only because he was married).

SHOW LESS

11
Linda Ronstadt : It's So Easy
It's so easy to fool around (rather than fall in love) may be more accurate.

SHOW MORE

Track 1 from Simple Dreams
Length: 00:02:27
Year: 1977
Track Description:
It's so easy to fool around (rather than fall in love) may be more accurate.

SHOW LESS

12
Tito Nieves : I LIke It Like That
I think that we all know, especially after Kenneth Starr revealed all the sordid details, what "Like That" was [...]

SHOW MORE

Track 4 from Jock Jams, vol. 3
Length: 00:03:47
Year: 1997
Track Description:
I think that we all know, especially after Kenneth Starr revealed all the sordid details, what "Like That" was (and, oh yeah, Bill liked it).

SHOW LESS

13
John Paul Young : Love is In the Air
"And I don't know if I'm being foolish, Don't know if I'm being wise, but it's something that I must believe i [...]

SHOW MORE

Track 17 from Retrodance: The V.I.P. Zone
Length: 00:03:21
Year: 2008
Track Description:
"And I don't know if I'm being foolish, Don't know if I'm being wise, but it's something that I must believe in, and that's there when I look in your eyes."

SHOW LESS

14
KC and the Sunshine Band : I'm Your Boogie Man
Maybe he was having a mid life crisis and he went for a fling to make him feel 20 years younger (like the time [...]

SHOW MORE

Track 7 from Billboard Top Hits: 1977
Length: 00:04:04
Year: 1991
Track Description:
Maybe he was having a mid life crisis and he went for a fling to make him feel 20 years younger (like the time when this song came out).

SHOW LESS

15
Walter Egan : Magnet and Steel
There must have been great attraction between them for him to risk as much as he did.

SHOW MORE

Track 41 from Eazy Rock Ultimate Collection
Length: 00:03:20
Year: 2006
Track Description:
There must have been great attraction between them for him to risk as much as he did.

SHOW LESS

16
Luther Ingram : (If Loving You Is Wrong) I Don't Want To Be Right
"..Are you wrong to give your love, to a married man, and am I wrong, for tryin to hold on, to the best thing [...]

SHOW MORE

Track 17 from Only Love: 1970-1974
Length: 00:03:24
Year: 1995
Track Description:
"..Are you wrong to give your love, to a married man, and am I wrong, for tryin to hold on, to the best thing I ever had."

SHOW LESS

17
Johnny Mathis : It's Not for Me to Say
"..We may never meet again, but then, it's not for me to say."

SHOW MORE

Track 7 from Johnny's Greatest Hits
Length: 00:03:06
Year: 1958
Track Description:
"..We may never meet again, but then, it's not for me to say."

SHOW LESS

18
Paul Simon : Slip Slidin' Away
He was in his 2nd term as President, a time when he didn't have to worry about getting re-elected, when he cou [...]

SHOW MORE

Track 11 from Negotiations and Love Songs 1971-1986
Length: 00:04:45
Year: 1988
Track Description:
He was in his 2nd term as President, a time when he didn't have to worry about getting re-elected, when he could make some bold moves, but much of that slipped from his grasp when scandal and impeachment caused much of the potential to slip through his fingers.

SHOW LESS

19
Gerry Rafferty : Baker Street
"..This city desert makes you feel so cold, it's got so many people but it's got no soul, and it's taking you [...]

SHOW MORE

Track 1 from Baker Street
Length: 00:05:54
Year: 1999
Track Description:
"..This city desert makes you feel so cold, it's got so many people but it's got no soul, and it's taking you so long, to find out you were wrong, when you thought it held everything." The song also has great sax!

SHOW LESS
Tag Board
You must log in to leave a tag
Stuff
Quick Jump
RetroJoe's other mixes
Related mixes
recent visitors
show all