[?]
Not a member? Sign-up now, it's free!
Login
[?]
These are links to some of the major sections in the mixtape collective.
Lists: Browse various lists that are generated by the loads of data we have collected.
Contests: Check out the latest contests, see previous winners, and find out how you can be a part
Music: Check out our ever-growing database of musical knowledge! Use it to find any artist, album, or track that has been entered since the birth of the site and rate and find detailed usage statistics.
Main
[?]
Tired of looking at the same old pages? Try checking out a random one, you never know what you might find...
Random!
Where Do We Rock From Here?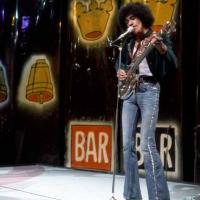 Where Do We Rock From Here?
Created by:
Growfins
Tracks:
21
Length:
01:15:26
Keywords
1. Mix Contest Black History
2. Mix Contest Black History
3. Mix Contest Black History
Created on
2/19/09 01:15pm
Level
4
Points
1825
Total visitors
45
Unique visitors
28
This mix was ranked #1 out of 4 entries for this contest
description:
A selection of songs that represent a very small part of what black musicians have contributed to the musical world. I tried to include several genres, but purposely left out jazz, hip hop and reggae. These should have mix contests of their own.
tracklist
1
Chuck Berry : Maybelline
My favorite song by Chuck Berry. I could have included so many artists of this era, but really, after Chuck wh [...]

SHOW MORE

Track 0 from
Length: 00:02:21
Year:
Track Description:
My favorite song by Chuck Berry. I could have included so many artists of this era, but really, after Chuck who is left?

SHOW LESS

2
Otis Redding : Hard to Handle
Like many Otis Redding songs, it was made big by somebody else, but his version has so much more to offer.

SHOW MORE

Track 0 from Pain In My Heart
Length: 00:02:21
Year: 0000
Track Description:
Like many Otis Redding songs, it was made big by somebody else, but his version has so much more to offer.

SHOW LESS

3
Jimi Hendrix Experience : One Rainy Wish
no description

SHOW MORE

Track 11 from Axis: Bold As Love
Length: 00:00:00
Year: 1967
Track Description:
no description

SHOW LESS

4
Baby Huey & the Baby Sitters : Listen To Me
Chicago soul signer. The man was 300 some odd pounds of amazing voice. Too bad he died before finishing his al [...]

SHOW MORE

Track 1 from The Baby Huey Story
Length: 00:06:41
Year: 1971
Track Description:
Chicago soul signer. The man was 300 some odd pounds of amazing voice. Too bad he died before finishing his album.

SHOW LESS

5
Stevie Wonder : Superstition
Stevie of this time period is great. If you haven't seen it, you should check out his performance of Superstit [...]

SHOW MORE

Track 6 from Talking Book
Length: 00:04:26
Year: 1972
Track Description:
Stevie of this time period is great. If you haven't seen it, you should check out his performance of Superstition on Sesame Street. It is on youtube. Seriously great stuff. Plus an awesome kid freaking out and dancing on the fire escape.

SHOW LESS

6
Shuggie Oris : Strawberry Letter 23
A great soul/psychedelic crossover song.

SHOW MORE

Track 10 from Inspiration Information
Length: 00:03:59
Year: 1974
Track Description:
A great soul/psychedelic crossover song.

SHOW LESS

7
Curtis Mayfield : Kung Fu
"She couldn't name me Jesus, I wasn't white enough she said."

SHOW MORE

Track 11 from The Best of Curtis Mayfield: Move on Up
Length: 00:03:52
Year: 0000
Track Description:
"She couldn't name me Jesus, I wasn't white enough she said."

SHOW LESS

8
Nina Simone : Ain't Got No, I Got Life
My favorite song of Nina's.

SHOW MORE

Track 8 from 'nuff Said
Length: 00:02:08
Year: 1968
Track Description:
My favorite song of Nina's.

SHOW LESS

9
Candi Staton : I'd Rather Be An Old Man's Sweetheart . . .
Why young men suck.

SHOW MORE

Track 3 from Candi Staton
Length: 00:02:06
Year: 0000
Track Description:
Why young men suck.

SHOW LESS

10
Ann Peebles : I Can't Stand the Rain
It was used as a sample in a Missy Elliot song, but the original version is just so sweet.

SHOW MORE

Track 0 from 70's Funk 'n' Soul Classics (disc 2)
Length: 00:02:28
Year: 1998
Track Description:
It was used as a sample in a Missy Elliot song, but the original version is just so sweet.

SHOW LESS

11
Ike and Tina Turner : I Idolize You
I love Ike and Tina. Too bad he had to go an beat a good thing. Say did anybody see the New York Post the day [...]

SHOW MORE

Track 1 from The Best of Ike and Tina Turner
Length: 00:02:54
Year: 1991
Track Description:
I love Ike and Tina. Too bad he had to go an beat a good thing. Say did anybody see the New York Post the day after Ike died? The headline read in an enormous font, "IKE BEATS TINA" then very small at the bottom of the page "to the grave."

SHOW LESS

12
Funkadelic : Who Says a Funk Band Can't Play Rock?!
Seriously, did somebody say that?

SHOW MORE

Track 3 from One Nation Under a Groove
Length: 00:06:20
Year: 1978
Track Description:
Seriously, did somebody say that?

SHOW LESS

13
Thin Lizzy : Ode To A Black Man
Great song, doing what this mix should do.

SHOW MORE

Track 11 from Black Rose Sessions
Length: 00:05:27
Year: 0000
Track Description:
Great song, doing what this mix should do.

SHOW LESS

14
Kildevil Blues : Mr. Butch Show (Theme)
Kildevil Blues, a great band in their own right, spent a bit of time as Mr. Butch's backing band. This is the [...]

SHOW MORE

Track 6 from The Mystery Show
Length: 00:04:51
Year: 1994
Track Description:
Kildevil Blues, a great band in their own right, spent a bit of time as Mr. Butch's backing band. This is the theme song to his stage show, and the only recorded song I could find with Mr. Butch.

SHOW LESS

15
Prince : Dirty Mind
Great early Prince. Still retains some of the funk.

SHOW MORE

Track 1 from Dirty Mind
Length: 00:04:16
Year: 1980
Track Description:
Great early Prince. Still retains some of the funk.

SHOW LESS

16
Andre Williams : Only Black Man in South Dakota
Andre Williams sang it dirty way back in the day. He recorded with Mick and Danny of The Gories and released S [...]

SHOW MORE

Track 9 from Silky
Length: 00:03:29
Year: 0000
Track Description:
Andre Williams sang it dirty way back in the day. He recorded with Mick and Danny of The Gories and released Silky - it is one of the best albums I have listened to in my life time. If you have not heard it, do yourself a huge favor and go get it now. Your life will be better for it.

SHOW LESS

17
Vernon Reid : Saint Cobain
The principle song writer and lead guitar player for Living Colour. His first solo album after the band split [...]

SHOW MORE

Track 8 from Mistaken Identity
Length: 00:02:31
Year: 1996
Track Description:
The principle song writer and lead guitar player for Living Colour. His first solo album after the band split had this tribute to Kurt Cobain.

SHOW LESS

18
Body Count : Cop Killa
The song that set off many congressional hearings and much hand wringing by my parent's generation.

SHOW MORE

Track 0 from Body Count
Length: 00:04:42
Year: 1992
Track Description:
The song that set off many congressional hearings and much hand wringing by my parent's generation.

SHOW LESS

19
X-Ray Spex : Warrior In Woolworths
Awesome song. Best punk band with a saxophone.

SHOW MORE

Track 3 from Germ Free Adolescents
Length: 00:03:05
Year: 1978
Track Description:
Awesome song. Best punk band with a saxophone.

SHOW LESS

20
TV On The Radio : Walking the Cow
I have just recently gotten into these guys, but I love Daniel Johnston.

SHOW MORE

Track 5 from The Late Great Daniel Johnston
Length: 00:04:44
Year: 2004
Track Description:
I have just recently gotten into these guys, but I love Daniel Johnston.

SHOW LESS

21
The Dirtbombs : Ever Lovin' Man
I love Mick Collins. The Dirtbombs are really something special. Thank you Detroit.

SHOW MORE

Track 2 from We Have You Surrounded
Length: 00:02:45
Year: 2008
Track Description:
I love Mick Collins. The Dirtbombs are really something special. Thank you Detroit.

SHOW LESS
Tag Board
You must log in to leave a tag
Stuff
Quick Jump
Growfins's other mixes
Related mixes
recent visitors
show all