[?]
Not a member? Sign-up now, it's free!
Login
[?]
These are links to some of the major sections in the mixtape collective.
Lists: Browse various lists that are generated by the loads of data we have collected.
Contests: Check out the latest contests, see previous winners, and find out how you can be a part
Music: Check out our ever-growing database of musical knowledge! Use it to find any artist, album, or track that has been entered since the birth of the site and rate and find detailed usage statistics.
Main
[?]
Tired of looking at the same old pages? Try checking out a random one, you never know what you might find...
Random!
I Need All The Friends I Can Get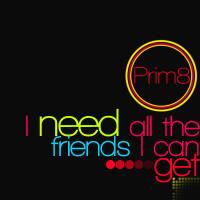 I Need All The Friends I Can Get
Created by:
Prim8
Tracks:
10
Length:
00:33:11
Keywords
1. indie
2. folk
3. pop
Created on
3/25/09 02:25am
Level
1
Points
1167
Total visitors
16
Unique visitors
13
description:
Just several songs that I'm loving at the moment. I think you'll enjoy them too.


tracklist
1
Camera Obscura : My Maudlin Career
From Camera Obscura's 2009 album of the same name. It's not out yet (as of now March 2009) but you can listen [...]

SHOW MORE

Track 8 from My Maudlin Career
Length: 00:04:20
Year: 2009
Track Description:
From Camera Obscura's 2009 album of the same name. It's not out yet (as of now March 2009) but you can listen to this track on their website or on their Myspace.

SHOW LESS

2
Weinland : The Devil In Me
Weinland is an indie folk/americana band that I just came across a week ago. This track is from their 2008 alb [...]

SHOW MORE

Track 3 from La Lamentor
Length: 00:03:00
Year: 2008
Track Description:
Weinland is an indie folk/americana band that I just came across a week ago. This track is from their 2008 album La Lamentor; another nice track from the same album is 'Sick As Gun'. They have a new album coming out this year, so look forward to that.

SHOW LESS

3
Math and Physics Club : Baby I'm Yours
A bittersweet song from Math and Physics Club's 2007 EP.

SHOW MORE

Track 1 from Baby I'm Yours (EP)
Length: 00:02:22
Year: 2007
Track Description:
A bittersweet song from Math and Physics Club's 2007 EP.

SHOW LESS

4
Beirut : Nantes
I've started listening to The Flying Club Cup again a few days ago and this is still one of my favourite track [...]

SHOW MORE

Track 2 from The Flying Club Cup
Length: 00:03:50
Year: 2007
Track Description:
I've started listening to The Flying Club Cup again a few days ago and this is still one of my favourite tracks.

SHOW LESS

5
Fanfarlo : Ghosts
This is the second track from English indie pop band Fanfarlo's debut album, Reservoir. Everything you like ab [...]

SHOW MORE

Track 2 from Reservoir
Length: 00:04:18
Year: 2009
Track Description:
This is the second track from English indie pop band Fanfarlo's debut album, Reservoir. Everything you like about indie pop/folk is there, melancholy vocals, gorgeous lyrics and all the wonderful instruments.

SHOW LESS

6
Thao with The Get Down Stay Down : Bag of Hammers
This song is just fun. The guitar, Thao's vocal, etc. Must listen.

SHOW MORE

Track 2 from We Brave Bee Stings and All
Length: 00:02:50
Year: 2008
Track Description:
This song is just fun. The guitar, Thao's vocal, etc. Must listen.

SHOW LESS

7
Hello Saferide : Anna
Hello Saferide is back in 2008 with another great album. "Anna" is one of my favourite tracks from the album.

SHOW MORE

Track 8 from More Modern Short Stories From Hello Saferide
Length: 00:03:10
Year: 2008
Track Description:
Hello Saferide is back in 2008 with another great album. "Anna" is one of my favourite tracks from the album.

SHOW LESS

8
Blind Pilot : Go On, Say It
Acoustic/folk-ish/pop duo making catchy and sweet music. You can listen to this song on their website and Mysp [...]

SHOW MORE

Track 6 from 3 Rounds And A Sound
Length: 00:03:21
Year: 2008
Track Description:
Acoustic/folk-ish/pop duo making catchy and sweet music. You can listen to this song on their website and Myspace.

SHOW LESS

9
Mates of State : Now
Latest album from this awesome indie rock duo was released last year (2008). It was actually one of my top alb [...]

SHOW MORE

Track 2 from More Re-Arrange Us
Length: 00:02:39
Year: 2008
Track Description:
Latest album from this awesome indie rock duo was released last year (2008). It was actually one of my top albums of 2008. "The Re-Arranger" seems to be the most known from the album but "Now" is just as catchy and wonderful.

SHOW LESS

10
Shearwater : Rooks
Also one of my top albums of 2008. "Rooks" is an wonderfully beautiful song. And sang beautifully as well.

SHOW MORE

Track 2 from Rook
Length: 00:03:21
Year: 2008
Track Description:
Also one of my top albums of 2008. "Rooks" is an wonderfully beautiful song. And sang beautifully as well.

SHOW LESS
Tag Board
You must log in to leave a tag
Stuff
Quick Jump
Prim8's other mixes
Related mixes
recent visitors
show all