[?]
Not a member? Sign-up now, it's free!
Login
[?]
These are links to some of the major sections in the mixtape collective.
Lists: Browse various lists that are generated by the loads of data we have collected.
Contests: Check out the latest contests, see previous winners, and find out how you can be a part
Music: Check out our ever-growing database of musical knowledge! Use it to find any artist, album, or track that has been entered since the birth of the site and rate and find detailed usage statistics.
Main
[?]
Tired of looking at the same old pages? Try checking out a random one, you never know what you might find...
Random!
This Is London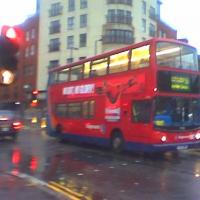 This Is London
Created by:
whackedtollie
Tracks:
15
Length:
00:45:41
Keywords
1. london
2. england
3. city
Created on
7/05/06 12:22am
Level
4
Points
1798
Total visitors
127
Unique visitors
66
description:
These are songs that remind me of London. I know I've never been there, but people are allowed a freedom of imagination, unless I am mistaken. If you don't like it, piss off.
tracklist
1
KillCity : Hooligans on E
"There's no need to call an ambulance, we're going home in a cosmic ambiance!" Written by Pete Doherty (who i [...]

SHOW MORE

Track 1 from Hooligans on E
Length: 00:03:00
Year: 2004
Track Description:
"There's no need to call an ambulance, we're going home in a cosmic ambiance!" Written by Pete Doherty (who is, like it or not, present in much of the mix) spontaneously one day while hanging around with writer Pete Welsh, this song was revived by Pete's ex-girlfriend and baby-momma Lisa Moorish and her band KillCity. This song is happy and English enough to deserve to be the first song on this mix.

SHOW LESS

2
The Libertines : Never Never
"I was sucking on a cigarette - where did that crowd come from?" Confusion, crowds, optimism, addled minds an [...]

SHOW MORE

Track 2 from Can't Stand Me Now [2]
Length: 00:02:27
Year: 2004
Track Description:
"I was sucking on a cigarette - where did that crowd come from?" Confusion, crowds, optimism, addled minds and the city where the fallen poet resides.

SHOW LESS

3
Client : Down to the Underground
I felt that there had to be at least one song that put the grey sky over one's head while listening to the mix [...]

SHOW MORE

Track 2 from In It for the Money
Length: 00:03:04
Year: 2004
Track Description:
I felt that there had to be at least one song that put the grey sky over one's head while listening to the mix. As it were, there are actually many, and this is just the first.

SHOW LESS

4
The Pipettes : Because It's Not Love
The Pipettes are a v. girly English retro-punk band with a color scheme (polka-dots) and various dance routine [...]

SHOW MORE

Track 2 from Dirty Mind - Single
Length: 00:02:35
Year: 2005
Track Description:
The Pipettes are a v. girly English retro-punk band with a color scheme (polka-dots) and various dance routines. It's brilliant.

SHOW LESS

5
Kaiser Chiefs : Saturday Night
"We're in the city on a Saturday night..."

SHOW MORE

Track 8 from Employment
Length: 00:03:27
Year: 2005
Track Description:
"We're in the city on a Saturday night..."

SHOW LESS

6
Maxïmo Park : Graffiti
These songs mesh well together. "I'll do graffiti if you sing to me in French... what are we doing here if ro [...]

SHOW MORE

Track 3 from A Certain Trigger
Length: 00:03:05
Year: 2005
Track Description:
These songs mesh well together. "I'll do graffiti if you sing to me in French... what are we doing here if romance isn't dead?" I forgot how much I love this song!

SHOW LESS

7
The Paddingtons : 50 to a Pound
Somewhat triumphant-sounding and very English. A good transition between "Graffiti" and the Jam track next.

SHOW MORE

Track 1 from 50 to a Pound
Length: 00:03:01
Year: 2005
Track Description:
Somewhat triumphant-sounding and very English. A good transition between "Graffiti" and the Jam track next.

SHOW LESS

8
The Jam : Down in the Tube Station at Midnight
If you run the beginning of this song over the end of the last one it works better cos the intro is kind of qu [...]

SHOW MORE

Track 12 from All Mod Cons
Length: 00:04:04
Year: 1978
Track Description:
If you run the beginning of this song over the end of the last one it works better cos the intro is kind of quiet and longer than would be preferred to follow.

"I first felt a fist, and then a kick. I could smell their breath. It smelled of pubs, and wormwood scrubs, and too many right wing meetings... the smell of brown leather, it blended in with the weather."

SHOW LESS

9
The Cribs : Baby Don't Sweat
This song has a good tune, it's danceable, and it's catchy. Something about it gives it the London Vibe to me [...]

SHOW MORE

Track 10 from The Cribs
Length: 00:02:46
Year: 2004
Track Description:
This song has a good tune, it's danceable, and it's catchy. Something about it gives it the London Vibe to me.

SHOW LESS

10
The Libertines : Up the Bracket
This is probably the most English song the Libertines came out with, on an album anyway, and that is saying so [...]

SHOW MORE

Track 7 from Up the Bracket
Length: 00:02:38
Year: 2002
Track Description:
This is probably the most English song the Libertines came out with, on an album anyway, and that is saying something.

SHOW LESS

11
Razorlight : In The City
Like many Razorlight songs so far, this song is heartbreakingly intense - but not (like a very few of their so [...]

SHOW MORE

Track 10 from Up All Night
Length: 00:04:50
Year: 2004
Track Description:
Like many Razorlight songs so far, this song is heartbreakingly intense - but not (like a very few of their songs) overdone. "People so strange, people just keep talking in the city tonight..."

SHOW LESS

12
Helen Love : Saturday Night Kicks
"Meet you down at the beach. You got a body like a car crash, baby. You think you're some kind of peach. I [...]

SHOW MORE

Track 2 from The Bubblegum Killers EP
Length: 00:02:25
Year: 2005
Track Description:
"Meet you down at the beach. You got a body like a car crash, baby. You think you're some kind of peach. I think you're some kind of fool... I don't know why I love you but I love you, yeah, you know I love you, yeah... You think you're just being punk, and everyone's laughing at you."

SHOW LESS

13
Art Brut : Good Weekend
What a pervy song! It's difficult to listen to in the car with your parents, but it's fast-paced and triumpha [...]

SHOW MORE

Track 6 from Bang Bang Rock and Roll
Length: 00:02:49
Year: 2005
Track Description:
What a pervy song! It's difficult to listen to in the car with your parents, but it's fast-paced and triumphant... "Got myself a brand new girlfriend!"

SHOW LESS

14
wire : Dot Dash
Where did punk start? This is one of the happiest punk songs I know.

SHOW MORE

Track 22 from Pink Flag
Length: 00:02:25
Year: 1977
Track Description:
Where did punk start? This is one of the happiest punk songs I know.

SHOW LESS

15
Supergrass : Alright
"See our friends, see the sights, feel aaall right..." This song is so happy and full of summertime goodness, [...]

SHOW MORE

Track 1 from Alright
Length: 00:03:05
Year: 1995
Track Description:
"See our friends, see the sights, feel aaall right..." This song is so happy and full of summertime goodness, and also it's pretty English. Distinctive and fun. If you think about it placing it as the last track of the mix lends a bit of nostalgia to it.

SHOW LESS
Tag Board
You must log in to leave a tag
Stuff
Quick Jump
whackedtollie's other mixes
Related mixes
recent visitors
show all