[?]
Not a member? Sign-up now, it's free!
Login
[?]
These are links to some of the major sections in the mixtape collective.
Lists: Browse various lists that are generated by the loads of data we have collected.
Contests: Check out the latest contests, see previous winners, and find out how you can be a part
Music: Check out our ever-growing database of musical knowledge! Use it to find any artist, album, or track that has been entered since the birth of the site and rate and find detailed usage statistics.
Main
[?]
Tired of looking at the same old pages? Try checking out a random one, you never know what you might find...
Random!
Mr. Bojanglin'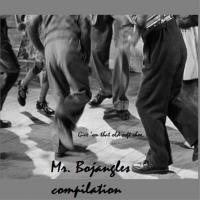 Mr. Bojanglin'
Created by:
sparkymonroe
Tracks:
29
Length:
00:05:20
Keywords
1. Givem'
2. that
3. softshoe
Created on
5/20/10 10:15am
Level
1
Points
1070
Total visitors
8
Unique visitors
5
description:
A friend of mine wanted a Mr. Bojangles compilation, so I proved myself to be a bit of a music weirdo by agreeing to make this comp. Of course there are more versions of this classic song out there, but I chose to limit the thing to two discs.

And yes, this is not torture. I actually listened to this all the way through. And I'll say that it's something you have to be in the mood for, but it's better than most would think it could be.

So, yeah, there it is, the reason for this making this mix.


tracklist
1
The Byrds : Mr. Bojangles

SHOW MORE

Track 0 from
Length: 00:00:00
Year:
Track Description:


SHOW LESS

2
Magna Carta : Mr. Bojangles
no description

SHOW MORE

Track 0 from
Length: 00:00:00
Year:
Track Description:
no description

SHOW LESS

3
The Spotnicks : Mr. Bojangles
no description

SHOW MORE

Track 0 from
Length: 00:00:00
Year:
Track Description:
no description

SHOW LESS

4
Jussi Syren & the Groundbreakers : Mr. Bojangles
no description

SHOW MORE

Track 0 from
Length: 00:00:00
Year:
Track Description:
no description

SHOW LESS

5
Sammi Smith : Mr. Bojangles
no description

SHOW MORE

Track 0 from
Length: 00:00:00
Year:
Track Description:
no description

SHOW LESS

6
King Curtis : Mr. Bojangles
no description

SHOW MORE

Track 0 from
Length: 00:00:00
Year:
Track Description:
no description

SHOW LESS

7
Frankie Laine : Mr. Bojangles
no description

SHOW MORE

Track 0 from
Length: 00:00:00
Year:
Track Description:
no description

SHOW LESS

8
John Holt : Mr. Bojangles
no description

SHOW MORE

Track 0 from
Length: 00:00:00
Year:
Track Description:
no description

SHOW LESS

9
John Holt : Mr. Bojangles
no description

SHOW MORE

Track 0 from
Length: 00:00:00
Year:
Track Description:
no description

SHOW LESS

10
Bob Dylan : Mr. Bojangles
no description

SHOW MORE

Track 4 from Dylan
Length: 00:05:20
Year: 1973
Track Description:
no description

SHOW LESS

11
Andre Kostelanetz : Mr. Bojangles
no description

SHOW MORE

Track 0 from
Length: 00:00:00
Year:
Track Description:
no description

SHOW LESS

12
Sammy Davis, Jr. : Mr. Bojangles
no description

SHOW MORE

Track 0 from
Length: 00:00:00
Year:
Track Description:
no description

SHOW LESS

13
John Denver : Mr. Bojangles
no description

SHOW MORE

Track 0 from
Length: 00:00:00
Year:
Track Description:
no description

SHOW LESS

14
John Denver : Mr. Bojangles
no description

SHOW MORE

Track 0 from
Length: 00:00:00
Year:
Track Description:
no description

SHOW LESS

15
Jerry Jeff Walker : Mr. Bojangles
no description

SHOW MORE

Track 0 from
Length: 00:00:00
Year:
Track Description:
no description

SHOW LESS

16
Tom T. Hall : Mr. Bojangles
no description

SHOW MORE

Track 0 from
Length: 00:00:00
Year:
Track Description:
no description

SHOW LESS

17
Radka Toneff : Mr. Bojangles
no description

SHOW MORE

Track 0 from
Length: 00:00:00
Year:
Track Description:
no description

SHOW LESS

18
Harry Nilsson : Mr. Bojangles
no description

SHOW MORE

Track 0 from
Length: 00:00:00
Year:
Track Description:
no description

SHOW LESS

19
David Bromberg : Mr. Bojangles
no description

SHOW MORE

Track 0 from
Length: 00:00:00
Year:
Track Description:
no description

SHOW LESS

20
New Tradition : Mr. Bojangles
no description

SHOW MORE

Track 0 from
Length: 00:00:00
Year:
Track Description:
no description

SHOW LESS

21
Neil Diamond : Mr. Bojangles
no description

SHOW MORE

Track 0 from
Length: 00:00:00
Year:
Track Description:
no description

SHOW LESS

22
Jeff Hanna : Mr. Bojangles
no description

SHOW MORE

Track 0 from
Length: 00:00:00
Year:
Track Description:
no description

SHOW LESS

23
The Nitty Gritty Dirt Band : Mr. Bojangles
no description

SHOW MORE

Track 0 from
Length: 00:00:00
Year:
Track Description:
no description

SHOW LESS

24
The Futures : Mr. Bojangles
no description

SHOW MORE

Track 0 from
Length: 00:00:00
Year:
Track Description:
no description

SHOW LESS

25
Michael Buble : Mr. Bojangles
no description

SHOW MORE

Track 0 from
Length: 00:00:00
Year:
Track Description:
no description

SHOW LESS

26
Jim Croce : Mr. Bojangles
no description

SHOW MORE

Track 0 from
Length: 00:00:00
Year:
Track Description:
no description

SHOW LESS

27
Chet Atkins : Mr. Bojangles
no description

SHOW MORE

Track 0 from
Length: 00:00:00
Year:
Track Description:
no description

SHOW LESS

28
Harry Belafonte & Miriam Makeba : Mr. Bojangles
no description

SHOW MORE

Track 0 from
Length: 00:00:00
Year:
Track Description:
no description

SHOW LESS

29
Harry Chapin : Mr. Bojangles
no description

SHOW MORE

Track 0 from
Length: 00:00:00
Year:
Track Description:
no description

SHOW LESS
Tag Board
You must log in to leave a tag
Stuff
Quick Jump
sparkymonroe's other mixes
Related mixes
recent visitors
show all