[?]
Not a member? Sign-up now, it's free!
Login
[?]
These are links to some of the major sections in the mixtape collective.
Lists: Browse various lists that are generated by the loads of data we have collected.
Contests: Check out the latest contests, see previous winners, and find out how you can be a part
Music: Check out our ever-growing database of musical knowledge! Use it to find any artist, album, or track that has been entered since the birth of the site and rate and find detailed usage statistics.
Main
[?]
Tired of looking at the same old pages? Try checking out a random one, you never know what you might find...
Random!
Learn From Pie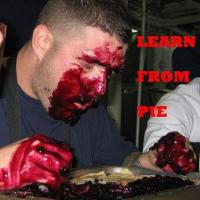 Learn From Pie
Created by:
sfigato
Tracks:
14
Length:
00:41:30
Keywords
1. Loud
2. Abrasive
3. Puke
Created on
7/31/06 01:54pm
Level
6
Points
2626
Total visitors
128
Unique visitors
62
description:
This mix has the sound of cat being fucked inside of a running dryer, but with a tighter rhythm section. 14 tracks of bands popping blister puss on your face in stereo. 14 bands who would borrow $10 off you, promising to pay back on Tuesday, but never doing so, leaving you asking yourself," why do they have act like that? Why must I trust the clichéd irresponsible type?" 14 bands that would co-star in a odd couple-style sitcom with you (here's a hint: you're the prissy, emasculated one who's always being woken up by the sound of that girl you had a crush on being gangbanged by a garage band). 14 bands comprised of men who just aren't very nice people. They will always end up hurting your feelings. They will pee on your toilet seat and not be lucid enough to know it happened, let alone clean it up. But you will love them anyway.
There's something abrasive in every song. Whether it be the the loud mix, the fuzzed-out guitars, or the dude yelping at the top of his lungs about how his stomach hurts and his nose is bleeding. Loud, dumb fun. With a mix full of song titles like "I Miss Her Beer" and "Anonymous Gay Sex", you can't go wrong.
I've always been a deep sleeper. Normal alarm clocks are inept for dealing with the coma that is a night's rest for me. Back when I wasn't so vehemently anti-television, I used to use it's alarm, volume blasted, tuned to Telemundo for an added disorienting, "What the fuck is going on? Did my bedroom move to Mexico" feel. Now, I use this free PC alarm clock. All of the songs in this mix are perfect for my sleeping problem. In fact, I've programmed every single one of them at one point in time on my alarm. By the time I've gotten up to run across the room and kick the power switch in on my subwoofer, I'm too wound up to fall back asleep. Its kind of hard to do so when you're having a panic attack. And therein lies the concept, I guess: music that will give you a panic attack. Enjoy! Download the fuck out of the link below! Turn the volume up all the way! Destroy your roommates "me" time! Viva la quelque chose ou une autre!
http://rapidshare.de/fi les/27707346/Learn_From_Pie.zip.html
tracklist
1
Pissed Jeans : I'm Sick
"Shallow" LP, 2005

SHOW MORE

Track 0 from
Length: 00:02:22
Year:
Track Description:
"Shallow" LP, 2005

SHOW LESS

2
McLusky : Gift of Slight
B-Side, 2005

SHOW MORE

Track 0 from
Length: 00:01:42
Year:
Track Description:
B-Side, 2005

SHOW LESS

3
Giddy Motors : Sassy
"Make It Pop" LP, 2002

SHOW MORE

Track 5 from Make It Pop
Length: 00:02:51
Year: 0000
Track Description:
"Make It Pop" LP, 2002

SHOW LESS

4
Big Business : Focus Pocus
"Head for the Shallow" LP, 2005

SHOW MORE

Track 2 from Head for the Shallow
Length: 00:05:19
Year: 2004
Track Description:
"Head for the Shallow" LP, 2005

SHOW LESS

5
Harvey Milk : Focus Pocus
"The Singles" LP, 2003

SHOW MORE

Track 0 from Jaws Jack
Length: 00:03:38
Year: 0000
Track Description:
"The Singles" LP, 2003

SHOW LESS

6
Cows : I Miss Her Beer
"Daddy Has a Tail" LP, 1989

SHOW MORE

Track 0 from
Length: 00:02:29
Year:
Track Description:
"Daddy Has a Tail" LP, 1989

SHOW LESS

7
coachwhips : Brains Out
split EP w/ The Intelligence, 2005

SHOW MORE

Track 0 from
Length: 00:02:13
Year:
Track Description:
split EP w/ The Intelligence, 2005

SHOW LESS

8
The Reatards : Into My Bed
"Teenage Hate" LP, 1998

SHOW MORE

Track 0 from
Length: 00:01:38
Year:
Track Description:
"Teenage Hate" LP, 1998

SHOW LESS

9
Fatal Flying Guilloteens : Firecracker Suite
"Firecracker Suite" ("Get Knifed" LP, 2003

SHOW MORE

Track 0 from
Length: 00:02:22
Year:
Track Description:
"Firecracker Suite" ("Get Knifed" LP, 2003

SHOW LESS

10
Karp : Pie
"Suplex" LP, 1995

SHOW MORE

Track 0 from
Length: 00:04:06
Year:
Track Description:
"Suplex" LP, 1995

SHOW LESS

11
The 1985 : Anonymous Gay Sex
"Nerve Eighty" LP, 2003

SHOW MORE

Track 0 from
Length: 00:04:41
Year:
Track Description:
"Nerve Eighty" LP, 2003

SHOW LESS

12
Clone Defects : Eyeballs Poppin'
"Blood on Jupiter" LP, 2001

SHOW MORE

Track 0 from
Length: 00:02:31
Year:
Track Description:
"Blood on Jupiter" LP, 2001

SHOW LESS

13
Part Chimp : War Machine
"I am Come" LP, 2005

SHOW MORE

Track 0 from
Length: 00:03:21
Year:
Track Description:
"I am Come" LP, 2005

SHOW LESS

14
Black Lips : Time of the Scab
"We Did Not Know The Forest Spirit Made The Flowers Grow" LP, 2004

SHOW MORE

Track 0 from
Length: 00:02:17
Year:
Track Description:
"We Did Not Know The Forest Spirit Made The Flowers Grow" LP, 2004

SHOW LESS
Tag Board
You must log in to leave a tag
Stuff
Quick Jump
sfigato's other mixes
Related mixes
recent visitors
show all