[?]
Not a member? Sign-up now, it's free!
Login
[?]
These are links to some of the major sections in the mixtape collective.
Lists: Browse various lists that are generated by the loads of data we have collected.
Contests: Check out the latest contests, see previous winners, and find out how you can be a part
Music: Check out our ever-growing database of musical knowledge! Use it to find any artist, album, or track that has been entered since the birth of the site and rate and find detailed usage statistics.
Main
[?]
Tired of looking at the same old pages? Try checking out a random one, you never know what you might find...
Random!
They Call Me The Hunter: An Exploration of Influence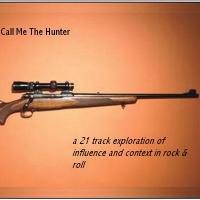 They Call Me The Hunter: An Exploration of Influence
Created by:
sfigato
Tracks:
21
Length:
01:12:18
Keywords
1. covers
2. rock
3. blues
Created on
7/30/06 02:35pm
Level
7
Points
3281
Total visitors
142
Unique visitors
58
description:
The concept is fairly simple. This mix is a collection of rock and blues standards or underground classics, either original or reinterpreted (or re-reinterpreted). It is a study in context and some of these songs can take on completely new lives with the most subtle of tweaks. And of course, there are some tweaks in the mix that are anything but.

I book ended it with "Your Southern Can Is Mine"-- the original "Blind" Willie Mctell version and The White Stripes cover. Mctell's being one of the oldest recorded blues songs in existence, and the White Stripes being, of course, a representation of modern rock music.

There are multiple versions of songs throughout, but examples of two versions aren't always necessary. For example: when you hear Kaleidoscope's version of "Minnie the Moocher", you don't really need to hear the Cab Calloway version to know it's a cover. The same can be said for The Who's version of "Hall of the Mountain King". Also, some songs, such as "Fortune Teller" and "Leaving Here", were done by so many artists, and were all so akin to one another, that two examples would be redundant.

At the heart of the mix is the build up to Led Zeppelin's reinterpretations of "The Hunter" (Albert King) and "You Gonna Wreck My Life" (Howlin Wolf), which took form in the epic "How Many More Times". Both of the originals are featured on here, as well as the Blue Cheer version of "The Hunter", which helps for dramatic effect.

It may seem rather lengthy, but I actually had to whittle it down to 21, after coming up with over 50 songs I could have used.

If anybody would like a rapidshare link of it, let me know.
tracklist
1
White Stripes : Your Southern Can Is Mine
Garage Revival, 2000

SHOW MORE

Track 1 from
Length: 00:02:29
Year:
Track Description:
Garage Revival, 2000

SHOW LESS

2
Elvis Presley : Kissin' Cousins
Rock & Roll/Rockabilly, 1964

SHOW MORE

Track 0 from
Length: 00:02:13
Year:
Track Description:
Rock & Roll/Rockabilly, 1964

SHOW LESS

3
Marvin Gaye : Hitch Hike
R&B, 1963

SHOW MORE

Track 0 from
Length: 00:02:30
Year:
Track Description:
R&B, 1963

SHOW LESS

4
Little Richard : Keep-A-Knockin'
Rock & Roll, 1958

SHOW MORE

Track 12 from The Essential
Length: 00:02:18
Year: 1985
Track Description:
Rock & Roll, 1958

SHOW LESS

5
ALbert King : The Hunter
Blues, 1967

SHOW MORE

Track 0 from
Length: 00:02:45
Year:
Track Description:
Blues, 1967

SHOW LESS

6
The Merseybeats : Fortune Teller
Rock & Roll/Merseybeat, 1964

SHOW MORE

Track 0 from
Length: 00:02:02
Year:
Track Description:
Rock & Roll/Merseybeat, 1964

SHOW LESS

7
Mose Allison : Parchman Farm
Jazz Vocal/Hard Bop, 1957

SHOW MORE

Track 0 from
Length: 00:03:18
Year:
Track Description:
Jazz Vocal/Hard Bop, 1957

SHOW LESS

8
Howlin' Wolf : You Gonna Wreck My Life
Blues, 1958

SHOW MORE

Track 0 from
Length: 00:02:53
Year:
Track Description:
Blues, 1958

SHOW LESS

9
Small Faces : What'cha Gonna Do About It?
Rock & Roll/British Invasion/Mod Rock, 1966

SHOW MORE

Track 0 from
Length: 00:01:59
Year:
Track Description:
Rock & Roll/British Invasion/Mod Rock, 1966

SHOW LESS

10
Eddie Holland : Leaving Here
R&B/Motown, 1964

SHOW MORE

Track 0 from
Length: 00:02:34
Year:
Track Description:
R&B/Motown, 1964

SHOW LESS

11
The Music Machine : Hey Joe
Garage Rock, 1966

SHOW MORE

Track 0 from
Length: 00:04:13
Year:
Track Description:
Garage Rock, 1966

SHOW LESS

12
Blue Cheer : The Hunter
Rock & Roll/Proto-Metal/Proto-Punk, 1968

SHOW MORE

Track 0 from
Length: 00:04:31
Year:
Track Description:
Rock & Roll/Proto-Metal/Proto-Punk, 1968

SHOW LESS

13
Artful Dodger : Keep-A-Knockin'
Rock & Roll/Power Pop, 1976

SHOW MORE

Track 0 from
Length: 00:04:23
Year:
Track Description:
Rock & Roll/Power Pop, 1976

SHOW LESS

14
The Saints : Kissin' Cousins
Punk/Aussie Punk, 1977

SHOW MORE

Track 0 from
Length: 00:02:00
Year:
Track Description:
Punk/Aussie Punk, 1977

SHOW LESS

15
Dan Melchoir : What'cha Gonna Do About It?
Garage Revival/Garage-Punk, 2001

SHOW MORE

Track 0 from
Length: 00:05:22
Year:
Track Description:
Garage Revival/Garage-Punk, 2001

SHOW LESS

16
The Velvet Underground : There She Goes Again
Rock & Roll/Garage/Proto-Punk, 1967

SHOW MORE

Track 8 from The Velvet Underground & Nico
Length: 00:02:43
Year: 1967
Track Description:
Rock & Roll/Garage/Proto-Punk, 1967

SHOW LESS

17
Kaleidoscope : Minnie The Moocher
Rock & Roll/Garage/Psychedelia,1967 1967

SHOW MORE

Track 0 from
Length: 00:02:15
Year:
Track Description:
Rock & Roll/Garage/Psychedelia,1967 1967

SHOW LESS

18
The Who : The Hall of the Mountain King
Rock & Roll, 1967

SHOW MORE

Track 0 from
Length: 00:04:19
Year:
Track Description:
Rock & Roll, 1967

SHOW LESS

19
Blue Cheer : Parchment Farm
Rock & Roll/Proto-Metal/Proto-Punk, 1968

SHOW MORE

Track 0 from
Length: 00:05:49
Year:
Track Description:
Rock & Roll/Proto-Metal/Proto-Punk, 1968

SHOW LESS

20
Led Zeppelin : How Many More Times
Rock & Roll/Proto-Metal, 1969

SHOW MORE

Track 9 from Led Zeppelin
Length: 00:08:28
Year: 1969
Track Description:
Rock & Roll/Proto-Metal, 1969

SHOW LESS

21
Blind Willie McTell : Your Southern Can Is Mine
Blues, 1933

SHOW MORE

Track 0 from
Length: 00:03:14
Year:
Track Description:
Blues, 1933

SHOW LESS
Tag Board
You must log in to leave a tag
Stuff
Quick Jump
sfigato's other mixes
Related mixes
recent visitors
show all