[?]
Not a member? Sign-up now, it's free!
Login
[?]
These are links to some of the major sections in the mixtape collective.
Lists: Browse various lists that are generated by the loads of data we have collected.
Contests: Check out the latest contests, see previous winners, and find out how you can be a part
Music: Check out our ever-growing database of musical knowledge! Use it to find any artist, album, or track that has been entered since the birth of the site and rate and find detailed usage statistics.
Main
[?]
Tired of looking at the same old pages? Try checking out a random one, you never know what you might find...
Random!
Daveology : 101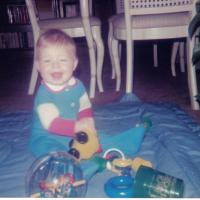 Daveology : 101
Created by:
cst003
Tracks:
12
Length:
00:59:58
Keywords
1. musical sketch of dave
2. heart tracks
3. audio-biographical
Created on
4/09/07 07:40am
Level
5
Points
2296
Total visitors
51
Unique visitors
32
description:
HI WISH TO KNOW ME?!

these tracks are either songs that threw me into the whole "OMG I LOVE MUSIC GIVE ME MORE" scene or that i feel represent some part of me.. ive found a few artists who can speak directly to my soul, or who know secret hidden things about me.
tracklist
1
Dave Matthews Band : The Best Of What's Around
this is it folks. the one and only song that made me like music. i had recieved under the table and dreaming o [...]

SHOW MORE

Track 1 from Under the Table and Dreaming
Length: 00:04:17
Year: 1994
Track Description:
this is it folks. the one and only song that made me like music. i had recieved under the table and dreaming one year for christmas and never gave it the time of day until one day i had to write a paper. mother had just bought our new computer (first one the 'family' was allowed to use) and i was typing my paper while listening to the cd. two songs in and i was no longer even interested in finishing my paper, i had to finish this cd. as contrived and as much of a joke as they are today, dave matthews band is the singular entity that threw me into my obsession with the musical scene.

SHOW LESS

2
DJ Shadow : Walkie Talkie
my friend had the In Tune DVD on one night while we were rolling, this song came on and i found a new self-ima [...]

SHOW MORE

Track 6 from In Tune and on Time
Length: 00:03:53
Year: 2004
Track Description:
my friend had the In Tune DVD on one night while we were rolling, this song came on and i found a new self-image to project. the quintessential bad-ass motherfucking dj. this song made me fall in love with dj shadow and opened the door for turntablism in my future.

SHOW LESS

3
Bob Seger : Turn The Page
this was my lullaby when i would stay over at my dad's. my step-mom would always sing it to my sister and i ri [...]

SHOW MORE

Track 5 from Back in '72
Length: 00:05:09
Year: 1973
Track Description:
this was my lullaby when i would stay over at my dad's. my step-mom would always sing it to my sister and i right as we were falling asleep. this is one of the few songs that will connect me directly with my childhood.

SHOW LESS

4
Mogwai : Superheroes of BMX
simply put, this is my soul breathing in and out. the perfect state of zen.

SHOW MORE

Track 8 from Government Commissions: BBC Sessions 1996-2003
Length: 00:07:30
Year: 2005
Track Description:
simply put, this is my soul breathing in and out. the perfect state of zen.

SHOW LESS

5
David Bowie : Fashion
i'll admit it, my first taste of bowie was in clueless when they used this track. i had probably heard some so [...]

SHOW MORE

Track 5 from Scary Monsters (and Super Creeps)
Length: 00:04:45
Year: 1980
Track Description:
i'll admit it, my first taste of bowie was in clueless when they used this track. i had probably heard some songs on the radio before, but never paid any attention to them. i started buying albums, starting with the best of, and quickly had my head full of bowie. it recently came to my attention that quite a few bands i listen to are somewhat influenced by bowie, notably TV on the radio, wolf parade and some of the dandy warhols. he's so fucking awsome.

SHOW LESS

6
Tori Amos : Leather
after high school i moved away to san antonio to begin my first attempt at college. i had worked at borders bo [...]

SHOW MORE

Track 8 from Little Earthquakes
Length: 00:03:13
Year: 1993
Track Description:
after high school i moved away to san antonio to begin my first attempt at college. i had worked at borders books before i moved, and easily transfered to one down there. bookstores are fucking awsome places to find hookups on weed. i befriended sara and her boyfriend and i started spending most of my free time hanging out with them. sara loved tori amos. i had heard of her through TOOL sources, and knew she was connected to a possible love thing with trent reznor, so i gave her a try. one of the best choices i ever made. this was the track that made me fall into her spell.. i still listen to boys for pele whenever i feel like shit. it is my mood therapy.

SHOW LESS

7
Queens of the Stone Age : Better Living Through Chemistry
i couldnt stop listening to this song about a year ago. this is what threw me into my qotsa frenzy. the comple [...]

SHOW MORE

Track 5 from Rated R
Length: 00:05:49
Year: 2000
Track Description:
i couldnt stop listening to this song about a year ago. this is what threw me into my qotsa frenzy. the completely fucked up guitar building the background created an atmosphere i hadnt been in before. this was hazy and dense and immense. call it love at first sight.

SHOW LESS

8
Toadies : Tyler
these guys hailed from texas, my home state. theyre "sort of a big thing" around here. i hear this song in my [...]

SHOW MORE

Track 8 from Rubberneck
Length: 00:04:12
Year: 1994
Track Description:
these guys hailed from texas, my home state. theyre "sort of a big thing" around here. i hear this song in my dreams. less overplayed than Possum Kingdom, i always liked the visuals the verses painted. "day and night / to cross this state" is so fucking true, we've got a HUGE state. back when there was still good things on the radio, i would always turn this one up. here lie my solid rock roots.

SHOW LESS

9
Phil Collins : In the Air Tonight
as a child of the eighties this song was always playing on the radio as far back as i can remember. never real [...]

SHOW MORE

Track 1 from Face Value
Length: 00:05:35
Year: 1981
Track Description:
as a child of the eighties this song was always playing on the radio as far back as i can remember. never really thought too into it, but a lot of what i take as "dramatic" in my musical habits today stems directly from this song. i also have loved his voice since the first time i heard this song.

SHOW LESS

10
Nine Inch Nails : The Fragile
so it was my freshman year, on a band trip to somewhere overnight. we were on a charter-bus and my friend play [...]

SHOW MORE

Track 6 from The Fragile Disc 1
Length: 00:04:35
Year: 1999
Track Description:
so it was my freshman year, on a band trip to somewhere overnight. we were on a charter-bus and my friend played me this song. "how the fuck do you think they [we didnt know it was only one man at the time] got that sound? a sock full of quarters?" that image and this band have stayed around in my brain ever since. i quickly bought this album and began a year long stint where i listened to NIN and pretty much nothing else. this was the first time i had heard anything this lush and fleshed out, and as raw and angry as reznor gets in his music. it's because of him that i have an ear for noise, and can hear the beauty in disharmonance.

SHOW LESS

11
Radiohead : Pyramid song
this video came out on mtv2 one night when i was over at a friends house. the combination of being incredibly [...]

SHOW MORE

Track 2 from Amnesiac
Length: 00:04:53
Year: 2001
Track Description:
this video came out on mtv2 one night when i was over at a friends house. the combination of being incredibly high and the lush computery fuzziness of the video sparked something in me. i soon picked up amnesiac and ok computer. i burnt myself out on radiohead a long time ago, right after hail to the theif hit stores.. ive recently started listening to some songs again, and im rediscovering how brilliant they were. i never enjoyed kid a as much as amnesiac, this is my home turf in radiohead-land, although i enjoyed the shit out of their experiements in sound, as it were.

SHOW LESS

12
Boards of Canada : In a Beautiful Place Out in the Country
every once in a while ill find some part of myself in music, somehow certain notes or tones or patterns unlock [...]

SHOW MORE

Track 3 from In a Beautiful Place Out in the Country
Length: 00:06:07
Year: 2000
Track Description:
every once in a while ill find some part of myself in music, somehow certain notes or tones or patterns unlocks something i havent felt in a while. these two brothers have all the encrpytion keys to my childhood. i get flashes of memories and feelings from that time, especially in this tune.

SHOW LESS
Tag Board
You must log in to leave a tag
Stuff
Quick Jump
cst003's other mixes
Related mixes
recent visitors
show all