[?]
Not a member? Sign-up now, it's free!
Login
[?]
These are links to some of the major sections in the mixtape collective.
Lists: Browse various lists that are generated by the loads of data we have collected.
Contests: Check out the latest contests, see previous winners, and find out how you can be a part
Music: Check out our ever-growing database of musical knowledge! Use it to find any artist, album, or track that has been entered since the birth of the site and rate and find detailed usage statistics.
Main
[?]
Tired of looking at the same old pages? Try checking out a random one, you never know what you might find...
Random!
Robo-Nude: Sounds of Machine Love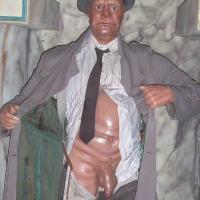 Robo-Nude: Sounds of Machine Love
Created by:
sledgbrainerd
Tracks:
18
Length:
01:19:33
Keywords
1. Cyborg
2. Naked
3. Love
Created on
8/27/06 06:36pm
Level
5
Points
2309
Total visitors
130
Unique visitors
58
description:
This is a mix that I gave a Cyborgian Gigolo named Robo-Nude. He used to use it while he serviced his "clients" to put them in the mood. He told me that that the song selection was horribly miscalculated and that his clientelle hated it. While it may not be good for makin love to cyborgs, I found it to be pretty rad for everything else. Robo-Nude's loss is our gain.


PS. He wanted my help in making him a new one, I gave him my Wake, Make, Make, Take, Make Love mix.
tracklist
1
Seu Jorge : Suffragette City
I heart Seu Jorge (in a very gay way)

SHOW MORE

Track 9 from The Life Aquatic Studio Sessions
Length: 00:03:10
Year: 2005
Track Description:
I heart Seu Jorge (in a very gay way)

SHOW LESS

2
Iron and Wine/Calexico : He Lays in the Reins
This song gets caught in my head a lot. EPIC folk rock?

SHOW MORE

Track 1 from In The Reins
Length: 00:03:43
Year: 2005
Track Description:
This song gets caught in my head a lot. EPIC folk rock?

SHOW LESS

3
Broken Social Scene : Windsurfing Nation
This
picture is pure fun. The name is perfect. Picture people doing tricks
while windsurfing and you [...]

SHOW MORE

Track 7 from Broken Social Scene
Length: 00:04:35
Year: 2005
Track Description:
This
picture is pure fun. The name is perfect. Picture people doing tricks
while windsurfing and you will get goosebumps (or as my grandma calls
it, goosefl;esh).

SHOW LESS

4
Talking Heads : Born Under Punches
Some funky mothafuckin babymakin monkey pimp stomp face chomp vibrationzzz from the 80's yo.

SHOW MORE

Track 1 from Remain in Light
Length: 00:05:49
Year: 0000
Track Description:
Some funky mothafuckin babymakin monkey pimp stomp face chomp vibrationzzz from the 80's yo.

SHOW LESS

5
Television : Venus
This really gets the juices flowing. Rock n Roll = Television.

SHOW MORE

Track 0 from Marquee Moon
Length: 00:03:51
Year: 0000
Track Description:
This really gets the juices flowing. Rock n Roll = Television.

SHOW LESS

6
The Replacements : Bastards of Young
This song makes me feel llike a snot nosed teenager again.

SHOW MORE

Track 7 from Tim
Length: 00:03:35
Year: 1985
Track Description:
This song makes me feel llike a snot nosed teenager again.

SHOW LESS

7
Devo : Mongoloid
Everyone should listen to this great rock band.

SHOW MORE

Track 5 from Q: Are We Not Men A: We Are Devo
Length: 00:03:44
Year: 1978
Track Description:
Everyone should listen to this great rock band.

SHOW LESS

8
Roxy Music : Bitter Sweet
This is a new band to me, but I dig what Ive heard thus far.

SHOW MORE

Track 0 from Country Life
Length: 00:04:50
Year: 0000
Track Description:
This is a new band to me, but I dig what Ive heard thus far.

SHOW LESS

9
Neil Young : Sample and Hold
I owuld love to hear Trans Am cover this. O r maybe the Trans Champs or The Fucking Am.

SHOW MORE

Track 0 from Trans
Length: 00:08:03
Year: 1983
Track Description:
I owuld love to hear Trans Am cover this. O r maybe the Trans Champs or The Fucking Am.

SHOW LESS

10
Thom Yorke : Harrowdown Hill
This album turned out better than I thought it was going to be.

SHOW MORE

Track 8 from The Eraser
Length: 00:04:36
Year: 2006
Track Description:
This album turned out better than I thought it was going to be.

SHOW LESS

11
Ratatat : Kennedy
Im lovin this shit right now.

SHOW MORE

Track 7 from Classics
Length: 00:03:34
Year: 2006
Track Description:
Im lovin this shit right now.

SHOW LESS

12
Air : How Does It Make You Feel?
This song is fucking wierd.

SHOW MORE

Track 2 from 10,000 Hz Legend
Length: 00:04:37
Year: 2001
Track Description:
This song is fucking wierd.

SHOW LESS

13
Kaada : Daily Living
Hypnotic, this guy is the next Ennio Morricone

SHOW MORE

Track 0 from Music for Moviebikers
Length: 00:03:49
Year: 2006
Track Description:
Hypnotic, this guy is the next Ennio Morricone

SHOW LESS

14
Jaga Jazzist : I Could Have Killed Him in the Sauna
Sinister elctronic jazz. YEEEESSSSSSS SIRRRRRRRR!

SHOW MORE

Track 0 from The Stix
Length: 00:05:31
Year: 0000
Track Description:
Sinister elctronic jazz. YEEEESSSSSSS SIRRRRRRRR!

SHOW LESS

15
My Morning Jacket : It Beats 4 U
I wish I had started listening to these guys earlier.

SHOW MORE

Track 2 from Z
Length: 00:03:46
Year: 2005
Track Description:
I wish I had started listening to these guys earlier.

SHOW LESS

16
Sonic Youth : Pink Steam
One of the best Sonic Youth tunes Ive heard in a long time.

SHOW MORE

Track 11 from Rather Ripped
Length: 00:06:57
Year: 2006
Track Description:
One of the best Sonic Youth tunes Ive heard in a long time.

SHOW LESS

17
Wires on Fire : Dusty Bibles Lead to Dirty Lives
Tom Waits meets rock n roll psychadelia.

SHOW MORE

Track 0 from Wires on Fire
Length: 00:03:16
Year: 2006
Track Description:
Tom Waits meets rock n roll psychadelia.

SHOW LESS

18
Queens of the Stone Age : Lightning Song
A mellow tune to finish it off.

SHOW MORE

Track 10 from Rated R
Length: 00:02:07
Year: 2000
Track Description:
A mellow tune to finish it off.

SHOW LESS
Tag Board
You must log in to leave a tag
Stuff
Quick Jump
sledgbrainerd's other mixes
Related mixes
recent visitors
show all