[?]
Not a member? Sign-up now, it's free!
Login
[?]
These are links to some of the major sections in the mixtape collective.
Lists: Browse various lists that are generated by the loads of data we have collected.
Contests: Check out the latest contests, see previous winners, and find out how you can be a part
Music: Check out our ever-growing database of musical knowledge! Use it to find any artist, album, or track that has been entered since the birth of the site and rate and find detailed usage statistics.
Main
[?]
Tired of looking at the same old pages? Try checking out a random one, you never know what you might find...
Random!
Hanging with Your Girlfriends Gross-Ass Friends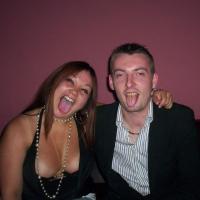 Hanging with Your Girlfriends Gross-Ass Friends
Created by:
sledgbrainerd
Tracks:
19
Length:
01:19:41
Keywords
1. Annoying
2. Sick/Gross
3. Obligations
Created on
7/11/06 03:01pm
Level
10
Points
4822
Total visitors
438
Unique visitors
200
description:
Whenever my girl's friends are around (at my house, at the bar, in my town, etc.), I rely on music to keep me from stabbing myself in the heart on purpose with a steak knife. Since none of these people know any music that isnt the Black Eyed Peas, they always make comments about how the music is "ARTSY" or "OUT THERE", so it is fun for me to make up all sorts of lies about the music that is playing. Then I get too drunk and make everyone watch THEY LIVE! because it is the best movie ever. There is usually a comment from them that sounds like this:

"I would rather listen to your wierdo music than this crappy movie."

to which I reply:

"GET OUT OF MY HOUSE!"

This mix is sequenced to horrify and confuse the "lesser" people who stumble around this earth, somehow living on their own, without supervision or anything. The descriptions will be lies about each band. Since I am telling YOU these lies, I guess that means I'm treating you like one of my girlfriends lame-ass friends, doesn't it? Get out of my house.
tracklist
1
BS 2000 : New Gouda
This is the Tranny from The Black Eyed Peas' side project. A side project is like another band, that has noth [...]

SHOW MORE

Track 12 from Simply Mortified
Length: 00:02:01
Year: 2001
Track Description:
This is the Tranny from The Black Eyed Peas' side project. A side project is like another band, that has nothing to do with their main one. Yes some people are in more than one band at once.

SHOW LESS

2
Dr. Octagon : Girl Let Me Touch You
This song was written by my buddy T-BAG.

SHOW MORE

Track 13 from Dr. Octagonecologyst
Length: 00:03:40
Year: 1997
Track Description:
This song was written by my buddy T-BAG.

SHOW LESS

3
Wolf Eyes : Urine Burn
Wierd! This Cd only does this when you guys are over. Wierd!

SHOW MORE

Track 5 from Burned Mind
Length: 00:00:47
Year: 2004
Track Description:
Wierd! This Cd only does this when you guys are over. Wierd!

SHOW LESS

4
Boom Bip and Dose One : Slight
They recorded this song in the "Method Recording" Technique, by running on treadmills on their highest setting [...]

SHOW MORE

Track 13 from Circle
Length: 00:03:17
Year: 2000
Track Description:
They recorded this song in the "Method Recording" Technique, by running on treadmills on their highest settings. Thats why it is art.

SHOW LESS

5
Bobby Conn : Pumper
This guy was on so much acid one time during a show, that his eyes started bleeding and now he is a blind tran [...]

SHOW MORE

Track 8 from The Golden Age
Length: 00:04:44
Year: 2001
Track Description:
This guy was on so much acid one time during a show, that his eyes started bleeding and now he is a blind tranny hooker.

SHOW LESS

6
Sunn O))) : It Took The Night To Believe
These guys only write one song every 5 years, and it takes an hour and a half to play it.

SHOW MORE

Track 2 from Black One
Length: 00:05:56
Year: 2005
Track Description:
These guys only write one song every 5 years, and it takes an hour and a half to play it.

SHOW LESS

7
Earth : Raiford (The Felon Wind)
This is Kurt Cobains other band.

SHOW MORE

Track 7 from HEX: Or Printing in the Infernal Method
Length: 00:07:21
Year: 2005
Track Description:
This is Kurt Cobains other band.

SHOW LESS

8
The Thrones : The Anguish of Bears
This is a one man band. The man is 86 years old, and still competes in the premiere stickball league where he [...]

SHOW MORE

Track 7 from Sperm Whale
Length: 00:04:11
Year: 2004
Track Description:
This is a one man band. The man is 86 years old, and still competes in the premiere stickball league where he is a legend, for sliding into the bases even though they play on cement and he always wears running shorts.

SHOW LESS

9
Zombi : Challenger
This band invented keyboards. Their first keyboards they made had forks and spoons as the keys. The keys are [...]

SHOW MORE

Track 1 from Surface To Air
Length: 00:04:28
Year: 2006
Track Description:
This band invented keyboards. Their first keyboards they made had forks and spoons as the keys. The keys are the white things that you press on keyboards or pianos. Yeah, I think they are called keys on pianos also.

SHOW LESS

10
Ennio Morricone : Se Sei Qualcuno E' Colpa Mia
Clint Eastwood made this song. It's from his album called "Songs I wrote MYSELF, for MY movies."

SHOW MORE

Track 0 from An Ennio Morricone Western Quintet
Length: 00:09:05
Year: 0000
Track Description:
Clint Eastwood made this song. It's from his album called "Songs I wrote MYSELF, for MY movies."

SHOW LESS

11
Tomahawk : God Hates A Coward
All but one of the guys in this band were convicted of raping and murdering their security gaurd, Big Chubbbs, [...]

SHOW MORE

Track 4 from Tomahawk
Length: 00:02:39
Year: 2001
Track Description:
All but one of the guys in this band were convicted of raping and murdering their security gaurd, Big Chubbbs, while they were on tour in finland.

SHOW LESS

12
Hella : Madonna Approaches R&B Blonde Wreckages
They set up microphones next to a pile of instruments and they get all of their friends to throw casio keybboa [...]

SHOW MORE

Track 2 from Homeboy
Length: 00:02:22
Year: 2005
Track Description:
They set up microphones next to a pile of instruments and they get all of their friends to throw casio keybboards at the pile. Hence music. Hence Art.

SHOW LESS

13
The Fucking Am : Talking Liberties
This is a band called Ween.

SHOW MORE

Track 4 from Gold
Length: 00:03:49
Year: 2004
Track Description:
This is a band called Ween.

SHOW LESS

14
The Advantage : Double Dragon 2: Stage 2
These guys made up the ideas for Star Wars and everything.

SHOW MORE

Track 2 from The Advantage
Length: 00:01:45
Year: 0000
Track Description:
These guys made up the ideas for Star Wars and everything.

SHOW LESS

15
Neil Young : Computer Age
You know that chess playing computer? Well it wrote and played this song through chess. I dont know how that [...]

SHOW MORE

Track 2 from Trans
Length: 00:05:24
Year: 1983
Track Description:
You know that chess playing computer? Well it wrote and played this song through chess. I dont know how that works but I saw it on the news.

SHOW LESS

16
modwheelmood : Things Will Change
This is my band. I sing and drum at the same time.

SHOW MORE

Track 1 from Enemies & Immegrants
Length: 00:04:10
Year: 2006
Track Description:
This is my band. I sing and drum at the same time.

SHOW LESS

17
The Unicorns : Tuff Ghost
This is Radiohead.

SHOW MORE

Track 2 from Who Will Cut Our Hair When We're Gone?
Length: 00:02:57
Year: 2004
Track Description:
This is Radiohead.

SHOW LESS

18
Bad Medicine : Trespasser
These guys one the FUNK OLYMPICS 9 years straight. That broke Willy and the Wagon Wheels record of 8 straight [...]

SHOW MORE

Track 4 from The Funky 16 Corners
Length: 00:05:48
Year: 2001
Track Description:
These guys one the FUNK OLYMPICS 9 years straight. That broke Willy and the Wagon Wheels record of 8 straight years! Isn't that neat! Yeah I guess they do sound a bit like the black eyed peas I suppose.

SHOW LESS

19
TV On The Radio : Blues From Down Here
Get Out Of MY House!

SHOW MORE

Track 9 from Return to Cookie Mountain
Length: 00:05:17
Year: 0000
Track Description:
Get Out Of MY House!

SHOW LESS
Tag Board
You must log in to leave a tag
Stuff
Quick Jump
sledgbrainerd's other mixes
Related mixes
recent visitors
show all