[?]
Not a member? Sign-up now, it's free!
Login
[?]
These are links to some of the major sections in the mixtape collective.
Lists: Browse various lists that are generated by the loads of data we have collected.
Contests: Check out the latest contests, see previous winners, and find out how you can be a part
Music: Check out our ever-growing database of musical knowledge! Use it to find any artist, album, or track that has been entered since the birth of the site and rate and find detailed usage statistics.
Main
[?]
Tired of looking at the same old pages? Try checking out a random one, you never know what you might find...
Random!
Yeah, I used to be into them...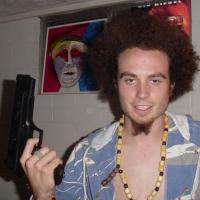 Yeah, I used to be into them...
Created by:
sledgbrainerd
Tracks:
10
Length:
00:52:35
Keywords
1. Mix Contest 20
2. Mix Contest 20
3. Mix Contest 20
Created on
3/03/08 11:55am
Level
6
Points
2551
Total visitors
79
Unique visitors
41
This mix was ranked #2 out of 13 entries for this contest
description:
There are a lot of bands that, at a certain point in time, I was really "into". Many of these I would later become disenchanted with for one reason or another.

I still enjoy some of their tunes though, even though I consider them dead to me. These are the songs that "have stood the test of time", even if I think the bands are not very cool anymore.

Please keep in mind that the reason why I dont think these bands are cool anymore is based on an equation, D(EFRO) - (KIRF - MS) = DISENCHANTMENT Level. Thats Douchebaggery times my Excitement For Recent Output minus my Music Snobbery subtracted from the bands Keepin It Real Factor. If the Disenchantment Level is more than 100, Ill still listen to their new albums once, but Ill download it instead of buying it. Over 500? Not a chance Ill even look at the new albums cover.

Not to sound snobby, because Im really not, but sometimes when you are done with a band, you are done with a band.
tracklist
1
tool : The Grudge
Holy shit. I think I covered this in my last mix, but my buds and I used to have a hard-on for this band like [...]

SHOW MORE

Track 1 from Lateralus
Length: 00:08:36
Year: 2001
Track Description:
Holy shit. I think I covered this in my last mix, but my buds and I used to have a hard-on for this band like no other. Anyway, I still enjoy a certain amount of tunes from this band if for no other reason than pure nostalgic value. But its funny how one turd of an album can make you realize how much douchieness there was in the band the whole time. Add that to the douchie note that A Perfect Circle ended on, and you have Maynard being a GIANT DOUCHE, while the rest of Tool is only a turd sandwich. Oh and they did rip-off a couple of their videos from the Brothers Quay if you ask me. Way to go Adam Jones. Did I mention Tool has the worst fucking fans ever (barring Ozzfest and Warped Tour bands)? Them and Rage Against the Machine share the same fucking demographic. The thing that sucks about their fans is that their fans are still horrible, retarded, nincompoops but with this weird confidence that they are intelligent because Maynard is their lod and savior. All I know is that Maynard humps Suicide Girls and stippers (often one in the same) like they are goin out of style. One last note, I was into Rage when I was in high school and then one day I woke up and realized everyone in the band was fucking retarded. I think it was when an album by a band called AUDIOSLAVE came out. None of RATM's songs have stood the test of time because they sound like whiny high school kid music.

SHOW LESS

2
Queens of the Stone Age : Auto Pilot
Ill admit, I still have love in my heart for their first 2 albums. And the third one is mostly rad. But this [...]

SHOW MORE

Track 4 from Rated R
Length: 00:04:01
Year: 2000
Track Description:
Ill admit, I still have love in my heart for their first 2 albums. And the third one is mostly rad. But this band got on the road to douche-ville when the kicked the most rockin dude in the band out of it. Sure Nick Oliveri was a hazard to be around but after his departure, and Mark Lanegans, the band started to sound like a rip-off of itself. Much like Tools last album sounded like a rip-off of Tool. Ill admit there are 3 songs I like on QOTSA's newest album but here's the reasons why:

1. One tune has a riff that sounds like a "First QOTSA album" sort of riff.

2. One song is a song from Desert Sessions 9 & 10, that they rerecorded, with a few interesting change-ups.

3. There is a kinda trippy psychedelic tune that makes me think of the band DEAD MEADOW.

SO...
If you havent gathered, the only reason I like any of their new stuff is because it reminds me of things like when the band was good, other bands, etc. Plus, Josh Homme has turned into a world class A-hole.

SHOW LESS

3
Modest Mouse : The Cold Part
Now this one, I admit, might be a bit unfair to the band. They have put out a lot of fantastic music in the p [...]

SHOW MORE

Track 7 from The Moon and Antarctica
Length: 00:05:00
Year: 2000
Track Description:
Now this one, I admit, might be a bit unfair to the band. They have put out a lot of fantastic music in the past. My favorite album of theirs is this one, The Moon and Antarctica. They took the whole "Indie Rock" genre into lots of creative directions, and for that I am thankful. And it appears now that they are big they are doing a fairly good job of keeping the balance of old Modest Mouse with Pop Modest Mouse. Which is fine. They've been at it for a long time, they deserve success more than many.

I guess I have a hard time caring about them anymore just based on the imaginary "to the power of O" part of my equation. Over saturation being that O. Between them being on commercials and the radio non-stop, the amount I have to hear about them from people, has just made me tired of them. Thats all. I still love this album occasionally, along with some of their other older ones. I just dont need any more Modest Mouse in my life besides the Modest Mouse I already have. Its not you, its me.

SHOW LESS

4
At The Drive-In : Arc Arsenal
This is a band I got disenchanted with recently. After delving further into their catalog, I realized that th [...]

SHOW MORE

Track 1 from Relationship of Command
Length: 00:02:56
Year: 2000
Track Description:
This is a band I got disenchanted with recently. After delving further into their catalog, I realized that they are one of the main bands responsible for EMO music, as we know it today. If you know me, you know how much I fucking hate that shit. Sure this band has some great, rockin tunes, but fuck man, like 50% of their catalog is this precursor to EMO fucking crap. Just the fact that they probably inspired many of those bands makes me hate them, because the bands Im sure use this influence for some serious cred. FUCK

When this band broke up, it pretty much split in two. One half became SPARTA, who sucks EMO cock, and the other half became The Mars Volta, whos first album I consider a guilty pleasure, and at least they are trying to do something interesting. But as my good brother Lord Bearded said "They try way, way, waaaay too hard." Indeed.

SHOW LESS

5
Refused : New Noise
This is another one that just lost its mojo with me. There are a few tunes i still enjoy when the come on on [...]

SHOW MORE

Track 6 from The Shape of Punk to Come: A Chimerical Bombation in 12 Bursts
Length: 00:05:08
Year: 1998
Track Description:
This is another one that just lost its mojo with me. There are a few tunes i still enjoy when the come on on shuffle, but even in this song, the pre-cursor to EMO and Screamo feeling is strong. This band was fun while they lasted, but I guess I grew out of it.

SHOW LESS

6
Isis : False Light
This song will always rock my shit out of my ass, as will this whole album. But after this its been a decline [...]

SHOW MORE

Track 3 from Oceanic
Length: 00:07:42
Year: 2002
Track Description:
This song will always rock my shit out of my ass, as will this whole album. But after this its been a decline into not necessarily bad, but that realm of me feeling general apathy towards the music. Which might be worse than bad because it doesnt inspire any emotion in me at all. Panopticon, the album after this one, had its moments, but the newest one feels empty to me. To me, this band has lost their mojo.

SHOW LESS

7
Beck : Where It's At
All Im gonna say about Beck, is that his best album in 5 years is one thats a Guerolito, a remix version of Gu [...]

SHOW MORE

Track 8 from Odelay
Length: 00:05:30
Year: 1996
Track Description:
All Im gonna say about Beck, is that his best album in 5 years is one thats a Guerolito, a remix version of Guero. Its better because every single person involved with remixing it made an infinitely better version of each song. Ok, I might say a few other things about him. Is it a coincidence his music became really unimaginative or heartfelt after he became a scientologist? Im nnot gonna preach about that one. How about the fact that he had the Flaming Lips be his touring band, but afterwards all they could do was publicly brand him as a self-obsessed image-whore? I still like his stuff up to Guero. If he just put out Guerolito'esqu remix album of albums that remain unreleased, I think the world would be a better place.

SHOW LESS

8
DJ Shadow : Six Days
What the fuck happened to this guy!?!? FUCK! Being a fan into DJ shadow could be described as flirting with [...]

SHOW MORE

Track 6 from The Private Press
Length: 00:05:02
Year: 2002
Track Description:
What the fuck happened to this guy!?!? FUCK! Being a fan into DJ shadow could be described as flirting with a really pretty gal at the bar who buys you drinks and likes all of your jokes and knows tha bands you talking about. Then you take her home and it turns out she's a double dicked tranny that was actually paying for the drinks with money she was pickpocketing from you and was lying about knowing the bands. Oh and then she calls up "her" pimp and he comes and at gunpoint makes you pay for "her""services". Thats how I feel about DJ Shadow.

SHOW LESS

9
RJD2 : Good Times Roll, Part 2
This guy has been on the fence with me for awhile now. His second album I found mostly cool, but after that i [...]

SHOW MORE

Track 4 from Deadringer
Length: 00:04:57
Year: 2002
Track Description:
This guy has been on the fence with me for awhile now. His second album I found mostly cool, but after that it seems he went into a DJ Shadow inspired detour onto the traintracks that lead to douchetown. After many mediocre production duties on rap albums, he put out his "Third Hand" album which sounds the way it feels to be sleeping soundly and then have someone fart on your face.

SHOW LESS

10
The Roots : Love of My Life
What the fuck happened? After 4 albums of keepin it real, these guys decide to change it up and turn crazy. [...]

SHOW MORE

Track 6 from Come Alive! (Disc 1)
Length: 00:03:43
Year: 1999
Track Description:
What the fuck happened? After 4 albums of keepin it real, these guys decide to change it up and turn crazy. I mean sure they worked hard for a long time and deserved a break, but fuck, did they have to throw the art completely out the window? I appreciate very much that they are an actual band and that they (used to) put on a great show. But fuck. The last time I saw them, they had transformed into the greatest WEDDING JAM KARAOKE BAND ever. Dont get me wrong, I would totally hire them to play my wedding or company party, but fuck, THEY ONLY PLAYED 2 songs that were theirs! There were 3 medleys of other peoples hits and one 15 minute jam that was a Bob Dylan cover. Hey guys, remember Hiphop?

SHOW LESS
Tag Board
You must log in to leave a tag
Stuff
Quick Jump
sledgbrainerd's other mixes
Related mixes
recent visitors
show all