[?]
Not a member? Sign-up now, it's free!
Login
[?]
These are links to some of the major sections in the mixtape collective.
Lists: Browse various lists that are generated by the loads of data we have collected.
Contests: Check out the latest contests, see previous winners, and find out how you can be a part
Music: Check out our ever-growing database of musical knowledge! Use it to find any artist, album, or track that has been entered since the birth of the site and rate and find detailed usage statistics.
Main
[?]
Tired of looking at the same old pages? Try checking out a random one, you never know what you might find...
Random!
Broq in Iraq: Bagdad Boogie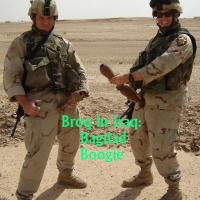 Broq in Iraq: Bagdad Boogie
Created by:
Delinquent
Tracks:
22
Length:
01:18:10
Keywords
1. Fuck
2. The
3. War
Created on
8/12/06 01:15pm
Level
5
Points
2486
Total visitors
86
Unique visitors
54
description:
This is a mix I made for my good friend who has been called back to Iraq after already serving 1 1/2 years there. He and his wife are expecting a child, and he is going to miss the birth because of fucking military duty. Well, plus he's going to a freakin' place where he can get shot or blown up or something dumb like that. It is just a shitty situation in general, and I'm not very happy about it. I lost a cousin when the war first started and that sucked. I was happy when Brock made it back to the states alive. But now he has to go back, and that feeling of uncertainty is creeping back in. And this is just me, who doesn't have to strap on camo and pack around a gun. I'm sure he is feeling pretty wary himself. So I've compiled a mix of music that hopefully will help take his mind off of reality when he's sweating his ass off in the Middle East.

The mix starts out mellow enough, then works itself up into a temper-tantrum, and then cools off...but just a little bit. I used mostly songs that he likes, but threw in a couple songs I like in hopes that he will enjoy them as well.


NOTE: I in NO WAY agree with the conflict in Iraq, but you better fucking believe that I'm going to support those who are over there fighting.

Also, if you don't like the fact that there are some shitty bands on this mix, do me a favor: FUCK OFF! I didn't make this mix for you, I made it for Brock. And if he likes Disturbed, then so be it. He's the one putting his life on the line every day of his job. You just sit at your computer and feel all indie and shit. Congratufuckinglations.
tracklist
1
The Avalanches : Since I Left You
"Get a drink, have a good time now... Welcome to Paradise."

Cruel? Maybe...

SHOW MORE

Track 1 from Since I Left You...
Length: 00:04:17
Year: 2001
Track Description:
"Get a drink, have a good time now... Welcome to Paradise."

Cruel? Maybe...

SHOW LESS

2
Flogging Molly : What's Left of the Flag
I like to picture a bunch of trashed army folk with arms around each others' shoulders, drunkenly singing out [...]

SHOW MORE

Track 2 from Drunken Lullabies
Length: 00:03:38
Year: 2002
Track Description:
I like to picture a bunch of trashed army folk with arms around each others' shoulders, drunkenly singing out loud to this song while a giant oil field burns in the background...

SHOW LESS

3
Godsmack : Shine Down
I asked him to list off some of his favorite songs so that I could include them on this mix. This is one of t [...]

SHOW MORE

Track 4 from IV
Length: 00:05:01
Year: 2006
Track Description:
I asked him to list off some of his favorite songs so that I could include them on this mix. This is one of them.

SHOW LESS

4
Bush : Bomb
Bush. Yes!

SHOW MORE

Track 3 from Sixteen Stone
Length: 00:03:22
Year: 1994
Track Description:
Bush. Yes!

SHOW LESS

5
Shellac : Pull the Cup
Oh shit! Raw power. He better appreciate this song.

SHOW MORE

Track 2 from At Action Park
Length: 00:04:12
Year: 1994
Track Description:
Oh shit! Raw power. He better appreciate this song.

SHOW LESS

6
Audioslave : Cochise
Audioslave is a combination of two good bands that then became mediochre. Well, Brock likes 'em, and this is [...]

SHOW MORE

Track 1 from Audioslave
Length: 00:03:42
Year: 2002
Track Description:
Audioslave is a combination of two good bands that then became mediochre. Well, Brock likes 'em, and this is a decent song.

SHOW LESS

7
Linkin Park : Hit the Floor
He likes Linkin Park.

SHOW MORE

Track 5 from Meteora
Length: 00:02:46
Year: 2003
Track Description:
He likes Linkin Park.

SHOW LESS

8
Death from Above 1979 : You're a Woman, I'm a Machine
I've been force-feeding my freinds this band, and I'm not stopping anytime soon.

SHOW MORE

Track 9 from You're A Woman, I'm A Machine
Length: 00:02:53
Year: 2004
Track Description:
I've been force-feeding my freinds this band, and I'm not stopping anytime soon.

SHOW LESS

9
Hot Snakes : Retrofit
A little song that I like, and his introduction to Hot Snakes.

SHOW MORE

Track 3 from Audit in Progress
Length: 00:02:54
Year: 2005
Track Description:
A little song that I like, and his introduction to Hot Snakes.

SHOW LESS

10
Lostprophets : Kobrakai
no description

SHOW MORE

Track 5 from The Fake Sound of Progress
Length: 00:05:33
Year: 2001
Track Description:
no description

SHOW LESS

11
Rage Against the Machine : Bombtrack
Zach was known for his anger, and so this song starts of a little thread of rage.

SHOW MORE

Track 1 from Rage Against the Machine
Length: 00:04:07
Year: 1992
Track Description:
Zach was known for his anger, and so this song starts of a little thread of rage.

SHOW LESS

12
When Tigers Fight : Fuck Tonite
Sometimes you just feel like saying, "Fuck it."

SHOW MORE

Track 1 from When Tigers Fight
Length: 00:01:36
Year: 0000
Track Description:
Sometimes you just feel like saying, "Fuck it."

SHOW LESS

13
Limp Bizkit : Break Stuff
Brock took a trip with me and some other friends to Charlotte, NC to watch the Anger Management Tour in 2000. [...]

SHOW MORE

Track 4 from Significant Other
Length: 00:02:48
Year: 1999
Track Description:
Brock took a trip with me and some other friends to Charlotte, NC to watch the Anger Management Tour in 2000. Man, we were silly.

SHOW LESS

14
AC/DC : Big Balls
A little humor thrown in. And he better appreciate the fact that I'd put an AC/DC song on something, since I [...]

SHOW MORE

Track 3 from Dirty Deeds Done Dirt Cheap
Length: 00:02:38
Year: 2000
Track Description:
A little humor thrown in. And he better appreciate the fact that I'd put an AC/DC song on something, since I absolutely detest the band.

SHOW LESS

15
The White Stripes : Seven Nation Army
Just a badass song.

SHOW MORE

Track 1 from Elephant
Length: 00:03:51
Year: 2003
Track Description:
Just a badass song.

SHOW LESS

16
Sevendust : Ugly
One of his favorite songs.

SHOW MORE

Track 2 from Next
Length: 00:04:09
Year: 2005
Track Description:
One of his favorite songs.

SHOW LESS

17
The Distillers : Sick of it All
An angry song that's loud. And sometimes, loud is real good.

SHOW MORE

Track 1 from Sing Sing Death House
Length: 00:03:10
Year: 2002
Track Description:
An angry song that's loud. And sometimes, loud is real good.

SHOW LESS

18
Led Zeppelin : Immigrant Song
Classic rock.

SHOW MORE

Track 1 from Led Zeppelin III
Length: 00:02:24
Year: 1970
Track Description:
Classic rock.

SHOW LESS

19
Disturbed : Sons of Plunder
Another one of Brock's favorite songs.

SHOW MORE

Track 7 from Ten Thousand Fists
Length: 00:03:48
Year: 2005
Track Description:
Another one of Brock's favorite songs.

SHOW LESS

20
Avenged Sevenfold : Bat Country
Man, he has a lot of favorite songs!

SHOW MORE

Track 4 from City of Evil
Length: 00:05:11
Year: 2005
Track Description:
Man, he has a lot of favorite songs!

SHOW LESS

21
The Fucking Champs : I Am the Album Cover
Guitars, guitars, and more guitars. I threw this in after the rest of the mix was made, because it links up w [...]

SHOW MORE

Track 4 from V
Length: 00:01:45
Year: 0000
Track Description:
Guitars, guitars, and more guitars. I threw this in after the rest of the mix was made, because it links up well with the sound of the guitars in the previous song.

SHOW LESS

22
Metallica : Hero of the Day
Brock's ABSOLUTE favorite song in the world. He has the little ninja-star thingie tattooed on his arm, with t [...]

SHOW MORE

Track 6 from Load
Length: 00:04:25
Year: 1996
Track Description:
Brock's ABSOLUTE favorite song in the world. He has the little ninja-star thingie tattooed on his arm, with the words "Hero of the Day" under it. Hey, I don't judge my friends.

He's my hero and I can't wait till he returns home.

SHOW LESS
Tag Board
You must log in to leave a tag
Stuff
Quick Jump
Delinquent's other mixes
Related mixes
recent visitors
show all