[?]
Not a member? Sign-up now, it's free!
Login
[?]
These are links to some of the major sections in the mixtape collective.
Lists: Browse various lists that are generated by the loads of data we have collected.
Contests: Check out the latest contests, see previous winners, and find out how you can be a part
Music: Check out our ever-growing database of musical knowledge! Use it to find any artist, album, or track that has been entered since the birth of the site and rate and find detailed usage statistics.
Main
[?]
Tired of looking at the same old pages? Try checking out a random one, you never know what you might find...
Random!
The Battleaxe's Run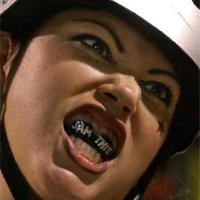 The Battleaxe's Run
Created by:
galaxiepi
Tracks:
17
Length:
00:58:00
Keywords
1. chicks
2. rock
3. running
Created on
5/23/06 11:32pm
Level
5
Points
2298
Total visitors
165
Unique visitors
83
description:
A mix for hardass chicks (although not exclusively!). Some of my favorite songs to listen to while running. Driving rythmns, a fierce female vocalist, loud, strong, and willing to kick any dude in the balls, if necessary.
tracklist
1
Yeah Yeah Yeahs : Date with a Night
A perfect way to start the mix; the guitars kick in and then the rythmn simply gets you going. Karen O makes X [...]

SHOW MORE

Track 2 from Fever to Tell
Length: 00:02:35
Year: 2003
Track Description:
A perfect way to start the mix; the guitars kick in and then the rythmn simply gets you going. Karen O makes XX awesome.

SHOW LESS

2
The Distillers : Dismantle Me
I < 3 Brody Dalle. Almost all the tracks off this album can apply to this mix (hence the double appearance), b [...]

SHOW MORE

Track 2 from Coral Fang
Length: 00:02:26
Year: 2003
Track Description:
I < 3 Brody Dalle. Almost all the tracks off this album can apply to this mix (hence the double appearance), but this one starts off strong and keeps it going throughout the track. Plus she does a better job at the raspy, hoarse voice than Courtney Love ever did.

SHOW LESS

3
Juliette and the Licks : Shelter Your Needs
"Put it in my hand and tell me how much pressure it takes to get you off."
Juliette Lewis is an incredibl [...]

SHOW MORE

Track 1 from ...Like a Bolt of Lightning
Length: 00:04:04
Year: 2005
Track Description:
"Put it in my hand and tell me how much pressure it takes to get you off."
Juliette Lewis is an incredible live performer, and this track off their debut EP doesn't do that aspect justice, but it definitely is great to inspire one to keep running.

SHOW LESS

4
Pretty Girls Make Graves : Head South
Another EP release, this is before PGMG went to (complete) shit in later albums, particularly their latest rel [...]

SHOW MORE

Track 4 from Pretty Girls Make Graves
Length: 00:03:10
Year: 2003
Track Description:
Another EP release, this is before PGMG went to (complete) shit in later albums, particularly their latest release. I prefer them to be screaming, thanks.

SHOW LESS

5
Sahara Hotnights : Alright, Alright (Here's My Fist, Where's the Fight?)
I fully expect to get shit for this addition. In the same pop-y punk vein as The Donnas, Sahara Hotnights were [...]

SHOW MORE

Track 1 from Jennie Bomb
Length: 00:02:06
Year: 2002
Track Description:
I fully expect to get shit for this addition. In the same pop-y punk vein as The Donnas, Sahara Hotnights were a complete (uber-brief) flash in the pan a couple years ago, but this song has remained on my workout mix. It makes me want to fight sorority chicks. Waitaminute...

SHOW LESS

6
Kittie : Charlotte
That's right, I said KITTIE. An all-female metal band from Canada, who at the time, were in freaking high scho [...]

SHOW MORE

Track 2 from Spit
Length: 00:03:55
Year: 0000
Track Description:
That's right, I said KITTIE. An all-female metal band from Canada, who at the time, were in freaking high school. I think they moved on to Ozzfest or some crap like that, but whatever. It works. They scream, ok?

SHOW LESS

7
Prodigy : Hot Ride
Juliette Lewis makes yet another appearance, although when I first heard the song I had no idea it was her. I' [...]

SHOW MORE

Track 5 from Always Outnumbered, Never Outgunned
Length: 00:04:35
Year: 2004
Track Description:
Juliette Lewis makes yet another appearance, although when I first heard the song I had no idea it was her. I'll always love Prodigy, and this song's repetitive beats and lyrics are easy to zone out to. Which can be a good thing, especially when your lungs want to jump out of your chest and collapse on the ground in a phlegmy mess.

SHOW LESS

8
Le Tigre : Deceptacon
Every time I hear this track while running, I ALWAYS go faster. The vocals are yelly/girly, but really... one [...]

SHOW MORE

Track 1 from Le Tigre
Length: 00:03:04
Year: 1999
Track Description:
Every time I hear this track while running, I ALWAYS go faster. The vocals are yelly/girly, but really... one of the chicks has a MUSTACHE. The femstache alone makes them awesome, but this song is also damn catchy.

SHOW LESS

9
Peaches : Kick It (ft. Iggy Pop)
Speaking of women with facial hair, how about the cover of this album? Peaches is a ballsy, electroclash, brui [...]

SHOW MORE

Track 4 from Fatherfucker
Length: 00:02:31
Year: 2003
Track Description:
Speaking of women with facial hair, how about the cover of this album? Peaches is a ballsy, electroclash, bruised mess from Canada, but her lyrics always entertain. "Some people don't like my crotch," for example. A super simplistic song trading lyrics back and forth with Mr. Pop. Oh, and did I mention the album is called Fatherfucker?

SHOW LESS

10
The Distillers : Beat Your Heart Out
"Baby, you make my heart beat faster." If this isn't a more appropros second showing of The Distillers, than w [...]

SHOW MORE

Track 8 from Coral Fang
Length: 00:02:48
Year: 2003
Track Description:
"Baby, you make my heart beat faster." If this isn't a more appropros second showing of The Distillers, than well... I don't know. But I like it.

SHOW LESS

11
Kittie : Brackish
More teenaged, metal Canadian chicks screaming and metal-ing out. You can tell my forays into the metal world [...]

SHOW MORE

Track 5 from Spit
Length: 00:03:08
Year: 0000
Track Description:
More teenaged, metal Canadian chicks screaming and metal-ing out. You can tell my forays into the metal world are fairly limited.

SHOW LESS

12
Pretty Girls Make Graves : Speakers Push the Air
More earlier work from PGMG, one of their seemingly perennials. In fact, you could probably go and make this y [...]

SHOW MORE

Track 1 from Good Health
Length: 00:02:52
Year: 2002
Track Description:
More earlier work from PGMG, one of their seemingly perennials. In fact, you could probably go and make this your Myspace profile song right now. Oooh! Then you can run in place!

SHOW LESS

13
Sonic Youth : Drunken Butterfly
Do I need to say more when it's Sonic Youth? Plenty of feedback and grungey guitar, plus the breathy, rough vo [...]

SHOW MORE

Track 4 from Dirty
Length: 00:03:04
Year: 1992
Track Description:
Do I need to say more when it's Sonic Youth? Plenty of feedback and grungey guitar, plus the breathy, rough vocals of Kim Gordon.

SHOW LESS

14
Prodigy : Smack My Bitch Up
I kinda cheated with this one, because there are far more male vocals than female, but I think the title alone [...]

SHOW MORE

Track 1 from Fat of the Land
Length: 00:05:42
Year: 1997
Track Description:
I kinda cheated with this one, because there are far more male vocals than female, but I think the title alone suffices. This is always in my mix, and I've never grown tired of it. The moment from 3:03-4:14 is one of the best in 90s techno history. Period.

SHOW LESS

15
Bjork : Army of Me
At this point you're getting a little tired and this song, while much more mellow than the rest, somehow works [...]

SHOW MORE

Track 1 from Post
Length: 00:03:54
Year: 1995
Track Description:
At this point you're getting a little tired and this song, while much more mellow than the rest, somehow works to keep you going. "Self-sufficient, please."

SHOW LESS

16
Garbage : Push It
Shirley Manson is the definition of fierce. The lyrics work. The beats "go harder." It's great to be a pissed [...]

SHOW MORE

Track 7 from Version 2.0
Length: 00:04:01
Year: 1998
Track Description:
Shirley Manson is the definition of fierce. The lyrics work. The beats "go harder." It's great to be a pissed off, yet cooly rational woman.

SHOW LESS

17
Yeah Yeah Yeahs : Turn Into
A more mellow track to cool down with, but it still features that signature driving beat. Somehow the mood of [...]

SHOW MORE

Track 11 from Show Your Bones
Length: 00:04:05
Year: 2006
Track Description:
A more mellow track to cool down with, but it still features that signature driving beat. Somehow the mood of this song really clicks as well... it's a confident finish that doesn't leave a gnarly taste on the palate.

SHOW LESS
Tag Board
You must log in to leave a tag
Stuff
Quick Jump
galaxiepi's other mixes
Related mixes
recent visitors
show all