[?]
Not a member? Sign-up now, it's free!
Login
[?]
These are links to some of the major sections in the mixtape collective.
Lists: Browse various lists that are generated by the loads of data we have collected.
Contests: Check out the latest contests, see previous winners, and find out how you can be a part
Music: Check out our ever-growing database of musical knowledge! Use it to find any artist, album, or track that has been entered since the birth of the site and rate and find detailed usage statistics.
Main
[?]
Tired of looking at the same old pages? Try checking out a random one, you never know what you might find...
Random!
No Open Doors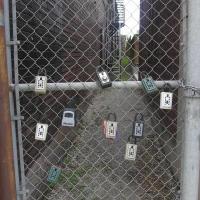 No Open Doors
Created by:
motormatic
Tracks:
14
Length:
00:42:34
Keywords
1. some
2. things
3. suck
Created on
9/02/06 09:14am
Level
4
Points
1976
Total visitors
43
Unique visitors
30
description:
I found out today I didn't get my dream job. Not that I'm terribly surprised, but I am quite sad about it. This mix is how I feel about my career possibilities. Some of it isn't too sad, most of it's just frustrated.
tracklist
1
999 : Me and My Desire
It's what I've always wanted.

SHOW MORE

Track 1 from 999
Length: 00:03:43
Year: 2000
Track Description:
It's what I've always wanted.

SHOW LESS

2
The Partisans : 17 Years of Hell
Not that I'm feeling particularly melancholy or anything:)

SHOW MORE

Track 4 from Police Story
Length: 00:02:50
Year: 2000
Track Description:
Not that I'm feeling particularly melancholy or anything:)

SHOW LESS

3
Magazine : A Song From Under The Floorboards
This is an AMAZING song that pretty sums up the worst possible way someone could feel.

SHOW MORE

Track 10 from The Correct Use of Soap
Length: 00:04:11
Year: 1980
Track Description:
This is an AMAZING song that pretty sums up the worst possible way someone could feel.

SHOW LESS

4
Buzzcocks : Something's Gone Wrong Again
It always does!

SHOW MORE

Track 20 from Singles Going Steady
Length: 00:04:35
Year: 1979
Track Description:
It always does!

SHOW LESS

5
Small Faces : All Or Nothing
This is the way things seem to happen for me. Either something bloody brilliant happens out of the blue or not [...]

SHOW MORE

Track 3 from It's All Or Nothing
Length: 00:03:07
Year: 2000
Track Description:
This is the way things seem to happen for me. Either something bloody brilliant happens out of the blue or nothing happens at all. When I plan it it's usually the nothing.

SHOW LESS

6
Easybeats : Cry Cry Cry
Yep. Poor me. Wah wah wah.

SHOW MORE

Track 9 from Easy
Length: 00:02:02
Year: 1965
Track Description:
Yep. Poor me. Wah wah wah.

SHOW LESS

7
Love : Alone Again Or
Will it ever happen? Sure it will. Clearly just not quite yet.

SHOW MORE

Track 1 from Forever Changes
Length: 00:03:18
Year: 1967
Track Description:
Will it ever happen? Sure it will. Clearly just not quite yet.

SHOW LESS

8
Stems : At First Sight
I fell in love with the job at the description.

SHOW MORE

Track 1 from At First Sight Violets Are Blue
Length: 00:04:02
Year: 1987
Track Description:
I fell in love with the job at the description.

SHOW LESS

9
Joe Meek : Telstar
No meaning at all to this one. I love Joe Meek though. British, possibly even crazier than Phil Spector, he di [...]

SHOW MORE

Track 11 from Songs In The Key of Z Vol. 1
Length: 00:02:24
Year: 2000
Track Description:
No meaning at all to this one. I love Joe Meek though. British, possibly even crazier than Phil Spector, he died with his landlady in a bizzare murder-suicide.

SHOW LESS

10
Kim Fowley : Underground Lady
Without Kim Fowley we would have no bubblegum, not much garage and no Runaways. Thank you Kim Fowley. He's als [...]

SHOW MORE

Track 0 from
Length: 00:02:58
Year:
Track Description:
Without Kim Fowley we would have no bubblegum, not much garage and no Runaways. Thank you Kim Fowley. He's also nuts, but a musical genius.

SHOW LESS

11
The Nerves : Give Me Some Time
See, it will happen in time. I just need to figure out the right way to get there.

SHOW MORE

Track 3 from Nerves EP
Length: 00:01:53
Year: 1976
Track Description:
See, it will happen in time. I just need to figure out the right way to get there.

SHOW LESS

12
Pointed Sticks : Out Of Luck
Yep. At least I was 2nd in the running. It's better than nothing, but as my father used to say to us "nearly's [...]

SHOW MORE

Track 9 from Part Of The Noise
Length: 00:02:35
Year: 1979
Track Description:
Yep. At least I was 2nd in the running. It's better than nothing, but as my father used to say to us "nearly's not good enough".

SHOW LESS

13
Radio Stars : Nervous Wreck
I really was sitting on the edge of my seat for two freaking weeks waiting to find out about this.

SHOW MORE

Track 18 from The Chiswick Story
Length: 00:01:58
Year: 1992
Track Description:
I really was sitting on the edge of my seat for two freaking weeks waiting to find out about this.

SHOW LESS

14
Stiv Bators : Bad Luck Charm
That's me!

SHOW MORE

Track 2 from Disconnected
Length: 00:02:58
Year: 1980
Track Description:
That's me!

SHOW LESS
Tag Board
You must log in to leave a tag
Stuff
Quick Jump
motormatic's other mixes
Related mixes
recent visitors
show all