[?]
Not a member? Sign-up now, it's free!
Login
[?]
These are links to some of the major sections in the mixtape collective.
Lists: Browse various lists that are generated by the loads of data we have collected.
Contests: Check out the latest contests, see previous winners, and find out how you can be a part
Music: Check out our ever-growing database of musical knowledge! Use it to find any artist, album, or track that has been entered since the birth of the site and rate and find detailed usage statistics.
Main
[?]
Tired of looking at the same old pages? Try checking out a random one, you never know what you might find...
Random!
Let's Break The Law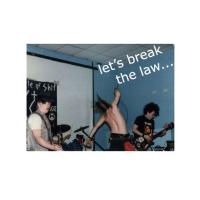 Let's Break The Law
Created by:
motormatic
Tracks:
15
Length:
00:45:34
Keywords
1. Mix Contest 3
2. Mix Contest 3
3. Mix Contest 3
Created on
9/09/06 10:42pm
Level
4
Points
1987
Total visitors
68
Unique visitors
49
This mix was ranked #10 out of 15 entries for this contest
description:
This is a tape about my days in (or skipping) high school. These punk rock anthems are

a) the kind of thing I was listening to back then
b) loud and obnoxious, like I was as a teenager
c) the epitomy of wasting your teenage years
d) some of the most fun songs ever written

It's not all the best music in the world, and it may not all have a message that I identify with currently, but this is the music that saved my life as a teenager. Skipping class and drinking in the park, hanging around in the streets up to no good, petty vandalism, hanging out with the bad crowd, being badder than the bad crowd, I thought I was so bored but I look back now and I really did have fun. These are the songs that were so important to my school days. These are songs about growing up in a shithole, being stuck in school, having no prospects and nothing worthwhile but your friends. These are the songs I blasted on my walkman stoned out of my mind wandering through the hallways of my school. Funnily enough, I didn't put the song I got the title from on it, but that's an Anti-Nowhere League song that I cruised around in many a stolen parents car to:)

As for the track information, all of these are really old so in most cases I haven't given the vinyl information, but the reissue CD info. Enjoy! Usually I tend to make really sad mix tapes but I had a ton of fun doing this one. It was great to pull these out and listen to them again. This mix is super high energy and will make you feel like a reckless kid.
tracklist
1
999 : High Energy Plan
I always had something going on!

SHOW MORE

Track 11 from Seperates
Length: 00:02:49
Year: 0000
Track Description:
I always had something going on!

SHOW LESS

2
Lords of the New Church : Live For Today
The late, great Stiv Bators went on to front this band after the Dead Boys. It's all in the title. When you're [...]

SHOW MORE

Track 11 from Is Nothing Sacred?
Length: 00:04:49
Year: 1983
Track Description:
The late, great Stiv Bators went on to front this band after the Dead Boys. It's all in the title. When you're young and reckless you don't think about repercussions.

SHOW LESS

3
Angelic Upstarts : Kids On The Street
British punk anthem. Well, most of these are. Kids on the street up to no good!

SHOW MORE

Track 10 from 2, 000, 000 Voices
Length: 00:02:21
Year: 2001
Track Description:
British punk anthem. Well, most of these are. Kids on the street up to no good!

SHOW LESS

4
Channel 3 : Strength In Numbers
It's always hard to be the lone punk rocker in a small town high school. I moved from Manchester, England (whe [...]

SHOW MORE

Track 12 from The Skinhead Years
Length: 00:01:25
Year: 2000
Track Description:
It's always hard to be the lone punk rocker in a small town high school. I moved from Manchester, England (where all this was top 40) to a smallish town in Canada and wasn't prepared for the backlash that came along with being different.

SHOW LESS

5
Cock Sparrer : Because You're Young
Cock Sparrer are still one of my favourite bands.
"Because you're young, you're torn between
A wo [...]

SHOW MORE

Track 2 from Guilty As Charged
Length: 00:03:46
Year: 1994
Track Description:
Cock Sparrer are still one of my favourite bands.
"Because you're young, you're torn between
A world of hate and a world of dreams
So much to lose, so much to gain
So much to fight for, so much to change
You don't look back, you don't look down
You gotta turn everything around
You live your life like a loaded gun
Because you're young"


SHOW LESS

6
Celibate Rifles : Back In The Red
Every year, a different school maybe, but the same old shit. Every year I couldn't believe that I hadn't made [...]

SHOW MORE

Track 1 from Kiss Kiss Bang Bang
Length: 00:03:00
Year: 1986
Track Description:
Every year, a different school maybe, but the same old shit. Every year I couldn't believe that I hadn't made it out of there yet.

SHOW LESS

7
The Pagans : Real World
You think you're in it.

SHOW MORE

Track 7 from Everybody Hates You
Length: 00:02:32
Year: 1995
Track Description:
You think you're in it.

SHOW LESS

8
Rocket From The Tombs : Foggy Notion
Now for some pre-Dead Boys Stiv Bators! I used to climb up in the attic with my old record player and listen t [...]

SHOW MORE

Track 13 from The Day The Earth Met The Rocket From The Tombs
Length: 00:04:53
Year: 2002
Track Description:
Now for some pre-Dead Boys Stiv Bators! I used to climb up in the attic with my old record player and listen to these guys so lound I couldn't hear my mom yelling at me to turn it down.

SHOW LESS

9
Social Distortion : Mommy's Little Monster
Weren't we all? Looking back, I feel sorry for her.

SHOW MORE

Track 5 from Live at the Roxy
Length: 00:04:05
Year: 0000
Track Description:
Weren't we all? Looking back, I feel sorry for her.

SHOW LESS

10
The Damned : Smash It Up
One of the most epic punk songs of all time. I can remember skipping out of school to see the Damned and screa [...]

SHOW MORE

Track 12 from Machine Gun Etiquette
Length: 00:02:53
Year: 1979
Track Description:
One of the most epic punk songs of all time. I can remember skipping out of school to see the Damned and screaming along with this one like my life depended on it.

SHOW LESS

11
The Monks : Johnny B. Rotten
Best. Album. Ever. Even if it was a joke. We were all looking for trouble.

SHOW MORE

Track 1 from Bad Habits
Length: 00:02:56
Year: 1979
Track Description:
Best. Album. Ever. Even if it was a joke. We were all looking for trouble.

SHOW LESS

12
The Boys : Brickfield Nights
A classic about a group of yobs hanging around with nothing to do. Brilliant melody too.
"Every night w [...]

SHOW MORE

Track 1 from Alternative Chartbusters
Length: 00:03:19
Year: 1999
Track Description:
A classic about a group of yobs hanging around with nothing to do. Brilliant melody too.
"Every night we`d meet at the same place same time...
Late nights spent kicking round a football
We carved our initials on the school wall"

SHOW LESS

13
The Partisans : Don't Blame Us
So defensive! Despite the lack of lyrical genius, this is a great teenage anthem.
"We get the blame for [...]

SHOW MORE

Track 7 from Police Story
Length: 00:01:05
Year: 2000
Track Description:
So defensive! Despite the lack of lyrical genius, this is a great teenage anthem.
"We get the blame for everything
For what we do and what we are involved in
No one considers the actual facts
We're the ones that get attacked
Don't blame us for it
The police give us a rough time
They pick us up at any time
Blame me for everything that I do
For every crime that's old and new
Because I wear my scruffy clothes
They beat me up and that's how it goes
Don't blame us for it
We get the blame for everything
For all the crimes that we are involved in
No one considers the actual facts
We're the ones that get attacked"

SHOW LESS

14
Zero Boys : I'm Bored
More angsty and desperate than others.

SHOW MORE

Track 27 from Killed By Death #4
Length: 00:02:51
Year: 0000
Track Description:
More angsty and desperate than others.

SHOW LESS

15
The Runaways : School Days
To this day my mother still singlehandedly blames every bad thing I've ever done on Joan Jett.

SHOW MORE

Track 6 from Waitin' for the Night
Length: 00:02:50
Year: 1977
Track Description:
To this day my mother still singlehandedly blames every bad thing I've ever done on Joan Jett.

SHOW LESS
Tag Board
You must log in to leave a tag
Stuff
Quick Jump
motormatic's other mixes
Related mixes
recent visitors
show all