[?]
Not a member? Sign-up now, it's free!
Login
[?]
These are links to some of the major sections in the mixtape collective.
Lists: Browse various lists that are generated by the loads of data we have collected.
Contests: Check out the latest contests, see previous winners, and find out how you can be a part
Music: Check out our ever-growing database of musical knowledge! Use it to find any artist, album, or track that has been entered since the birth of the site and rate and find detailed usage statistics.
Main
[?]
Tired of looking at the same old pages? Try checking out a random one, you never know what you might find...
Random!
VIKING HORROR BATTALION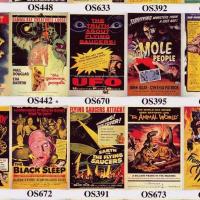 VIKING HORROR BATTALION
Created by:
SKT805
Tracks:
10
Length:
00:39:04
Keywords
1. Mix Contest 4 - Monsters
2. Mix Contest 4 - Monsters
3. Mix Contest 4 - Monsters
Created on
10/04/06 03:03pm
Level
5
Points
2439
Total visitors
110
Unique visitors
45
This mix was ranked #13 out of 15 entries for this contest
description:
I thought it would be cool to make a soundtrack for a battle between monsters, their crew being the Viking Horror Battalion and robots, their crew being Flash Gordon Hairspray. Since monsters have been here since the beginning we all know the outcome. MOSH!
tracklist
1
Dragonforce : Cry for Eternity
The monsters arrive by ground air and sea to the battleground as they gather with their intent to rampage.

SHOW MORE

Track 6 from Inhuman Rampage
Length: 00:08:12
Year: 2005
Track Description:
The monsters arrive by ground air and sea to the battleground as they gather with their intent to rampage.

SHOW LESS

2
Refused : New Noise
The Robots show up with their moog keyboards and their devo whips.

SHOW MORE

Track 6 from The Shape of Punk to Come: A Chimerical Bombation in 12 Bursts
Length: 00:05:08
Year: 1998
Track Description:
The Robots show up with their moog keyboards and their devo whips.

SHOW LESS

3
Between the Buried and Me : Alaska
The stage is set and the Monsters and Robots line up on the battleground to face their destiny or either blood [...]

SHOW MORE

Track 2 from Alaska
Length: 00:03:59
Year: 2006
Track Description:
The stage is set and the Monsters and Robots line up on the battleground to face their destiny or either bloody victory or oil soaked defeat

SHOW LESS

4
London Symphony Orchestra & Richard Hickox : Carmina Burana: I. O Fortuna
The rules are called out as the warrior monsters prepare their armor. The Robots check their mirrors and help [...]

SHOW MORE

Track 1 from Orff: Carmina Burana
Length: 00:02:47
Year: 2005
Track Description:
The rules are called out as the warrior monsters prepare their armor. The Robots check their mirrors and help each other into their garter belts and chaps.

SHOW LESS

5
The Black Dahlia Murder : Elder Misanthropy
The battle begins and robot heads start to roll.

SHOW MORE

Track 3 from Unhallowed
Length: 00:02:34
Year: 2003
Track Description:
The battle begins and robot heads start to roll.

SHOW LESS

6
Bury Your Dead : House of Straw
The Robots unleash their secret weapon: Lance Bass Attack. An unspeakable act of energy upon the choosing of s [...]

SHOW MORE

Track 1 from Beauty and the Breakdown
Length: 00:04:02
Year: 2006
Track Description:
The Robots unleash their secret weapon: Lance Bass Attack. An unspeakable act of energy upon the choosing of sexual preference in return for glory and popularity. The Monsters are stunned.

SHOW LESS

7
Def Leppard : Pour Some Sugar on Me
Hope seems lost for the monsters as they start to crumble under the robot's victory cry! Pour some sugar on me [...]

SHOW MORE

Track 5 from Hysteria
Length: 00:04:27
Year: 1988
Track Description:
Hope seems lost for the monsters as they start to crumble under the robot's victory cry! Pour some sugar on me!!! All robots raise their one remaining arm.

SHOW LESS

8
Converge : Eagles Become Vultures
But wait whats this!! The robots are distracted!! It is the perfect time to release your secret weapon monster [...]

SHOW MORE

Track 9 from You Fail Me
Length: 00:02:10
Year: 2004
Track Description:
But wait whats this!! The robots are distracted!! It is the perfect time to release your secret weapon monsters! This is your hour!!! Combining Odin's eye puss, Thor's hammer, and Vultures talon turns the battle over the mercy of the Kirk Douglas butt chin Armageddon Bonanza

SHOW LESS

9
The Dillinger Escape Plan : Sugar Coated Sour
The Tide has been turned. Wire flies with tendon, Blood with oil, Battle axes with ipods.

SHOW MORE

Track 1 from Calculating Infinity
Length: 00:02:24
Year: 1999
Track Description:
The Tide has been turned. Wire flies with tendon, Blood with oil, Battle axes with ipods.

SHOW LESS

10
Maylene and the Sons of Disaster : Caution: Dangerous Curves Ahead
The Viking Horror Battalion emerge victorious, no victory cry, no exuberant praise, just cool strutting. The V [...]

SHOW MORE

Track 1 from Maylene and the Sons of Disaster
Length: 00:03:21
Year: 2005
Track Description:
The Viking Horror Battalion emerge victorious, no victory cry, no exuberant praise, just cool strutting. The VHB walk the earth seeking worthy competitors, who knows who could be the next victim? Only time will tell.

SHOW LESS
Tag Board
You must log in to leave a tag
Stuff
Quick Jump
SKT805's other mixes
Related mixes
recent visitors
show all