[?]
Not a member? Sign-up now, it's free!
Login
[?]
These are links to some of the major sections in the mixtape collective.
Lists: Browse various lists that are generated by the loads of data we have collected.
Contests: Check out the latest contests, see previous winners, and find out how you can be a part
Music: Check out our ever-growing database of musical knowledge! Use it to find any artist, album, or track that has been entered since the birth of the site and rate and find detailed usage statistics.
Main
[?]
Tired of looking at the same old pages? Try checking out a random one, you never know what you might find...
Random!
Did You Order This?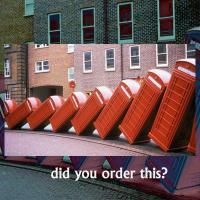 Did You Order This?
Created by:
derhay
Tracks:
17
Length:
01:03:03
Keywords
1. Alphabet
2. Grated Carrots
3. Order O.C.D.
Created on
10/09/06 01:21pm
Level
5
Points
2439
Total visitors
79
Unique visitors
47
description:
I wanted to see if I could make a good mix of songs with the Artists and Tracks (both) in alphabetical order. Ta-der!
tracklist
1
Radiohead : Banana Co.
This is from a bootleg I found in AZ.

SHOW MORE

Track 0 from A Total Waste of Time
Length: 00:02:20
Year: 1998
Track Description:
This is from a bootleg I found in AZ.

SHOW LESS

2
The Radon Daugters : Child of the Moon
I used this on my very first MTC mix. Still love it.

SHOW MORE

Track 12 from Gimme Shelter Disc 2
Length: 00:03:24
Year: 2002
Track Description:
I used this on my very first MTC mix. Still love it.

SHOW LESS

3
Rage Against the Machine : Darkness
This was my introduction to RAtM.

SHOW MORE

Track 0 from The Crow: Original Motion Picture Soundtrack
Length: 00:03:41
Year: 1994
Track Description:
This was my introduction to RAtM.

SHOW LESS

4
Rammstein : Engel
Silly Germans.

SHOW MORE

Track 2 from Sehnsucht
Length: 00:04:24
Year: 1997
Track Description:
Silly Germans.

SHOW LESS

5
The Ramones : Garden of Serenity
Not-so-typical Ramones. S'growin' on me.

SHOW MORE

Track 17 from Anthology: Hey Ho, Let's Go! (disc 2)
Length: 00:02:28
Year: 1999
Track Description:
Not-so-typical Ramones. S'growin' on me.

SHOW LESS

6
The Rapture : Infatuation
I like this song, but not as much as "Pop Song" from The Rapture. A "this much caring is creepy" song.

SHOW MORE

Track 11 from Echoes
Length: 00:05:01
Year: 2003
Track Description:
I like this song, but not as much as "Pop Song" from The Rapture. A "this much caring is creepy" song.

SHOW LESS

7
The Raveonettes : My Tornado
Wa-hoo. Kicking things up.

SHOW MORE

Track 6 from Whip It On
Length: 00:02:07
Year: 2002
Track Description:
Wa-hoo. Kicking things up.

SHOW LESS

8
The Recoys : Modern Art Museum
Members of The Recoys and Jonathan Fire*Eater became The Walkmen. I dig on this song. It almost gives JF*E a r [...]

SHOW MORE

Track 8 from Rekoys LP
Length: 00:03:59
Year: 2003
Track Description:
Members of The Recoys and Jonathan Fire*Eater became The Walkmen. I dig on this song. It almost gives JF*E a run for its money.

SHOW LESS

9
Red House Painters : New Jersey
"You're and American girl... Livin' in a freckle on the face of the world." It is a bummer, but a sweet one. " [...]

SHOW MORE

Track 9 from Red House Painters
Length: 00:03:58
Year: 1993
Track Description:
"You're and American girl... Livin' in a freckle on the face of the world." It is a bummer, but a sweet one. "You're as good as dead. New Jersey ain't the whole world."

SHOW LESS

10
Lou Reed : NYC Man
This won out over "Perfect Day" the NJ to NY segue was to seductive. These random mixes serve a purpose: to in [...]

SHOW MORE

Track 0 from NYC Man (disc 2)
Length: 00:04:55
Year: 2004
Track Description:
This won out over "Perfect Day" the NJ to NY segue was to seductive. These random mixes serve a purpose: to introduce me to songs that I didn't get to in my collection. Ah, Lou. "You blink your eyes and I'll be gone."

SHOW LESS

11
Reggie & The Full Effect : Ode to Manheim Steamroller
I love the intro. This high fructose corn syrupy song hits the blood stream fast.

SHOW MORE

Track 0 from Promotional Copy
Length: 00:02:25
Year: 2000
Track Description:
I love the intro. This high fructose corn syrupy song hits the blood stream fast.

SHOW LESS

12
R.E.M. : Pop Song 89
I received this song, sort of, from a friend of mine on a mixtape while I was away from home. He was just crui [...]

SHOW MORE

Track 1 from Green
Length: 00:03:04
Year: 1988
Track Description:
I received this song, sort of, from a friend of mine on a mixtape while I was away from home. He was just cruising the radio dial and this is the only song that stood out from the randomness. Fond memories.

SHOW LESS

13
Ren & Stimpy : Ren's Pecs
"It sure is lonely around here ever since Ren got his pectoral implants and moved to Hollywood." The tape of t [...]

SHOW MORE

Track 0 from You Eediot!
Length: 00:02:52
Year: 1993
Track Description:
"It sure is lonely around here ever since Ren got his pectoral implants and moved to Hollywood." The tape of this is clear orange. Great track. The line, "'cause when I scratch my rear, I remember how it use to be." rock

SHOW LESS

14
Ride : Seagull
The rodent of the air paid tribute to in awesome guitar work. killer

SHOW MORE

Track 1 from Nowhere
Length: 00:06:08
Year: 2001
Track Description:
The rodent of the air paid tribute to in awesome guitar work. killer

SHOW LESS

15
RJD2 : Since We Last Spoke
Great opener to a little bit of a new direction from RJD2. I hope his next album makes up for The Outsider. [...]

SHOW MORE

Track 1 from Since We Last Spoke
Length: 00:04:14
Year: 2004
Track Description:
Great opener to a little bit of a new direction from RJD2. I hope his next album makes up for The Outsider.

SHOW LESS

16
The Rolling Stones : Soul Survivor
I love old Stones. Phenominominal track.

SHOW MORE

Track 0 from Exile on Main Street
Length: 00:03:49
Year: 1972
Track Description:
I love old Stones. Phenominominal track.

SHOW LESS

17
Roxy Music : Still Falls the Rain
This won out over "Virginia Plain" because I am still chewing on the marrow of this lil' ditty. There may be m [...]

SHOW MORE

Track 4 from Manifesto
Length: 00:04:14
Year: 1979
Track Description:
This won out over "Virginia Plain" because I am still chewing on the marrow of this lil' ditty. There may be more 'Order' mixes. We'll see if I can get some more momentum. later

SHOW LESS
Tag Board
You must log in to leave a tag
Stuff
Quick Jump
derhay's other mixes
Related mixes
recent visitors
show all