[?]
Not a member? Sign-up now, it's free!
Login
[?]
These are links to some of the major sections in the mixtape collective.
Lists: Browse various lists that are generated by the loads of data we have collected.
Contests: Check out the latest contests, see previous winners, and find out how you can be a part
Music: Check out our ever-growing database of musical knowledge! Use it to find any artist, album, or track that has been entered since the birth of the site and rate and find detailed usage statistics.
Main
[?]
Tired of looking at the same old pages? Try checking out a random one, you never know what you might find...
Random!
If I owned Prom Night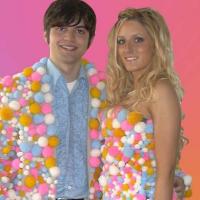 If I owned Prom Night
Created by:
brookedarrah
Tracks:
20
Length:
01:09:32
Keywords
1. dance
2. motherfucker
3. dance
Created on
10/11/06 05:40pm
Level
8
Points
3563
Total visitors
137
Unique visitors
77
description:
I like this poofy balls thing these guys have going. I have made a song list for their Prom.
tracklist
1
Lightning Bolt : Assassins
We are going to start out prom really rock and roll and then later we're going to mellow things out so people [...]

SHOW MORE

Track 2 from Wonderful Rainbow
Length: 00:03:43
Year: 2003
Track Description:
We are going to start out prom really rock and roll and then later we're going to mellow things out so people feel all sexy and then we're going to have the slow dances for all the couples, right? ok.

SHOW LESS

2
Comets on Fire : Pussy Foot the Duke
Why isn't their more Psychadelic music at prom night? No one wants to hear the Thong Song. They want to hear C [...]

SHOW MORE

Track 2 from Blue Cathedral
Length: 00:05:07
Year: 2004
Track Description:
Why isn't their more Psychadelic music at prom night? No one wants to hear the Thong Song. They want to hear Comets on Fire!

SHOW LESS

3
Brian Wilson : Our Prayer/Gee
Smile is one of my favorite albums to come out in the last couple of years. I feel like this album is what Bri [...]

SHOW MORE

Track 1 from Smile
Length: 00:02:11
Year: 2004
Track Description:
Smile is one of my favorite albums to come out in the last couple of years. I feel like this album is what Brian Wilson was always trying to make and the Beach Boys/popular music in general were just keeping him from realizing it. This song will excite our prom goers.

SHOW LESS

4
Boredoms : hey bore hey
I've never seen the Boredom's live, but I bet everyone should. When you hear this song, you get all worked up [...]

SHOW MORE

Track 3 from Pop Tatari
Length: 00:01:41
Year: 0000
Track Description:
I've never seen the Boredom's live, but I bet everyone should. When you hear this song, you get all worked up and want to spit in somebody's face. how does that lady scream like she does??

SHOW LESS

5
KaitO : Try Me Out
kaitO is an english band made up mostly of chicks. Nikki Colk, the lead singer, does this great thing with her [...]

SHOW MORE

Track 3 from band red
Length: 00:03:49
Year: 2003
Track Description:
kaitO is an english band made up mostly of chicks. Nikki Colk, the lead singer, does this great thing with her voice that makes her sound distorted and tinny.

SHOW LESS

6
Blonde Redhead : In Particular
this is a good song to follow. Its dreamy and mellow and kind of sexy.

SHOW MORE

Track 2 from Melody of Certain Damaged Lemons
Length: 00:06:05
Year: 2000
Track Description:
this is a good song to follow. Its dreamy and mellow and kind of sexy.

SHOW LESS

7
Los Super Seven : Cupido
Hooray for mariachi!

SHOW MORE

Track 2 from I Heard it on the X
Length: 00:03:03
Year: 2005
Track Description:
Hooray for mariachi!

SHOW LESS

8
Captain Beefheart and His Magic Band : Call On Me
Captain Beefheart is rock and roll. I want there to be a bizarro American Bandstand TV show in black and white [...]

SHOW MORE

Track 3 from Safe As Milk
Length: 00:02:37
Year: 1967
Track Description:
Captain Beefheart is rock and roll. I want there to be a bizarro American Bandstand TV show in black and white with Dick Clark where Captain Beefheart plays the songs.

SHOW LESS

9
Curtis Mayfield : Little Child Runnin Wild
I know this song is tragic and all about broken homes and urban children turning to drugs for escape but...its [...]

SHOW MORE

Track 1 from SuperFly
Length: 00:05:25
Year: 0000
Track Description:
I know this song is tragic and all about broken homes and urban children turning to drugs for escape but...its also so funky.

SHOW LESS

10
The Replacements : Run It
You only get 1:11 of the Replacements. I'm sorry.

SHOW MORE

Track 2 from Hootenany
Length: 00:01:11
Year: 1983
Track Description:
You only get 1:11 of the Replacements. I'm sorry.

SHOW LESS

11
Can : I'm So Green
Can is so dirty. This song has a nice beat and it's all boogie woogie. Everybody make out.

SHOW MORE

Track 3 from Ege Bamyasi
Length: 00:03:05
Year: 1972
Track Description:
Can is so dirty. This song has a nice beat and it's all boogie woogie. Everybody make out.

SHOW LESS

12
Deerhoof : Dummy Discards a Heart
I saw these guys in concert in a really small room and Matsuzaki, the lead singer, was nutso. she has a stuffe [...]

SHOW MORE

Track 1 from Apple O'
Length: 00:02:39
Year: 2003
Track Description:
I saw these guys in concert in a really small room and Matsuzaki, the lead singer, was nutso. she has a stuffed apple and a stuffed banana and she just let them wail on one another.

SHOW LESS

13
Prince : Delirious
Finally! Prince! I cannot believe what a good album 1999 is. we probably could have just stopped right then an [...]

SHOW MORE

Track 11 from 1999
Length: 00:04:00
Year: 1983
Track Description:
Finally! Prince! I cannot believe what a good album 1999 is. we probably could have just stopped right then and there. nothing would ever be funkier.

SHOW LESS

14
Destroyer : Music Lovers
I can just picture the disco ball descending and everybody wearing silky gauze stuff.

SHOW MORE

Track 4 from Your Blues
Length: 00:04:22
Year: 2004
Track Description:
I can just picture the disco ball descending and everybody wearing silky gauze stuff.

SHOW LESS

15
Elvis Costello : No Dancing
But Elvis Costello protests. Ever notice how at dances they put something really upbeat after the slow dances [...]

SHOW MORE

Track 3 from My Aim is True
Length: 00:02:43
Year: 1977
Track Description:
But Elvis Costello protests. Ever notice how at dances they put something really upbeat after the slow dances until the end of the night when they just slaughter you with slow dances. well, this song is rock and roll so people who aren't in couples dances can go on the floor again.

SHOW LESS

16
Brian Eno : Put a Straw Under Baby
And this is a waltz.

SHOW MORE

Track 7 from Taking Tiger Mountain (By Strategy)
Length: 00:03:25
Year: 1974
Track Description:
And this is a waltz.

SHOW LESS

17
The Stooges : 1970
We are having so much fun right now.

SHOW MORE

Track 5 from Funhouse
Length: 00:05:14
Year: 1970
Track Description:
We are having so much fun right now.

SHOW LESS

18
The Pastels : What You Said
The Pastels are an indie group from the 80s and 90s. This song fits for it is sweet and is taking us into the [...]

SHOW MORE

Track 15 from Truckload of Trouble
Length: 00:01:32
Year: 1993
Track Description:
The Pastels are an indie group from the 80s and 90s. This song fits for it is sweet and is taking us into the end of the night for the slow dances. The strings are beautiful and at the end it sounds a bit like a surf rock song.

SHOW LESS

19
The Magnetic Fields : Busby Berkeley Dreams
This is our big slow dance. Has anyone seen a Busby Berkeley movie? They're absurd. Giant, florid scenery, big [...]

SHOW MORE

Track 3 from 69 Love Songs Vol. 3
Length: 00:03:38
Year: 0000
Track Description:
This is our big slow dance. Has anyone seen a Busby Berkeley movie? They're absurd. Giant, florid scenery, big lavish costumes, intense dance routines. so I like the image of this guy missing his girl (or guy) and dreaming of them together in these hyper-romantic movies.

SHOW LESS

20
Tom Waits : Coney Island Baby
That's it. Everybody go home.

SHOW MORE

Track 3 from Blood Money
Length: 00:04:02
Year: 0000
Track Description:
That's it. Everybody go home.

SHOW LESS
Tag Board
You must log in to leave a tag
Stuff
Quick Jump
brookedarrah's other mixes
Related mixes
recent visitors
show all