[?]
Not a member? Sign-up now, it's free!
Login
[?]
These are links to some of the major sections in the mixtape collective.
Lists: Browse various lists that are generated by the loads of data we have collected.
Contests: Check out the latest contests, see previous winners, and find out how you can be a part
Music: Check out our ever-growing database of musical knowledge! Use it to find any artist, album, or track that has been entered since the birth of the site and rate and find detailed usage statistics.
Main
[?]
Tired of looking at the same old pages? Try checking out a random one, you never know what you might find...
Random!
FORMER DAYS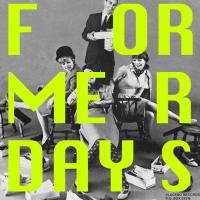 FORMER DAYS
Created by:
riotsheelds
Tracks:
20
Length:
01:12:35
Keywords
1. young
2. music
3. molding
Created on
11/09/06 05:11pm
Level
7
Points
3184
Total visitors
71
Unique visitors
42
description:
I was cleaning my room a few days ago, and ended up on the ground going through old music. Boxes of old tapes, shutter racks of empty cd cases, cd cases with missing cds, cd cases cracked to hell, digipak and single cd's that are too thin to fit in said rack, a shoe box of 7 inches, some 10 inches and more 12 inches in ugly green crates. I scoffed at some of it, wondering what I was thinking and some of it made me laugh a little and reminisce like an old masochist. I was doing a lot of oooohhhhhing and ahhhhhing and I know why I had kept these particular pieces of music for whatever reason.
The whole idea was to clean my room, but I ended up making a bigger mess. It made me want to call up old friends and try to resurrect old relationships and made me a little angry, all in about an hour and a half.
These songs give/gave me the chills. I used a sort of chronological order and everything is relevant, and I wasn't too worried about how things fit together because they're all decent in their own right. I also tried to make them chronological in their release, but I can't help being a late bloomer in some situations. It's also late, and I'm getting kind of sad. This made me think of things that I haven't thought about in a long time.
I couldn't possibly fit everything, so I just narrowed it down to the most meaningful.
tracklist
1
Siouxsie & the Banshees : Christine
What would I do without my sister? I would have been listening to Vanilla Ice with the rest of the 5th grader [...]

SHOW MORE

Track 7 from Once Upon a Time: The Singles
Length: 00:03:00
Year: 1981
Track Description:
What would I do without my sister? I would have been listening to Vanilla Ice with the rest of the 5th graders. Maybe Siouxsie is comparable to Vanilla for some people, but I'm thankful for the sibling influence. Siouxsie defined a lot for me, her songs weren't too poppy and I dug her deep voice.

SHOW LESS

2
Peter Murphy : Cuts You Up
Being into certain music after its time can be a good or bad thing. You never saw them in their glory, and if [...]

SHOW MORE

Track 7 from Deep
Length: 00:05:27
Year: 1990
Track Description:
Being into certain music after its time can be a good or bad thing. You never saw them in their glory, and if you do get a chance to see them, it's most likely going to be lame. That can't be said for all, but I usually think something along the lines of the Sex Pistols "reuniting" in 1996.
This is a catchy song, and I even gave Bauhaus a little chance.

SHOW LESS

3
The Church : Under the Milky Way
At 13 staying up past 1 am seemed late to me. I would watch 120 minutes with my sister and I can say most of [...]

SHOW MORE

Track 2 from Starfish
Length: 00:04:58
Year: 1988
Track Description:
At 13 staying up past 1 am seemed late to me. I would watch 120 minutes with my sister and I can say most of the music sucked, but sometimes they would play some obscure shit. This song was also before my time, and I sometimes went along with my sister just because she was my sister. They used to play a song for the ending credits, and it was like a "flashback" song or something. When I heard this song and I saw the video I was kind of taken back. I think everyone has those songs, where you feel the need to sing along no matter what. And did I mention bagpipes? BAGPIPES!

SHOW LESS

4
Babes In Toyland : Sweet 69
My first taste of decent girls singing well, and not too creepy like L7. I really liked this tape when I was [...]

SHOW MORE

Track 4 from Nemesisters
Length: 00:04:05
Year: 1995
Track Description:
My first taste of decent girls singing well, and not too creepy like L7. I really liked this tape when I was in high school. I got it from that BMI get 9 tapes for a penny or something, I received the tapes, and ignored the fact that you had to pay for shipping. My mom got kind of mad, called them and told them I was only 14 and I had to send them back. It was OK while it lasted.

SHOW LESS

5
Conflict : No Island of Dreams
The first record I ever bought, and possibly the best. I left the store so happy with myself, on the way home [...]

SHOW MORE

Track 9 from Standard Issue II 88-94
Length: 00:02:50
Year: 1994
Track Description:
The first record I ever bought, and possibly the best. I left the store so happy with myself, on the way home I just imagined playing it, and when I got home I realized that my parent's turntable needle was M.I.A. A hunt for a turntable ensued, and I found one at a friend's house that I rigged with some old boombox and lame speakers. It didn't even really matter at the time.
I honestly couldn't really stand Crass, but Conflict seemed a little more diverse. Crass was annoying, Conflict ventured out to different shit. Slower and even bringing in the unexpected, like ska rhythms and leaving out the screaming girls.

SHOW LESS

6
flipper : Ha Ha Ha
My sister stopped the femmish male music and gave me a cd with this song on it. This was basically the beginni [...]

SHOW MORE

Track 5 from Blow'n Chunks
Length: 00:04:03
Year: 0000
Track Description:
My sister stopped the femmish male music and gave me a cd with this song on it. This was basically the beginning of the end. When you get fed so much of the same 3 chords, it's nice to hear something different and there really was nothing to hate about flipper. It's unconventional in every way. I once heard that Courtney Love dug them, I thought that was interesting.

SHOW LESS

7
The Misfits : Cough/Cool
A first serious boyfriend and a common like for this band, we used to be in awe of this box set. Not opening [...]

SHOW MORE

Track 15 from Box Set (disc 1: Collection I & II)
Length: 00:02:16
Year: 1996
Track Description:
A first serious boyfriend and a common like for this band, we used to be in awe of this box set. Not opening the booklet all of the way because it might crease, and replacing cds carefully so they wouldn't scratch. He gave me the pin and I thought the world of him. I met him right before going into the hospital with a fucked up ruptured appendix. He would come visit me, bring me a card, and then I would vomit. I still thought the world of him. It was so fucked up but a very big show of character at the same time. I still have that pin, and it makes me very happy to know his box set is incomplete because of me.

SHOW LESS

8
Faith No More : Midnight Cowboy
When my brother moved out of the house I noticed that he left the majority of his music behind. I took this a [...]

SHOW MORE

Track 13 from Angel Dust
Length: 00:04:12
Year: 1992
Track Description:
When my brother moved out of the house I noticed that he left the majority of his music behind. I took this as abandonment and I stole this tape from my brother when I was in the ninth grade, and I cut out the raw meat part from the insert and put it in my school folder. I remember listening to this, and wondering where this song fit in. I had never heard an album like this.

SHOW LESS

9
The Dust Brothers : Space Monkeys
An insight into instrumentals and beats being A-OK, a small step. I think that this movie being especially go [...]

SHOW MORE

Track 14 from Fight Club Soundtrack
Length: 00:03:18
Year: 1999
Track Description:
An insight into instrumentals and beats being A-OK, a small step. I think that this movie being especially good had a lot to do with it, and this cd isn't THE BEST, but it has a lot of good music on it. It also opened the doors for the Chemical Brothers for me.

SHOW LESS

10
Charles Bronson : I Can't Be Friends With You Because You Like Epitaph
and I can't really elaborate on this song because I would sound lame, but yes, it's my favorite. I took my fi [...]

SHOW MORE

Track 22 from Complete Discocrappy (disc 1)
Length: 00:00:56
Year: 0000
Track Description:
and I can't really elaborate on this song because I would sound lame, but yes, it's my favorite. I took my first trip alone 8 hours up the inland area of California on a train by myself to end up in the worst weather ever. I bought a pinkish CB 7" while in Bakersfield seeing Arab on Radar and some other bands that I don't want to mention. I had more fun at the record store than the show in the boxing ring. I also picked up Agoraphobic Nosebleed which lead to my boyfriend hating my music, and only semi-hating me for not liking D.I.

SHOW LESS

11
Dystopia : Slaved Chains
This band seriously made me cringe in the best way possible. I really liked that they were normal. I also li [...]

SHOW MORE

Track 7 from Human Equals Garbage
Length: 00:01:40
Year: 0000
Track Description:
This band seriously made me cringe in the best way possible. I really liked that they were normal. I also liked the album artwork because it wasn't black and white or cut & paste. It made a mark on me in the best way, and I think their approach was the least typical. They also annoyed a boyfriend, actually infuriated him.

SHOW LESS

12
Warlock Pinchers : Morrissey Rides a Cockhorse
I don't think this needs a description, it chronicles my jump from old to new. It's also fun to use against y [...]

SHOW MORE

Track 1 from Morrissey Rides a Cockhorse
Length: 00:02:57
Year: 1991
Track Description:
I don't think this needs a description, it chronicles my jump from old to new. It's also fun to use against your Morrissey loving friends and ex-boyfriend.

SHOW LESS

13
Aphex Twin : Window Licker
This video creeped me out, this song creeped me out but in a very refreshing way. I wanted an Aphex Twin umbre [...]

SHOW MORE

Track 1 from Window Licker
Length: 00:06:07
Year: 1999
Track Description:
This video creeped me out, this song creeped me out but in a very refreshing way. I wanted an Aphex Twin umbrella for the longest time. I found this VHS video thing for 10 bones at a rip-off terrible record store that is now closed because the owner decided one day that he refused to carry any sort of death metal.

SHOW LESS

14
Living Legends : Rabbit Hole
I know this is a weird jump, and my stubborn attitude towards what music I thought that I liked was changed wh [...]

SHOW MORE

Track 5 from Almost Famous
Length: 00:04:25
Year: 2001
Track Description:
I know this is a weird jump, and my stubborn attitude towards what music I thought that I liked was changed when a friend asked me to see them at a local record store. I guess I should mention that I had made a friend with the most eclectic music taste known to man. I sat at a party with him in the dirt and we talked about decent bands, septums and how we liked eachother. I still trust his music taste, but we don't really talk anymore. Circumstances are just bad. But I blame him a little for Anticon, which I thought he was crazy for. But he got the wheels turning. This song samples White Rabbit, and it's glorious.

SHOW LESS

15
Atmosphere : The Woman With The Tattooed Hands
When I was 20 or so I moved to San Jo on a whim, with nothing but a car full of my stuff. I bought a pretty n [...]

SHOW MORE

Track 14 from Lucy Ford
Length: 00:03:32
Year: 2002
Track Description:
When I was 20 or so I moved to San Jo on a whim, with nothing but a car full of my stuff. I bought a pretty nice futon, and luckily most of the people I worked with were awesome. A friend I met up there made me an awesome cd that I eventually cracked in half and this song was on it. I WAS AMAZED, and intrigued and thought this shit was wacky. I'm not even really an Atmosphere fan, but songs like this make me second guess myself. I kept the cd and it's still in my case. I got fired from that job, moved back down here and threw my bosses cd cases into the large trash compactor outside before I left. I miss it up there, and this song reminds me of waking up to karaoke in my crazy vietnamese house, and sometime the 680.

SHOW LESS

16
Buck 65 : (Untitled)
When I first heard this song I wasn't in my right mind. I couldn't stop listening to it and I include it on a [...]

SHOW MORE

Track 3 from Music for the Advancement of Hip Hop
Length: 00:03:15
Year: 2003
Track Description:
When I first heard this song I wasn't in my right mind. I couldn't stop listening to it and I include it on any car mix I make. I hate to dork out on songs, and talk about how they made me "feel", but if I were to do this sort of thing, this would be the song of choice. Sometimes I play it for people and when I don't get the reaction I want/expect I sort of feel sad. I hate to use the word gentle for anything except babies, but that's what it is.

SHOW LESS

17
Alias : Unseen Sights
Please note: I am including songs that I think were instantly ingrained when I first heard them. I know this [...]

SHOW MORE

Track 13 from muted
Length: 00:04:25
Year: 0000
Track Description:
Please note: I am including songs that I think were instantly ingrained when I first heard them. I know this is "the song", but when I heard this it opened me up to even more stuff. This is one of my favorite cds, and I listen to it about once a week, and sometimes for days if I forget my cd case and become lazy.

SHOW LESS

18
hymie's basement : 21st century pop song
This is one of those songs that never really goes with the rest of the cd. I like this whole cd, don't get me [...]

SHOW MORE

Track 1 from hymie's basement
Length: 00:04:29
Year: 2003
Track Description:
This is one of those songs that never really goes with the rest of the cd. I like this whole cd, don't get me wrong, but this song is the easiest to sing along to and gets the best reaction when you have a car full of people. I think it's their most popular and it was a single for a reason. I heard this and couldn't stop singing the chorus.

SHOW LESS

19
Skalpel : Not Too Bad
This is just my most recent band of amazing talent, my grandpa and I could listen to this together while playi [...]

SHOW MORE

Track 2 from Skalpel
Length: 00:03:16
Year: 2004
Track Description:
This is just my most recent band of amazing talent, my grandpa and I could listen to this together while playing Rummikub or something. I actually want to do that, it's so jazzy and beautiful.

SHOW LESS

20
Sole : Isn't It Sad (feat. Passage)
He's just my favorite, I can't really explain it. he was also a part of the cd my SJ friend made for me, but [...]

SHOW MORE

Track 3 from Songs That Went Tin
Length: 00:03:24
Year: 0000
Track Description:
He's just my favorite, I can't really explain it. he was also a part of the cd my SJ friend made for me, but I thought I would end with this song because the title was just too fitting. I can listen to almost any of his albums and be impressed with his prose. I'm not a poetic person by any means, and I personally can't do it myself but his style and delivery just gets me. He's not political in that annoying way, and I can appreciate that.

SHOW LESS
Tag Board
You must log in to leave a tag
Stuff
Quick Jump
riotsheelds's other mixes
Related mixes
recent visitors
show all