[?]
Not a member? Sign-up now, it's free!
Login
[?]
These are links to some of the major sections in the mixtape collective.
Lists: Browse various lists that are generated by the loads of data we have collected.
Contests: Check out the latest contests, see previous winners, and find out how you can be a part
Music: Check out our ever-growing database of musical knowledge! Use it to find any artist, album, or track that has been entered since the birth of the site and rate and find detailed usage statistics.
Main
[?]
Tired of looking at the same old pages? Try checking out a random one, you never know what you might find...
Random!
i can't look at it anymore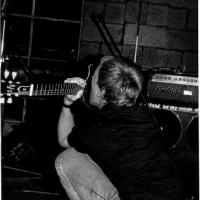 i can't look at it anymore
Created by:
riotsheelds
Tracks:
9
Length:
00:25:41
Keywords
1. Mix Contest 1
2. Mix Contest 1
3. Mix Contest 1
Created on
8/01/06 03:02pm
Level
5
Points
2250
Total visitors
81
Unique visitors
58
This mix was ranked #15 out of 23 entries for this contest
description:
i have been looking at this list for days, trying to make it better with no success and a lot of head aching. i have torn apart my tape cases and cds looking for song titles that fit together and trying to remember songs, and i can't look at this mix anymore. i wasn't going to put this up, because i think there is a better way, but i can't let go of the botch>de la soul>subtle connection. i'll admit that these aren't my favorite songs from these bands, some are better than others.
but come on.
tracklist
1
Anal Cunt : Everyone in the Underground Music Scene Is Stupid
They're so easy to turn to, the amount of options is endless.

SHOW MORE

Track 36 from 40 More Reasons To Hate Us
Length: 00:00:29
Year: 1996
Track Description:
They're so easy to turn to, the amount of options is endless.

SHOW LESS

2
Botch : Stupid Me

SHOW MORE

Track 8 from The Unifying Themes of Sex, Death, and Religion
Length: 00:01:38
Year: 1997
Track Description:


SHOW LESS

3
De La Soul : Me Myself and I
Ahhhhhsome.

SHOW MORE

Track 20 from 3 feet high and rising
Length: 00:03:50
Year: 1989
Track Description:
Ahhhhhsome.

SHOW LESS

4
Subtle : I Love L.A.
Spooky and brilliant and a favorite.

SHOW MORE

Track 2 from A New White
Length: 00:03:56
Year: 2004
Track Description:
Spooky and brilliant and a favorite.

SHOW LESS

5
Adolescents : L.A. Girl
I loved Tony Cadena when I was 15, even though he technically wasn't even in the Adolescents when I was 15 and [...]

SHOW MORE

Track 4 from Adolescents
Length: 00:01:48
Year: 1981
Track Description:
I loved Tony Cadena when I was 15, even though he technically wasn't even in the Adolescents when I was 15 and this album came out when I was born. Fuck it, they're great.

SHOW LESS

6
Aphex Twin : Girl/Boy Song
Any appropriate chance to include an aphex twin song should be taken.

SHOW MORE

Track 9 from Richard D. James Album
Length: 00:04:47
Year: 0000
Track Description:
Any appropriate chance to include an aphex twin song should be taken.

SHOW LESS

7
Neutral Milk Hotel : Song Against Sex
I happened to be listening to this when I saw the contest in the early morning. Everything stemmed from this. [...]

SHOW MORE

Track 1 from On Avery Island
Length: 00:03:40
Year: 1995
Track Description:
I happened to be listening to this when I saw the contest in the early morning. Everything stemmed from this.

SHOW LESS

8
soft cell : Sex Dwarf
This is most deifinately a good song, Something kind of nostalgic and strangely high school.

SHOW MORE

Track 5 from Non-Stop Erotic Cabaret
Length: 00:05:16
Year: 1981
Track Description:
This is most deifinately a good song, Something kind of nostalgic and strangely high school.

SHOW LESS

9
spazz : Dwarf Goober Militia
I don't even need to defend them, unless you hate them, in which I don't understand how you can hate spazz.

SHOW MORE

Track 4 from Crush Kill Destroy
Length: 00:00:17
Year: 1999
Track Description:
I don't even need to defend them, unless you hate them, in which I don't understand how you can hate spazz.

SHOW LESS
Tag Board
You must log in to leave a tag
Stuff
Quick Jump
riotsheelds's other mixes
Related mixes
recent visitors
show all