[?]
Not a member? Sign-up now, it's free!
Login
[?]
These are links to some of the major sections in the mixtape collective.
Lists: Browse various lists that are generated by the loads of data we have collected.
Contests: Check out the latest contests, see previous winners, and find out how you can be a part
Music: Check out our ever-growing database of musical knowledge! Use it to find any artist, album, or track that has been entered since the birth of the site and rate and find detailed usage statistics.
Main
[?]
Tired of looking at the same old pages? Try checking out a random one, you never know what you might find...
Random!
Nathunder a super Blunder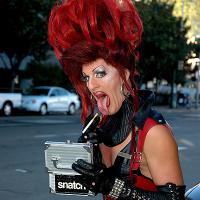 Nathunder a super Blunder
Created by:
T-bag
Tracks:
4
Length:
00:09:16
Keywords
1. Evil
2. Mix
3. Tape
Created on
11/04/06 02:00pm
Level
0
Points
287
Total visitors
67
Unique visitors
39
description:
This is my first mix tape for a foe I know. He will know not to mess with a guy who watches Tae-Bo while making mixes.
tracklist
1
Ween : Hey Fat Boy (Asshole)
This is for you Nathunder. Open up and say ahhh.

SHOW MORE

Track 17 from Pure Guava
Length: 00:01:55
Year: 1992
Track Description:
This is for you Nathunder. Open up and say ahhh.

SHOW LESS

2
Moistboyz : I'm Gonna Kick Your Ass
Through my mixtape for you.

SHOW MORE

Track 8 from III
Length: 00:01:54
Year: 2002
Track Description:
Through my mixtape for you.

SHOW LESS

3
Ween : Big Fat Fuck
Thats right Im bringing my A game.

SHOW MORE

Track 4 from Shinola (Vol. 1)
Length: 00:02:55
Year: 2005
Track Description:
Thats right Im bringing my A game.

SHOW LESS

4
Beck : Asshole
I think this track really expresses how I feel about the nathunder.

SHOW MORE

Track 11 from One Foot in the Grave
Length: 00:02:32
Year: 0000
Track Description:
I think this track really expresses how I feel about the nathunder.

SHOW LESS
Tag Board
You must log in to leave a tag
Stuff
Quick Jump
T-bag's other mixes
Related mixes
recent visitors
show all