[?]
Not a member? Sign-up now, it's free!
Login
[?]
These are links to some of the major sections in the mixtape collective.
Lists: Browse various lists that are generated by the loads of data we have collected.
Contests: Check out the latest contests, see previous winners, and find out how you can be a part
Music: Check out our ever-growing database of musical knowledge! Use it to find any artist, album, or track that has been entered since the birth of the site and rate and find detailed usage statistics.
Main
[?]
Tired of looking at the same old pages? Try checking out a random one, you never know what you might find...
Random!
30th mix mix mix...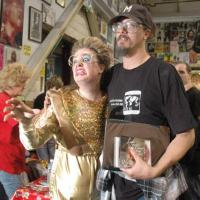 30th mix mix mix...
Created by:
T-bag
Tracks:
13
Length:
00:53:23
Keywords
1. mix
2. mix
3. mix
Created on
4/17/07 12:48pm
Level
5
Points
2207
Total visitors
34
Unique visitors
25
description:
I work at a bar called the Hong Kong. My boss is the Most Bestest man ever. He has great taste in music and all we do is talk about music, I think he has pretty much the same taste in music that I do. We talk about our favorite songs of the week. He's 30, this is my 30th mix, I thought I'd throw some of my favorite songs of the weeks on a mix. I liken this mix to going out to dinner at the olive garden. Nuff said. neehhh, nothing great but enjoy.
Just in case you might be a jackass, the picture is of Leslie Hall of Leslie and the Ly's and Mark from American Movie.
tracklist
1
The Advantage : Batman: Stage 1
The advantage, what else can be said about the most important band ever.

SHOW MORE

Track 1 from Elf-Titled
Length: 00:02:27
Year: 2006
Track Description:
The advantage, what else can be said about the most important band ever.

SHOW LESS

2
Panther : Off the F**k the Phone
This is currently tied with track, 10 and 13. These songs are owning my life now.

SHOW MORE

Track 8 from Yourself
Length: 00:02:19
Year: 2007
Track Description:
This is currently tied with track, 10 and 13. These songs are owning my life now.

SHOW LESS

3
the blow : Parentheses
"A Good Song"

SHOW MORE

Track 2 from Paper Television
Length: 00:03:33
Year: 2006
Track Description:
"A Good Song"

SHOW LESS

4
Missing Persons : I Like Boys
I Like this song.

SHOW MORE

Track 3 from The Best of the Missing Persons
Length: 00:02:39
Year: 0000
Track Description:
I Like this song.

SHOW LESS

5
Air : Le Voyage de Pénélope
The synths remind me of pink floyd for some reason. Favorited years ago.

SHOW MORE

Track 10 from Moon Safari
Length: 00:03:11
Year: 1998
Track Description:
The synths remind me of pink floyd for some reason. Favorited years ago.

SHOW LESS

6
Ratatat : Gettysburg
Ratatat owned the month of Febuary. Every single Monday.

SHOW MORE

Track 3 from Classics
Length: 00:05:27
Year: 2006
Track Description:
Ratatat owned the month of Febuary. Every single Monday.

SHOW LESS

7
The Knife : silent shout
Chris is the person who really got me into the knife, this album is amazing and this is one of my favorites (s [...]

SHOW MORE

Track 1 from Silent shout
Length: 00:04:43
Year: 2006
Track Description:
Chris is the person who really got me into the knife, this album is amazing and this is one of my favorites (shit, all the tracks are awesome)

SHOW LESS

8
Ladytron : Playgirl
A instant classic.

SHOW MORE

Track 9 from 604
Length: 00:03:49
Year: 2001
Track Description:
A instant classic.

SHOW LESS

9
!!! : Me and Giuliani Down by the School Yard (A True Story)
Reminds me of summer. Driving. Awesome. Period.

SHOW MORE

Track 8 from louden up now
Length: 00:09:02
Year: 2004
Track Description:
Reminds me of summer. Driving. Awesome. Period.

SHOW LESS

10
Rex the Dog : Prototype
Actually is my current song of the week with 1234 and Off teh F**K the Phone.

SHOW MORE

Track 3 from Prototype ep
Length: 00:06:13
Year: 2005
Track Description:
Actually is my current song of the week with 1234 and Off teh F**K the Phone.

SHOW LESS

11
Yelle : Je veux te Voir
My favorite of last week.

SHOW MORE

Track 1 from Je veux te Voir
Length: 00:04:21
Year: 2006
Track Description:
My favorite of last week.

SHOW LESS

12
Southern Culture on the Skids : Camel Walk
Favorited in 7th grade. This song is all I had going on for me, for years. sad.

SHOW MORE

Track 5 from Dirt Track Date
Length: 00:02:36
Year: 1996
Track Description:
Favorited in 7th grade. This song is all I had going on for me, for years. sad.

SHOW LESS

13
Feist : 1234
See track 10 or track 2.

SHOW MORE

Track 1 from 1234-Single
Length: 00:03:03
Year: 2007
Track Description:
See track 10 or track 2.

SHOW LESS
Tag Board
You must log in to leave a tag
Stuff
Quick Jump
T-bag's other mixes
Related mixes
recent visitors
show all