[?]
Not a member? Sign-up now, it's free!
Login
[?]
These are links to some of the major sections in the mixtape collective.
Lists: Browse various lists that are generated by the loads of data we have collected.
Contests: Check out the latest contests, see previous winners, and find out how you can be a part
Music: Check out our ever-growing database of musical knowledge! Use it to find any artist, album, or track that has been entered since the birth of the site and rate and find detailed usage statistics.
Main
[?]
Tired of looking at the same old pages? Try checking out a random one, you never know what you might find...
Random!
Why Two Kay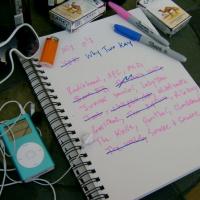 Why Two Kay
Created by:
T-bag
Tracks:
16
Length:
01:01:59
Keywords
1. Mix Contest 12 - T07
2. Mix Contest 12 - T07
3. Mix Contest 12 - T07
Created on
5/25/07 08:04pm
Level
5
Points
2305
Total visitors
75
Unique visitors
40
This mix was ranked #4 out of 9 entries for this contest
description:
There are a few reasons I decided to pick '07 over '97---The main reason being I didn't have sex until '98 (Kinda bummed that '98 was left out of the contest, I could of put down so many classics like Smashmouth, Tal Bachman, LFO, and all that awesom shit). Number Two, I didn't really have the choice of just sitting in my room drawing and listening to music between 90-97, I had to, nobody wanted to hang out with me, and I hadn't started to drink or use drugs yet, I've got to face that I was a pretty much a big loser (more so then now). The main downside of entering the competion for '07 would have to be the fact that Jeff Buckley, earlier Tool (anemia), and C & C music factory would be cut from my choices. Oh and the first Compact Disc I ever owned was Ace of Base-The Sign...My Mother Bought it for me in '95 for easter, thats actual the biggest reason why I want to represent '07. Fuck You Mom and Fuck You '97.
The tracks will go in a sequential order with oldest track first, commentary with facts and my memories of these songs, and the years they came out, with two tracks representing each year.
tracklist
1
Radiohead : Idioteque
Named one of the best albums of 2000-2004 Stylus magizine, I would agree with the next tracks album coming in [...]

SHOW MORE

Track 8 from Kid A
Length: 00:05:09
Year: 2000
Track Description:
Named one of the best albums of 2000-2004 Stylus magizine, I would agree with the next tracks album coming in a close second for me (as a personal favorite). When I worked at a resturaunt named brothers (as a Prep Cook), I'd have to come into work at 5:30am everyday, I'd usually be drunk and the only song I would listen to when I was making scone mix, is this one. A fantastic song with a sound you'll be humming all day long.

SHOW LESS

2
A Perfect Circle : Sleeping Beauty
An almost perfect CD for me, I was blown away when my aunt Rebbeca played this track knowing I'd fall in love [...]

SHOW MORE

Track 7 from Mer De Noms
Length: 00:04:12
Year: 2003
Track Description:
An almost perfect CD for me, I was blown away when my aunt Rebbeca played this track knowing I'd fall in love instantly. Too bad I couldn't include the band in the 2004 part of my mix.

SHOW LESS

3
Murder City Devils : Midnight Sercive at the Mutter Museum
Sad and sweet at the same time, not the song but the departure of the band from the music scene. At least they [...]

SHOW MORE

Track 3 from Thelema
Length: 00:03:39
Year: 2001
Track Description:
Sad and sweet at the same time, not the song but the departure of the band from the music scene. At least they left behind one solid cd (Fuck the critics, I love this album and song).

SHOW LESS

4
Ladytron : Playgirl
2001, what a lame year for me personally, I wouldn't go into it. This CD came out and when hearing of it shrug [...]

SHOW MORE

Track 9 from 604
Length: 00:03:49
Year: 2001
Track Description:
2001, what a lame year for me personally, I wouldn't go into it. This CD came out and when hearing of it shrugged it of as a gay techno hipster cd...I'm a fucking Idiot (until a few years later, know I love this group).

SHOW LESS

5
Queens of the Stone Age : Go With the Flow
I remember my friend Ian or Jeryl letting us listen to this cd before it came out, you can ask my friend wispy [...]

SHOW MORE

Track 8 from Songs for the Deaf
Length: 00:03:09
Year: 2002
Track Description:
I remember my friend Ian or Jeryl letting us listen to this cd before it came out, you can ask my friend wispy about how much I loved this song and cd. He complained that I would blast it everytime I woke up annoying most of my friends (I didn't live there, but I slept on the couch almost every night. My friends Rock

SHOW LESS

6
Rilo Kiley : The Execution Of All Things
Jesus, I couldn't believe that any child actor could go through life without a drug addiction, come back and b [...]

SHOW MORE

Track 3 from The Execution Of All Things
Length: 00:04:15
Year: 2002
Track Description:
Jesus, I couldn't believe that any child actor could go through life without a drug addiction, come back and become an indie rock goddess. I had a crush on her when I was a kid watching the Wizard, and then listening to this song. Shit, I wonder if she'd be impressed if I bought a Nintendo Power Glove. Probably not.

SHOW LESS

7
Blonde Redhead : Elephant Woman
While super duper high, I listened to this track and was convinced that this was possible one of the best song [...]

SHOW MORE

Track 1 from Misery is a Butterfly
Length: 00:04:49
Year: 0000
Track Description:
While super duper high, I listened to this track and was convinced that this was possible one of the best songs I've ever heard...I don't smoke Jazz Cigarettes any more, due to the fact I got stoned and had a listen to Snap-The power and thought the same thing. Shieeet.

SHOW LESS

8
Junior Senior : move your feet
I don't know a single person in the world who hates this song, everytime I play this song in the bar I work in [...]

SHOW MORE

Track 13 from D-D-Don't stop the beat
Length: 00:03:07
Year: 2003
Track Description:
I don't know a single person in the world who hates this song, everytime I play this song in the bar I work in, an Indie girl in the background is singing along, giving 'ol T-bag praise for his music selection.

SHOW LESS

9
cLOUDDEAD : The Velvet Ant
Jon Davis introduced me to clouDDead through a mix I belive he titled "Jon's fun time mix" or something to tha [...]

SHOW MORE

Track 4 from Ten
Length: 00:02:49
Year: 2004
Track Description:
Jon Davis introduced me to clouDDead through a mix I belive he titled "Jon's fun time mix" or something to that degree. The best way to explain the mix, I would have to say is a mix between the frantic energy of a Price as Right contestent and a Lucio Fulci slasher flick. This song was the kicker---"Wingless wasp, the velvet ant.
The cow on slanted land settles
to the lower most corner of the pen.
Chicken wire and it's either side imprisonment,
and the iwndows all stacked up
under the farm barn awning.

Two small girls and a handful of dressed men
walk a cage full of goats across a basketball court,
goats with rectangled pupils.
A rattle snake caught in a wheel well.
Starwberry in an ostrich throat.
All this and more at a pyramii video shoot"---Amazing!

SHOW LESS

10
Smoke and Smoke : Bathrobe Jacket
Life at this point in time was amazing, I had met an my ex-girlfreind the same day I was given this CD, how Ir [...]

SHOW MORE

Track 3 from Love Suffers Long
Length: 00:03:23
Year: 2005
Track Description:
Life at this point in time was amazing, I had met an my ex-girlfreind the same day I was given this CD, how Ironic it all seems now. This CD still kicks my ass, and my love life's ass. Damn you spencer Moody.

SHOW LESS

11
Gorillaz : Dare
Probably the most overrated song on the mix, the Gorillaz Dare is a Frat girl favorite. Hailed by many critics [...]

SHOW MORE

Track 12 from Demon Days
Length: 00:04:04
Year: 2005
Track Description:
Probably the most overrated song on the mix, the Gorillaz Dare is a Frat girl favorite. Hailed by many critics as the best song of '05, I'd have to disagree. It gets your body moving, but I wouldn't call it the best. why is it on the mix? Only for the reason that it gets my hips a shaken.

SHOW LESS

12
Daft Punk : Technologic
In my opnion, this song is probably the most "bubble gum pop" of all the tracks, it still happens to be my fav [...]

SHOW MORE

Track 9 from Human After All
Length: 00:04:44
Year: 2005
Track Description:
In my opnion, this song is probably the most "bubble gum pop" of all the tracks, it still happens to be my favorite. I love to dance and Daft Punk rock the shit out of the dance floor. From all of the mixes on the last contest, I think Daft was the most used artist (for a reason). If I were to have a one on one dialouge with Keanu Reeves's's character from Point Break (Johnny Utah) it might go a little something like this. Johnny: What's your program dude
Tallon: Daft Punk You Turd...so yay!

SHOW LESS

13
The Knife : You take my breath away
My favorite knife song, and My favorite song of '06 ( I know the silent shout was better) this song will alway [...]

SHOW MORE

Track 8 from Deep Cuts
Length: 00:04:27
Year: 2005
Track Description:
My favorite knife song, and My favorite song of '06 ( I know the silent shout was better) this song will always be in my heart and emmotions when I listen to it
Johnny Utah: Whoa!.

SHOW LESS

14
Ratatat : Kennedy
Who isn't a Fan of Ratatat, let me at them with my LOTHR replica sting sword, I'll send you to nerd hell. Also [...]

SHOW MORE

Track 7 from Classics
Length: 00:03:34
Year: 2006
Track Description:
Who isn't a Fan of Ratatat, let me at them with my LOTHR replica sting sword, I'll send you to nerd hell. Also I've decided that beside some of the new remixes, this is my favorite Ratatat song.

SHOW LESS

15
Big Business : Another Fourth of July...Ruined
Visions of growing up amongst rubes fill my head whenever I listen to this rocking song, by a band who can do [...]

SHOW MORE

Track 5 from Here Come the Waterworks
Length: 00:04:30
Year: 2007
Track Description:
Visions of growing up amongst rubes fill my head whenever I listen to this rocking song, by a band who can do no wrong in my mind. It reminds me of sad times in my life when I had to hang out with parents addicted to drugs, why is it that every 4th is ruined by some drunk assholes? I'm not that bright so fill me in if you have a clue.

SHOW LESS

16
Panther : Off the F**k the Phone
Panther is quickly finding a place in my heart, anybody on the '07 side should listen to this cat and realize [...]

SHOW MORE

Track 8 from Yourself
Length: 00:02:19
Year: 2007
Track Description:
Panther is quickly finding a place in my heart, anybody on the '07 side should listen to this cat and realize the direction that modern indie music is taking (not trying to be a pretentious cunt fuck)
We come to the end of my '07 mix, these are the songs that have helped shape my adult life for the past years, aside from banter I carry on with myself, I really do love all of these tracks and look forward to another seven years of kick ass music, that will help me through the good, the bad, and the drunk times.

SHOW LESS
Tag Board
You must log in to leave a tag
Stuff
Quick Jump
T-bag's other mixes
Related mixes
recent visitors
show all