[?]
Not a member? Sign-up now, it's free!
Login
[?]
These are links to some of the major sections in the mixtape collective.
Lists: Browse various lists that are generated by the loads of data we have collected.
Contests: Check out the latest contests, see previous winners, and find out how you can be a part
Music: Check out our ever-growing database of musical knowledge! Use it to find any artist, album, or track that has been entered since the birth of the site and rate and find detailed usage statistics.
Main
[?]
Tired of looking at the same old pages? Try checking out a random one, you never know what you might find...
Random!
Blood from a rock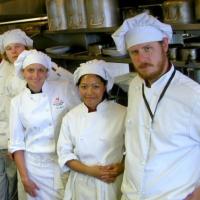 Blood from a rock
Created by:
T-bag
Tracks:
11
Length:
00:40:28
Keywords
1. Work
2. Sucks
3. Fucks
Created on
11/06/06 02:41am
Level
6
Points
2859
Total visitors
78
Unique visitors
49
description:
Working in general can be tedious, but being a line cook takes the cake. It's hot, it smells and it's very stressful. The only saving grace is the free shift drink after work. Fuck the free shift meal. Who wants to eat the shit that they were cooking all day?

I made the mix so outsiders of the "Industry" can feel what it's like to work at a shitty resturaunt. It's shitty. It smells bad. I enjoy it.

Each track represents an hour of work and what Im feeling at that point in time of work.

One last thing. People like me cook your food everytime you go out to enjoy a meal with Mary jane rotten crouch or Sir Douche every day and night.

Be afraid.
tracklist
1
RJD2 : Work
It's 2:30 and I've only been up for an hour. Usually I'll drink four huge glasses of water, eat a half of a Pe [...]

SHOW MORE

Track 16 from Deadringer
Length: 00:03:43
Year: 2002
Track Description:
It's 2:30 and I've only been up for an hour. Usually I'll drink four huge glasses of water, eat a half of a Peanut Butter sandwich, smoke a cig and drink a few cups of coffee. I'll go to work feeling like a champ.

SHOW LESS

2
Queens of the Stone Age : Auto Pilot
I'll begin work with a cup of coffee and a quick look at the prep list. Usually it's the same 'ol thing unless [...]

SHOW MORE

Track 4 from Rated R
Length: 00:04:01
Year: 2000
Track Description:
I'll begin work with a cup of coffee and a quick look at the prep list. Usually it's the same 'ol thing unless a sauce for the fish special needs to be made. It's kind of a treat when I can do something different at work that takes concertration and technique. Most of the time Im the first or second cook on the clock.

SHOW LESS

3
The Smiths : I Don't Owe You Anything
Around 4:30 the third cook shows up. He takes care of the produce and seafood prep. When the third cook runs b [...]

SHOW MORE

Track 10 from The Smiths
Length: 00:04:04
Year: 1984
Track Description:
Around 4:30 the third cook shows up. He takes care of the produce and seafood prep. When the third cook runs behind he feels like its my responibilty to help him pump out his prep. I wouldn't mind most of the time as long as the third cook on would shut the fuck up and stop flirting with the hosteses.

SHOW LESS

4
Rush : Working Man
It's a half hour before we open and everybody in the kitchen and in the front of the house is scrambling to fi [...]

SHOW MORE

Track 8 from Rush
Length: 00:07:10
Year: 1974
Track Description:
It's a half hour before we open and everybody in the kitchen and in the front of the house is scrambling to finish their opening duties. The head chef has smoked his last cig before we open and somehow I know I'll wish he could smoke inside of the resturaunt.

SHOW LESS

5
Fugazi : Foreman's Dog
The first reservations have been seated and the orders are begining to flood in. I quickly pick up the pace an [...]

SHOW MORE

Track 9 from End Hits
Length: 00:04:21
Year: 1998
Track Description:
The first reservations have been seated and the orders are begining to flood in. I quickly pick up the pace and try to pump out orders as fast as I can before were burried.

SHOW LESS

6
Cat Power : Hate
At this point Im in the fucking weeds trying to regain composure. It dosen't help when a overzelous chefs is s [...]

SHOW MORE

Track 11 from The Greatest
Length: 00:03:38
Year: 2006
Track Description:
At this point Im in the fucking weeds trying to regain composure. It dosen't help when a overzelous chefs is screaming in your face. "TALLON! what the fuck is this? would you eat this? where the fuck is the rest of the goddamn mother fucking garnish?". Im thinking I want to quit...or at least have a cig or a beer.

SHOW LESS

7
Johnny Paycheck : Take This Job and Shove It
After I've almost reached the point of no return, a calm moment happens. I feel releived that I don't have to [...]

SHOW MORE

Track 16 from Big Country Classics: Hits of the 70's, Volume 1
Length: 00:02:38
Year: 0000
Track Description:
After I've almost reached the point of no return, a calm moment happens. I feel releived that I don't have to walk out and worry about paying the bills later.

SHOW LESS

8
Magrudergrind : Stop Drop Sweatshop
The calm was only the eye of the storm, the second turn come around and I know shit is going to get ugly.

SHOW MORE

Track 6 from Religious Baffle
Length: 00:01:50
Year: 2003
Track Description:
The calm was only the eye of the storm, the second turn come around and I know shit is going to get ugly.

SHOW LESS

9
Elton John : Slave
I cut the tip of my finger off this summer. I had six stitches on my left ring finger. I remember it happening [...]

SHOW MORE

Track 7 from Honky Château
Length: 00:04:20
Year: 1972
Track Description:
I cut the tip of my finger off this summer. I had six stitches on my left ring finger. I remember it happening around this time of the night. I was fatigued, I wasn't thinking straight, and then SLICE. The whole finger nail is gone. My face turns white and I go to the hospital. I went back to work after walking from the hospital three hours later. I also had six vicitan. Sweet.

SHOW LESS

10
Chixdiggit : Quit Your Job
Cleaning up the line is the nasty shit I hate most about work. I conteplate playing lottery games as a profess [...]

SHOW MORE

Track 5 from Born on the First of July
Length: 00:00:25
Year: 1998
Track Description:
Cleaning up the line is the nasty shit I hate most about work. I conteplate playing lottery games as a profession everyday when I close.

SHOW LESS

11
Queen : I Want To Break Free
I'll leave work feeling like a champ for surviving another day. I procced to go out and grab a cold one with m [...]

SHOW MORE

Track 5 from Greatest Hits II
Length: 00:04:18
Year: 1991
Track Description:
I'll leave work feeling like a champ for surviving another day. I procced to go out and grab a cold one with me mates. I'll wake in a few hours to do the same thing. BALLS.

SHOW LESS
Tag Board
You must log in to leave a tag
Stuff
Quick Jump
T-bag's other mixes
Related mixes
recent visitors
show all