[?]
Not a member? Sign-up now, it's free!
Login
[?]
These are links to some of the major sections in the mixtape collective.
Lists: Browse various lists that are generated by the loads of data we have collected.
Contests: Check out the latest contests, see previous winners, and find out how you can be a part
Music: Check out our ever-growing database of musical knowledge! Use it to find any artist, album, or track that has been entered since the birth of the site and rate and find detailed usage statistics.
Main
[?]
Tired of looking at the same old pages? Try checking out a random one, you never know what you might find...
Random!
HUNGRY: at midnight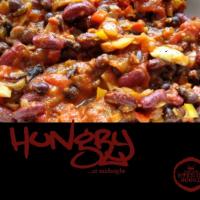 HUNGRY: at midnight
Created by:
ParYen
Tracks:
19
Length:
01:04:24
Keywords
1. Food
2. Hip Hop
3. Eat
Created on
11/13/06 11:26pm
Level
6
Points
2619
Total visitors
70
Unique visitors
44
description:
When I stay up too late participating in musical activities, I get hungry. And not just regular hungry... I mean hongry. This is what happened the last time I made a mix while hongry.

...and I discovered that I can listen to it full, also.

Thank you to all.
tracklist
1
Freestyle Fellowship : Hot Potato
Baked fresh. Fresh coast potatos. Hot. Aceyalone, Mikah Nine, Self Jupiter and P.E.A.C.E. serve 'em up dail [...]

SHOW MORE

Track 9 from Innercity Griots
Length: 00:04:30
Year: 1993
Track Description:
Baked fresh. Fresh coast potatos. Hot. Aceyalone, Mikah Nine, Self Jupiter and P.E.A.C.E. serve 'em up daily.

SHOW LESS

2
Method Man : Biscuits
All warm and toasty and full of joy. He might have dropped them in the gutter, but Mr. Meth keeps feeding you [...]

SHOW MORE

Track 2 from Tical
Length: 00:02:49
Year: 1994
Track Description:
All warm and toasty and full of joy. He might have dropped them in the gutter, but Mr. Meth keeps feeding you them biscuits...

SHOW LESS

3
Count Bass D : Quite Buttery
...them buttery biscuits.

Egads, Count Bass and DOOM serve 'em quite buttery. Did I st-st-stutter, [...]

SHOW MORE

Track 16 from Dwight Spitz
Length: 00:01:06
Year: 2002
Track Description:
...them buttery biscuits.

Egads, Count Bass and DOOM serve 'em quite buttery. Did I st-st-stutter, g?

SHOW LESS

4
All Natural : Vegetarian
It's been about, oh, since spring/summer of '06 since I've switched to a vegetarian diet. The longer I don't [...]

SHOW MORE

Track 7 from Second Nature
Length: 00:04:07
Year: 2001
Track Description:
It's been about, oh, since spring/summer of '06 since I've switched to a vegetarian diet. The longer I don't eat meat (and limit dairy), the more I'm convinced it's the way to go.

Lack of protein is the biggest misconception about a vegetarian diet. Most of the world is lactose intolerant.

SHOW LESS

5
Kan Kick : Toast to the Boogie
About ready to dig in, so let's toast. To music. To good music. Kanzulu (aka Kan Kick) knows about this.

SHOW MORE

Track 16 from From Artz Unknown
Length: 00:03:56
Year: 2001
Track Description:
About ready to dig in, so let's toast. To music. To good music. Kanzulu (aka Kan Kick) knows about this.

SHOW LESS

6
RZA : Grits
Cook up them grits and buttermilk. Highlight lyric, courtesy of Masta Killa: "Morningstar veggie bacon goes g [...]

SHOW MORE

Track 4 from Birth Of A Prince
Length: 00:04:17
Year: 2003
Track Description:
Cook up them grits and buttermilk. Highlight lyric, courtesy of Masta Killa: "Morningstar veggie bacon goes good wit' the grits."

SHOW LESS

7
Jurassic 5 : Sausage Gut
Interlude/meal break. Hilarious skit.

Peacy-weace.

SHOW MORE

Track 8 from EP
Length: 00:00:21
Year: 1997
Track Description:
Interlude/meal break. Hilarious skit.

Peacy-weace.

SHOW LESS

8
De La Soul : Pease Porridge
9 days old? It's still fresh.

My nay- my nay- my name is the paryen.

SHOW MORE

Track 4 from De La Soul Is Dead
Length: 00:05:01
Year: 1991
Track Description:
9 days old? It's still fresh.

My nay- my nay- my name is the paryen.

SHOW LESS

9
Ghostface Killah : Fish
I used to eat fish. I still eat salads. Sounds like Ghostface eats both. True Master/Persian Legacy product [...]

SHOW MORE

Track 9 from Ironman
Length: 00:03:50
Year: 1996
Track Description:
I used to eat fish. I still eat salads. Sounds like Ghostface eats both. True Master/Persian Legacy production. He was taught by the RZA and his main machine is RZA's old sampler. Keeping it in the family.

SHOW LESS

10
Sup The Chemist : Top Ramen Nights
Students.
Artists.
Low income.
Just for the taste.
Top ramen nights.

Sup the Ch [...]

SHOW MORE

Track 13 from Dust
Length: 00:04:15
Year: 2000
Track Description:
Students.
Artists.
Low income.
Just for the taste.
Top ramen nights.

Sup the Chemist.

SHOW LESS

11
Cappadonna : Milk The Cow
Milk this cow, the best way we know how. I'm limiting my dairy intake. Some mochi ice cream every now and th [...]

SHOW MORE

Track 9 from The Pillage
Length: 00:03:45
Year: 1998
Track Description:
Milk this cow, the best way we know how. I'm limiting my dairy intake. Some mochi ice cream every now and then. Some cheeses every so often. Not much, though.

Because in America our meat intake (big steaks, etc) is so high, the daily recommended calcium intake in this country is also inflated to make up for the calcium loss that takes place. One of many hundred reasons a vegetarian diet makes sense.

SHOW LESS

12
Kev Brown : Hennessey Pt. 1
The meal is over, so now it's time to kick back and relax.

Kev Brown knows. He do what he do.

SHOW MORE

Track 8 from I Do What I Do
Length: 00:02:50
Year: 2005
Track Description:
The meal is over, so now it's time to kick back and relax.

Kev Brown knows. He do what he do.

SHOW LESS

13
Kool G Rap (featuring The RZA) : Cakes
You saved room for dessert, right? Cakes baked fresh daily.

SHOW MORE

Track 6 from Ghost Dog: The Way of the Samurai
Length: 00:05:00
Year: 2000
Track Description:
You saved room for dessert, right? Cakes baked fresh daily.

SHOW LESS

14
MF Doom : Kookies
Who stole the cookie from the cookie jar? It wasn't me, it was the masked man.

SHOW MORE

Track 15 from MM..Food?
Length: 00:04:02
Year: 2004
Track Description:
Who stole the cookie from the cookie jar? It wasn't me, it was the masked man.

SHOW LESS

15
J Dilla : Gobstopper
Dilla's flavor just keeps going and going and going. From donuts to gobstoppers...

SHOW MORE

Track 22 from Donuts
Length: 00:01:05
Year: 2006
Track Description:
Dilla's flavor just keeps going and going and going. From donuts to gobstoppers...

SHOW LESS

16
Boogiemonsters : Salt Water Taffy (Slo Jam)
...to salt water taffy. Things are moving a bit slower now with all that food in you.

SHOW MORE

Track 11 from Riders of the Storm: The Underwater Album
Length: 00:04:23
Year: 1994
Track Description:
...to salt water taffy. Things are moving a bit slower now with all that food in you.

SHOW LESS

17
Raekwon : Ice Cream
Almost done... just a few scoops of some ice cream and that's it. If I'm eating, I'm sticking with Soy.
SHOW MORE
Track 15 from Only Built 4 Cuban Linx...
Length: 00:04:14
Year: 1995
Track Description:
Almost done... just a few scoops of some ice cream and that's it. If I'm eating, I'm sticking with Soy.

This beat is one of my all-time favorite hip hop beats. Ever.

This album was one of the first Wu-Tang albums to be released in the summer (/end fun fact).

SHOW LESS

18
People Under the Stairs : Empty Bottles of Water
After all that food, drink some water, it helps with the digestion. Line the empty bottles up on the counter. [...]

SHOW MORE

Track 6 from O.S.T.
Length: 00:03:29
Year: 2002
Track Description:
After all that food, drink some water, it helps with the digestion. Line the empty bottles up on the counter. We recycle.

SHOW LESS

19
Anticon : Do The Coffee Grind Dis Dance
I don't drink coffee, but if I did, I'd drink it after the meal. I guess some people drink it with cake and c [...]

SHOW MORE

Track 17 from The Anticon Giga Single
Length: 00:01:24
Year: 2001
Track Description:
I don't drink coffee, but if I did, I'd drink it after the meal. I guess some people drink it with cake and cookies and everything like that.

Hilarious outro. Anticon is terrible according to this skit. Hilarious.

SHOW LESS
Tag Board
You must log in to leave a tag
Stuff
Quick Jump
ParYen's other mixes
Related mixes
recent visitors
show all