[?]
Not a member? Sign-up now, it's free!
Login
[?]
These are links to some of the major sections in the mixtape collective.
Lists: Browse various lists that are generated by the loads of data we have collected.
Contests: Check out the latest contests, see previous winners, and find out how you can be a part
Music: Check out our ever-growing database of musical knowledge! Use it to find any artist, album, or track that has been entered since the birth of the site and rate and find detailed usage statistics.
Main
[?]
Tired of looking at the same old pages? Try checking out a random one, you never know what you might find...
Random!
The Unpolished Concrete Block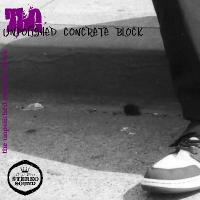 The Unpolished Concrete Block
Created by:
ParYen
Tracks:
19
Length:
01:01:02
Keywords
1. instrumental
2. hip hop
3. night vision goggles
Created on
10/14/06 01:55am
Level
6
Points
2841
Total visitors
87
Unique visitors
49
description:
A soundtrack for late-night contemplation. No lyrics (the only ones are by-products from the samples used). There's not a lot of "slick" production here. You WILL find intricate, full, precise, sloppy, odd, ______ music that FEELS right. I like music that is best listened to at night; somewhat "moody" and/or contemplative and/or cerebral. I'm a fan of putting this music on and driving around with no particular destination and being confident in where you're headed and where you're at. Especially in a city like _____________ (your city here).

It's great. At times, though, I find myself getting lost, or "swept away", in the music, so it's not always good to drive.

An experience that's consistently pleasing to both the ear and the cerebral cortex.
tracklist
1
Jay Dee aka J Dilla : Shake It Down
dilla is/was so great. emotional instrumental, no matter what direction any lyrics might take it in the regul [...]

SHOW MORE

Track 14 from Welcome 2 Detroit Instrumental
Length: 00:02:55
Year: 2001
Track Description:
dilla is/was so great. emotional instrumental, no matter what direction any lyrics might take it in the regular version.

they should sell neck braces with every dilla album.

SHOW LESS

2
RZA : Opening Theme (Raise Your Sword) [Instrumental]
great movie and great soundtrack (original score) by rza. it's like a peter and the wolf type scheme; each "c [...]

SHOW MORE

Track 2 from Ghost Dog: The Way of the Samurai [Jpn]
Length: 00:03:23
Year: 1999
Track Description:
great movie and great soundtrack (original score) by rza. it's like a peter and the wolf type scheme; each "character" from the people to the birds have their song.

i had to order this vinyl. rasputin's music said they had it here in the bay, but when i went into the store, it was nowhere in sight. i looked forever. finally had to order online.

SHOW LESS

3
J. Rawls : The Polar Palms of Moscow
emotional, cold, airy track to me. i love it. great mood. and the title is tight: polar palms of moscow.

SHOW MORE

Track 10 from Histories Greatest Battles, Campaigns & Topics
Length: 00:04:51
Year: 2003
Track Description:
emotional, cold, airy track to me. i love it. great mood. and the title is tight: polar palms of moscow.

SHOW LESS

4
Madlib : African Walk (Zamunda)
one of my favorites off the beat konducta movie scenes albums. gets you moving. i can just see madlib messin [...]

SHOW MORE

Track 32 from The Beat Konducta, Volume 1 & 2: Movie Scenes
Length: 00:01:17
Year: 2006
Track Description:
one of my favorites off the beat konducta movie scenes albums. gets you moving. i can just see madlib messing around on the keys.

SHOW LESS

5
Darkleaf : Space/Time
great instrumental off this album. sounds like you're in a robot factory, and i love the water pouring sfx th [...]

SHOW MORE

Track 11 from F... The People
Length: 00:03:16
Year: 2002
Track Description:
great instrumental off this album. sounds like you're in a robot factory, and i love the water pouring sfx that comes in.

SHOW LESS

6
Ayatollah : The Devil Is Sweet
the somewhat sporadic drum hits are great. and man, when that crazy bass comes in... i like to describe it as [...]

SHOW MORE

Track 3 from Now Playing
Length: 00:03:02
Year: 2006
Track Description:
the somewhat sporadic drum hits are great. and man, when that crazy bass comes in... i like to describe it as a shaking a spider trapped in a box.

if you hear it i think you may hear what i mean.

ayatollah is great. his main machine is the akai mpc60. he's the dude who produced mos def's ms. fat booty track.

SHOW LESS

7
Kan Kick : Bread and a Rolls Royce
laid back, moody stuff from a "loop scholar" (from a madlib lyric). kan kick is a must-hear if you're a fan o [...]

SHOW MORE

Track 12 from The Traditional Heritage
Length: 00:02:28
Year: 2004
Track Description:
laid back, moody stuff from a "loop scholar" (from a madlib lyric). kan kick is a must-hear if you're a fan of dusty beats.

i picked this up back in 2004 at amoeba records in la at night. my friend and i were just cruising around. he had never heard of kan kick. he loved it. we ended up at roscoe's on pico. after we ate, a guy on the street asked if we had any leftover food. i only had a few pieces of candy from the counter so i offered them to him. he cursed me out.

SHOW LESS

8
Flying Lotus : Untitled #7
dreamlike composition; easy to get lost into. it has an 8 or 12-bit feel to it. the voices in the background [...]

SHOW MORE

Track 9 from 1983
Length: 00:03:22
Year: 2006
Track Description:
dreamlike composition; easy to get lost into. it has an 8 or 12-bit feel to it. the voices in the background add a lot to its quality.

SHOW LESS

9
Eligh : Dirt Bump (grimey)
nice airy beat. just slightly reminds me of ico (the ps2 game).

man, i used to really love eligh a [...]

SHOW MORE

Track 5 from Gandalf's Beat Machine Level 2
Length: 00:02:12
Year: 2002
Track Description:
nice airy beat. just slightly reminds me of ico (the ps2 game).

man, i used to really love eligh and the living legends. over the years i haven't been super happy with their change in sound, but still, gotta give it up for the legends crew.

SHOW LESS

10
Fat Jon the Ample Soul Physician : Feel the Void
cool, laid back, perfect for listening to under the moonlight. fat jon is solid-- also check out the five dee [...]

SHOW MORE

Track 2 from Wave Motion
Length: 00:03:23
Year: 2002
Track Description:
cool, laid back, perfect for listening to under the moonlight. fat jon is solid-- also check out the five deez stuff which he produces.

SHOW LESS

11
Pete Rock : Tha Game (instrumental)
great beat. as a sophmore in college my roommate won some stuff through our college radio station, one thing [...]

SHOW MORE

Track 5 from Soul Survivor
Length: 00:04:34
Year: 1998
Track Description:
great beat. as a sophmore in college my roommate won some stuff through our college radio station, one thing being a promo copy of this instrumental cd, but since he hated anything non gangsta funk yay area playalistic-whatever, he gave to me.

thanks, scott.

SHOW LESS

12
Jel : Multi Level
when the sp1200 sampler/drum machine is done right, nothing can touch it. i don't like all of jel's stuff, bu [...]

SHOW MORE

Track 2 from 10 Seconds
Length: 00:03:42
Year: 2002
Track Description:
when the sp1200 sampler/drum machine is done right, nothing can touch it. i don't like all of jel's stuff, but i'm a huge fan of this track. it's got this certain edge to it, even though it's not overly moody or anything.

SHOW LESS

13
Prince Paul : Profit
an interesting track from prince paul that grew on me the more i heard it. not too complex at first, but crea [...]

SHOW MORE

Track 11 from Itstrumental
Length: 00:02:18
Year: 2005
Track Description:
an interesting track from prince paul that grew on me the more i heard it. not too complex at first, but creates a cool mood with the angelic-like "ohhhh" voices.

the beat is actually kind of funny. kind of amateurish.

prince paul is a genius, seriously. he's great.

SHOW LESS

14
Par Yen : Winterwocky
this is my own stuff. had to throw one of them in at some point! my fiancee likes this one a lot. it's good [...]

SHOW MORE

Track 7 from Oh Look It's A Dime
Length: 00:03:47
Year: 2006
Track Description:
this is my own stuff. had to throw one of them in at some point! my fiancee likes this one a lot. it's good for driving around at night.

SHOW LESS

15
Omid : Always Being Born
omid (od) is a fresh la producer. he's got a cool-moody-abstract feel. i think the off-kilter beat is perfec [...]

SHOW MORE

Track 13 from Monolith
Length: 00:05:37
Year: 2003
Track Description:
omid (od) is a fresh la producer. he's got a cool-moody-abstract feel. i think the off-kilter beat is perfect. love all the static/hiss from the records.

SHOW LESS

16
Hi-Tek : Tony Guitar Watson
short and sweet. along that same midwest head-nod feel as dilla.

hit repeat. good to drive to.

SHOW MORE

Track 7 from Hi-Teknology
Length: 00:01:00
Year: 2002
Track Description:
short and sweet. along that same midwest head-nod feel as dilla.

hit repeat. good to drive to.

SHOW LESS

17
Elusive : Love (Instrumental)
his name so matches who he is. i saw him down at the basement in the sf valley a few years back (at a pigeon [...]

SHOW MORE

Track 7 from Elements Of A Prototype 2.0
Length: 00:03:08
Year: 2000
Track Description:
his name so matches who he is. i saw him down at the basement in the sf valley a few years back (at a pigeon john show) and he was just standing off to the side holding a cardboard box full of cd's. not even pushing them. if someone happened to come up to him and ask, then and only then would he try to sell em.

i like how the sample gets off the drums' timing, just slightly, every now and then. i'm a fan of little things like that.

SHOW LESS

18
The Highlife Movement : The Prayer
the liner notes say this whole album was done on a 4-track cassette with an sp1200 and a cheap mic. you gotta [...]

SHOW MORE

Track 4 from ...Estuary
Length: 00:02:30
Year: 1999
Track Description:
the liner notes say this whole album was done on a 4-track cassette with an sp1200 and a cheap mic. you gotta love it. it sounds so... like it was pulled up from the depths of the sea. great stuff.

(the rest of the album features people like aceyalone, ab rude, etc.)

SHOW LESS

19
El-P : Straight Off the D.I.C.
the regular album was good, and the instrumental version works too due to el-p's intense beats. i think he's [...]

SHOW MORE

Track 6 from Cannibal Oxtrumentals
Length: 00:04:17
Year: 2002
Track Description:
the regular album was good, and the instrumental version works too due to el-p's intense beats. i think he's part robot. this one's moody, but not real menacing. love the reverb on the snare.

menacing enough to end the mix on and leave you with that gritty taste in your mouth.

SHOW LESS
Tag Board
You must log in to leave a tag
Stuff
Quick Jump
ParYen's other mixes
Related mixes
recent visitors
show all