[?]
Not a member? Sign-up now, it's free!
Login
[?]
These are links to some of the major sections in the mixtape collective.
Lists: Browse various lists that are generated by the loads of data we have collected.
Contests: Check out the latest contests, see previous winners, and find out how you can be a part
Music: Check out our ever-growing database of musical knowledge! Use it to find any artist, album, or track that has been entered since the birth of the site and rate and find detailed usage statistics.
Main
[?]
Tired of looking at the same old pages? Try checking out a random one, you never know what you might find...
Random!
BloodOrangeCheeseCakeMixx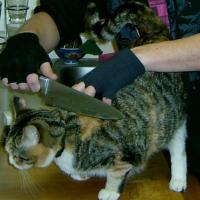 BloodOrangeCheeseCakeMixx
Created by:
T-bag
Tracks:
17
Length:
01:12:51
Keywords
1. Vibrant
2. Pleasure
3. microvilli
Created on
3/08/07 01:32pm
Level
4
Points
1903
Total visitors
44
Unique visitors
26
description:
Guilty Pleasure is the name of the game with this mixx. I love making cheese cakes and listening to music, some of it is really shitty (Shhhh, don't tell anyone).
Blood oranges are a personal prefrence because they are less acidic and have a vibrant color that makes the simple presentation seem super time intensive. You can subsitute the Blood oranges for any other kind of oranges, lemons, limes, and if your feeling adventures try Lychee(use fresh whenever possible).
My old boss at the creek side pizza bistro has this expression he uses to describe a tasty dish, He says "God damn this is so good, its gonna make somebody's pussy wet or a dick hard". Make this for a lover and reap the rewards(Wink/Smile).
On the last track I also added a easy recipie for a blood orange sparkler I found on chow.com. It's tasty and it'll help push along the fuck train that'll happen after your lover takes a bite.
If you cook with love in your heart will I believe it will make a better product, It also helps if you make food while listening to awsome music(?).
The mix is as long as it takes to make the cheese cakes and drinks including prep time(estimated).
tracklist
1
The Style Council : My ever changing moods
I went on a cheesecake eating bindge after Me and the Ex broke it off, It was becoming a expensive way of get [...]

SHOW MORE

Track 6 from Cafe bleu
Length: 00:03:37
Year: 0000
Track Description:
I went on a cheesecake eating bindge after Me and the Ex broke it off, It was becoming a expensive way of getting over someone, so I started making my own and experimenting, soon it helped ease my broken heart, unfortuntly for me I gained a few pounds, then I started running it also helped get me into shape. It's payed off(wink/Smile)

SHOW LESS

2
Ratatat : Loud Pipes
This mix isn't the most cohesive as far as connecting the mixx concept with the actual music, there are no son [...]

SHOW MORE

Track 6 from Classics
Length: 00:03:46
Year: 2006
Track Description:
This mix isn't the most cohesive as far as connecting the mixx concept with the actual music, there are no songs about cream cheese or cakes in the mix. Instead I decided to put songs on that make me happy, That way the cake is made with genuine love. Make a mixx for yourself everytime you cook, bake, grill or whatever you do with food. Shopping mixes are great as well.

SHOW LESS

3
Chris Isaak : Wicked Game
The recipie might be hard to follow, so cut, paste, write down the recipie and feel free to leave out my comme [...]

SHOW MORE

Track 5 from Heart Shaped World
Length: 00:04:49
Year: 1989
Track Description:
The recipie might be hard to follow, so cut, paste, write down the recipie and feel free to leave out my commentary.

SHOW LESS

4
Angelo Badalamenti : Laura Palmer's Theme
I had to put this song in, I heard it playing at this store called Shop N Kart Yesterday when I was buying blo [...]

SHOW MORE

Track 2 from Twin Peaks
Length: 00:04:52
Year: 0000
Track Description:
I had to put this song in, I heard it playing at this store called Shop N Kart Yesterday when I was buying blood oranges. It was a little creepy, people went about thier shopping with out noticing. I tried to find out who put the cd mixx on and nobody knew. Creppy-groovey.

SHOW LESS

5
Ying Yang Twins : Wait(The Whisper Song)
I remember watching the making of this music video with somebody who has a place in my heart. We were both thi [...]

SHOW MORE

Track 10 from U.S.A.(United States f Alanta)
Length: 00:02:59
Year: 2005
Track Description:
I remember watching the making of this music video with somebody who has a place in my heart. We were both thinking the same thing---So awesome, Like this cheese cake. Before you start to make the cheese cakes you'll need the ingredients. That was a terrible segway earlier...sorry.

SHOW LESS

6
Leslie and the Ly's : Ring a Ding-Ding
Items needed:
Crust---
1 1/2 Cup Grahm Caracker crust (About A package), 8 Tbls Melted Butter, 3 T [...]

SHOW MORE

Track 1 from Gold Pants
Length: 00:02:20
Year: 2005
Track Description:
Items needed:
Crust---
1 1/2 Cup Grahm Caracker crust (About A package), 8 Tbls Melted Butter, 3 Tbls Sugar, 1 package instant espresso mix, Zest from one blood orange. This song will pump up anybody's jam, and get them ready to rock a cheese cake(it will also make you think of grandma and grandpa).

SHOW LESS

7
Cold War Kids : We Used To Vacation
Filling---
32oz-1/3 less fat Neufchatel cream cheese, 1 Tbls pure vanilla extract, 4 large eggs (at room [...]

SHOW MORE

Track 1 from Robbers And Cowards
Length: 00:04:03
Year: 2006
Track Description:
Filling---
32oz-1/3 less fat Neufchatel cream cheese, 1 Tbls pure vanilla extract, 4 large eggs (at room temperature), 2 Tbls Juice from Blood orange, 1 cup sugar. Boiling water to put in a roasting pan. Songs about alcholics make me happy, I don't know why---MCD!!!

SHOW LESS

8
The National : Secret Meeting
Garnish---
1 blood orange with skin cut off, sliced into 10 wedges. Don't cut yourself unless you're int [...]

SHOW MORE

Track 1 from Aliigator
Length: 00:03:44
Year: 2005
Track Description:
Garnish---
1 blood orange with skin cut off, sliced into 10 wedges. Don't cut yourself unless you're into that type of shit(emo). I heard the funniest thing the other day (sorry to go off in a tanget about nothing)---somebody told me that they wished that thier lawn was emo so it would cut itself.

SHOW LESS

9
Ladytron : seventeen
Step 1---
Preheat oven to 350,

SHOW MORE

Track 2 from Light & Magic
Length: 00:04:37
Year: 2002
Track Description:
Step 1---
Preheat oven to 350,

SHOW LESS

10
The Kinks : lola
Step 2. Stir together crumb mix, Press crumb mix into 10 inch springform pan-Avoid pressing crust onto the sid [...]

SHOW MORE

Track 22 from Kronikles
Length: 00:04:05
Year: 1972
Track Description:
Step 2. Stir together crumb mix, Press crumb mix into 10 inch springform pan-Avoid pressing crust onto the side of the pan, it's easier to use the bottom of a pint glass (in a circular motion pat the crust along the side of the pan). bake the crust for 10 minutes or so, let the crust cool for a bit, reduce oven to 325

SHOW LESS

11
The Clientele : Since K Got Over Me
Step 3---
Put the cream cheese into a kitchen aid or any other eletric mixer with a paddle attatchment, [...]

SHOW MORE

Track 1 from Strange Geometry
Length: 00:03:52
Year: 2005
Track Description:
Step 3---
Put the cream cheese into a kitchen aid or any other eletric mixer with a paddle attatchment, mix the mother fucking creamcheese until it's fluffy(4 or 5 minutes), scrape cream cheese of the sides of the mixing bowl. on low speed mix add the cup of sugar in a slow steady stream, add vanilla(mixx well). Srape the sides again. On a low speed setting mix Eggs one at a time until each egg is fully mixed into the cream cheese. This will prevent a big mess and cracking of the cheesecake. I suggest having the eggs in a bowl cracked and ready to go, this will also bring the eggs to room temperature faster.

SHOW LESS

12
Pelican : Angel Tears
Step 4---
Wrap the outside of the 10 inch springform pan with clear plastic wrap (be sure the pan is [...]

SHOW MORE

Track 3 from Australasia
Length: 00:10:59
Year: 2003
Track Description:
Step 4---
Wrap the outside of the 10 inch springform pan with clear plastic wrap (be sure the pan is cooled off enough, don't be a dumbass and burn yourself), then wrap it once more with tin foil. make sure it's nice and tight. Pour the filling into the pan over the crust.

SHOW LESS

13
Gogol Bordello : Oh No
Step 5---
Put the springform pan into the roasting pan, laddle boiling water until it reaches half th [...]

SHOW MORE

Track 8 from Gypsy Punks - Underdog World Strike
Length: 00:02:59
Year: 2005
Track Description:
Step 5---
Put the springform pan into the roasting pan, laddle boiling water until it reaches half the length of the springform pan. Put the roasting pan into the oven. Bake 60 to 65 minutes until the center is has a slight wobble.

SHOW LESS

14
The Good, The Bad and The Queen : History song
Step 6---
Remove the tin foil and plastic wrap, let cake set on wire rack until it's completely cooled. [...]

SHOW MORE

Track 1 from The Good, The Bad and The Queen
Length: 00:03:05
Year: 2007
Track Description:
Step 6---
Remove the tin foil and plastic wrap, let cake set on wire rack until it's completely cooled. Refrigerate for 7 or 8 hours.

SHOW LESS

15
Beirut : Gulag Orkestar
Cut the cake into ten slices with unflavored dental wax. Bust out the garnish and serve cake with the blood or [...]

SHOW MORE

Track 1 from Gulag Orkestar
Length: 00:04:38
Year: 2006
Track Description:
Cut the cake into ten slices with unflavored dental wax. Bust out the garnish and serve cake with the blood orange on top. It's so easy even I can do it, YOU CAN 2.

SHOW LESS

16
Tears for Fears : Everybody Wants to Rule the World
What a fucking journey, we learned a lot about ourselfs and a little bit about baking desserts. I hoped you en [...]

SHOW MORE

Track 3 from Songs From the Big Chair
Length: 00:04:11
Year: 1985
Track Description:
What a fucking journey, we learned a lot about ourselfs and a little bit about baking desserts. I hoped you enjoyed the mixx. Next up for my dessert mixes is my ammaretto cheesecake mixx. Here is that Blood orange sparkler recipie.

SHOW LESS

17
Rilo Kiley : The Execution Of All Things
Ingredients
1 blood orange
3 teaspoons sugar
3 teaspoons sweet vermouth
1 bottle [...]

SHOW MORE

Track 3 from The Execution Of All Things
Length: 00:04:15
Year: 2002
Track Description:
Ingredients
1 blood orange
3 teaspoons sugar
3 teaspoons sweet vermouth
1 bottle sparkling wine, chilled Directions
Using a sharp knife, cut off and discard the ends of the blood orange. Set the orange on a cutting board, and slice the rind and white pith off the fruit using a gentle downward sawing motion, cutting away as little of the flesh as possible. Discard the rind.
Slice the fruit into 1/2-inch pieces. Divide the pieces evenly among the wineglasses.
Sprinkle 1/2 teaspoon sugar atop the orange slices in each glass and muddle together to extract the juice. Add 1/2 teaspoon vermouth to each glass and stir.
Divide the sparkling wine among the glasses, stir, and serve.
A great way to end a mixx, this song also goes well with the drinks.


SHOW LESS
Tag Board
You must log in to leave a tag
Stuff
Quick Jump
T-bag's other mixes
Related mixes
recent visitors
show all