[?]
Not a member? Sign-up now, it's free!
Login
[?]
These are links to some of the major sections in the mixtape collective.
Lists: Browse various lists that are generated by the loads of data we have collected.
Contests: Check out the latest contests, see previous winners, and find out how you can be a part
Music: Check out our ever-growing database of musical knowledge! Use it to find any artist, album, or track that has been entered since the birth of the site and rate and find detailed usage statistics.
Main
[?]
Tired of looking at the same old pages? Try checking out a random one, you never know what you might find...
Random!
Plastic Love mixx: I never find out until Im head over heels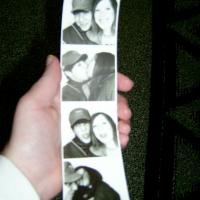 Plastic Love mixx: I never find out until Im head over heels
Created by:
T-bag
Tracks:
13
Length:
00:52:14
Keywords
1. Friendship
2. Backstory
3. Pliable
Created on
2/27/07 10:02am
Level
5
Points
2471
Total visitors
59
Unique visitors
37
description:
It was a decisive move on her part, she'd ask me to walk her home after we had a few drinks at a bar. A month later, here I am making a mix for this chick. Trapped like a spider in her evil web of sex and lies.
Seriously though, I made this mixx pretty straight forward. I have a bunch of plastic pop songs that reflect the stage of the relationship Im into now. Not that what I have is fake, It's at the point where fun can be had, and asses can shake.
A bunch of new wave in a love mix? No way. I kind of hate myself for being predictable.
So the mixx is in the time span of the first two days we spent together, the songs capture the spirit of this unholy union of the sexiest kind.
It's a simple mix, nothing to complicated or amazing.
tracklist
1
Yaz : Situation
We met at the bar I work at, she thought I was cute. We spent that night cuddling and kissing. This song alway [...]

SHOW MORE

Track 9 from Upstairs at Eric's
Length: 00:05:46
Year: 1982
Track Description:
We met at the bar I work at, she thought I was cute. We spent that night cuddling and kissing. This song always plays on the new wave channel on siruis radio at work. Im not sure where this relationship is going but Im along for the ride and enjoying it.

SHOW LESS

2
The Waitress : I know What Boys Like
We didn't end up getting back in touch for a few weeks. Then aggresive texting put us on a path to meeting aga [...]

SHOW MORE

Track 21 from Ego War
Length: 00:03:16
Year: 1981
Track Description:
We didn't end up getting back in touch for a few weeks. Then aggresive texting put us on a path to meeting again.

SHOW LESS

3
The Knife : You take my breath away
We wanted to see a movie but I couldn't show my face at the local theater.
This girl who works at a loca [...]

SHOW MORE

Track 8 from Deep Cuts
Length: 00:04:27
Year: 2005
Track Description:
We wanted to see a movie but I couldn't show my face at the local theater.
This girl who works at a local movie theater asked me out on a date, I said yes but never returned her calls. We drove to a different theater.

SHOW LESS

4
El Perro del Mar : Here come that feeling
We grabbed some dinner at NoHo's then left to the movie theater.

SHOW MORE

Track 10 from El Perro del Mar
Length: 00:03:15
Year: 2006
Track Description:
We grabbed some dinner at NoHo's then left to the movie theater.

SHOW LESS

5
Tears for Fears : Head Over Heels
We went and watched Pan's labyrinth. It was amazing.

SHOW MORE

Track 7 from Songs From the Big Chair
Length: 00:04:09
Year: 1985
Track Description:
We went and watched Pan's labyrinth. It was amazing.

SHOW LESS

6
Grandaddy : A.M. 180
That night, there was 8in of snow. The school were she teaches was closed. Snow day.

SHOW MORE

Track 2 from Under The Western Freeway
Length: 00:03:20
Year: 1997
Track Description:
That night, there was 8in of snow. The school were she teaches was closed. Snow day.

SHOW LESS

7
Love and Rockets : So Alive
She had the day off so we went shopping. It was so much fun.

SHOW MORE

Track 0 from Love and Rockets
Length: 00:04:17
Year: 1989
Track Description:
She had the day off so we went shopping. It was so much fun.

SHOW LESS

8
Elton Motello : Jet Boy Jet Girl
We made a potato leek soup after the snow storm and it was fantastic.

SHOW MORE

Track 1 from Jet Boy Jet Girl
Length: 00:03:10
Year: 2004
Track Description:
We made a potato leek soup after the snow storm and it was fantastic.

SHOW LESS

9
Audio Bullys : We Don't Care (Dirty Version)
We drank a bunch of jameson that night. Me and manhattans, her on the rocks.

SHOW MORE

Track 6 from Ego War
Length: 00:03:30
Year: 2003
Track Description:
We drank a bunch of jameson that night. Me and manhattans, her on the rocks.

SHOW LESS

10
Jenny Wilson : Love and Youth
We made Love.:)

SHOW MORE

Track 7 from Love and youth
Length: 00:04:33
Year: 0000
Track Description:
We made Love.:)

SHOW LESS

11
the blow : True affection
Then we cuddled like bugs and pillow talk ensued.

SHOW MORE

Track 10 from Paper Television
Length: 00:03:23
Year: 2006
Track Description:
Then we cuddled like bugs and pillow talk ensued.

SHOW LESS

12
Tom Tom Club : Genius
Earl grey or english breakfast in the morning was a treat.

SHOW MORE

Track 1 from Tom Tom Club
Length: 00:05:34
Year: 1987
Track Description:
Earl grey or english breakfast in the morning was a treat.

SHOW LESS

13
Nouvelle Vague : heart of glass
As of today, it's offical, we are dating. I hope things go alright and we have a lot of fun and sexual adventu [...]

SHOW MORE

Track 8 from Bande a part
Length: 00:03:34
Year: 2006
Track Description:
As of today, it's offical, we are dating. I hope things go alright and we have a lot of fun and sexual adventures.

SHOW LESS
Tag Board
You must log in to leave a tag
Stuff
Quick Jump
T-bag's other mixes
Related mixes
recent visitors
show all