[?]
Not a member? Sign-up now, it's free!
Login
[?]
These are links to some of the major sections in the mixtape collective.
Lists: Browse various lists that are generated by the loads of data we have collected.
Contests: Check out the latest contests, see previous winners, and find out how you can be a part
Music: Check out our ever-growing database of musical knowledge! Use it to find any artist, album, or track that has been entered since the birth of the site and rate and find detailed usage statistics.
Main
[?]
Tired of looking at the same old pages? Try checking out a random one, you never know what you might find...
Random!
Silly rabbit, you are a kitty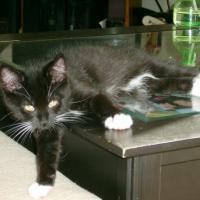 Silly rabbit, you are a kitty
Created by:
T-bag
Tracks:
10
Length:
00:37:32
Keywords
1. buddy
2. forever
3. kitty
Created on
7/24/07 03:01am
Level
4
Points
1805
Total visitors
25
Unique visitors
22
description:
I'm walking home and nothing would please me more then to cuddle with you. I know a kitten will never share the same complex emotions as a human (as far as I know). I walk down this street and think of nothing more important then you, you pop into my mind and I decided to make a mix to show you today. I hope you'll like it and give me much praise and cuddles.

p.s

I asked everbody I worked with when they would perish, and they thought that you would last longer then all of them. I hope there right.
Tag Board
You must log in to leave a tag
Stuff
Quick Jump
T-bag's other mixes
Related mixes
recent visitors
show all