[?]
Not a member? Sign-up now, it's free!
Login
[?]
These are links to some of the major sections in the mixtape collective.
Lists: Browse various lists that are generated by the loads of data we have collected.
Contests: Check out the latest contests, see previous winners, and find out how you can be a part
Music: Check out our ever-growing database of musical knowledge! Use it to find any artist, album, or track that has been entered since the birth of the site and rate and find detailed usage statistics.
Main
[?]
Tired of looking at the same old pages? Try checking out a random one, you never know what you might find...
Random!
john travolta is a fat piece of shit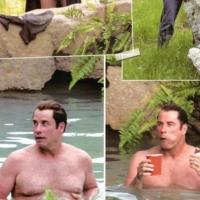 john travolta is a fat piece of shit
Created by:
youandme
Tracks:
11
Length:
00:41:02
Keywords
1. bad
2. boozed
3. stupid
Created on
4/02/07 12:48am
Level
5
Points
2266
Total visitors
70
Unique visitors
39
description:
i hate john travolta. he is a fat piece of shit. these are some songs off of his horrible movies. i can't believe i wasted an hour on imdb researching this, but i'm drunk and bored watching a movie with my roommate. fuck you john travolta. i hate you. and you need to just stop making movies. thx.
tracklist
1
Booker T. & The MG's : Green Onions
get shorty. (the essential track of 'john travolta is a fat piece of shit' philosophy. and soundtrack to most [...]

SHOW MORE

Track 1 from The Very Best Of...
Length: 00:02:55
Year: 2005
Track Description:
get shorty. (the essential track of 'john travolta is a fat piece of shit' philosophy. and soundtrack to most likely the worst scene of all time. fat. piece. of shit.)

he has ruined this song for me. i actually watched this movie once, when we had watched every single movie in the house twice. i regretted it.

SHOW LESS

2
The Impressions : It's All Right
phenomenon.

who the hell thinks of this shit? john travolta as some kind of saint? oh wait... he [...]

SHOW MORE

Track 2 from The Very Best of The Impressions
Length: 00:02:51
Year: 1997
Track Description:
phenomenon.

who the hell thinks of this shit? john travolta as some kind of saint? oh wait... he just has cancer. the end! what a feel-good movie.

SHOW LESS

3
Norman Greenbaum : Spirit in the Sky
michael.

i think i watched this with my parents. i think they got it just about right. fat piece [...]

SHOW MORE

Track 1 from Spirit in the Sky: Best of Norman Greenbaum
Length: 00:04:03
Year: 1997
Track Description:
michael.

i think i watched this with my parents. i think they got it just about right. fat piece of shit dancing and being annoying and eating a lot. oh, and he's an angel. right.

SHOW LESS

4
Elvis Presley : All Shook Up
look who's talking too.

i think it's pretty sweet casting roseanne as a baby's voice. and gilbert [...]

SHOW MORE

Track 6 from Elv1s: 30 #1 Hits
Length: 00:02:02
Year: 2002
Track Description:
look who's talking too.

i think it's pretty sweet casting roseanne as a baby's voice. and gilbert gottfried is talent in a fucking can.

SHOW LESS

5
Brothers Johnson : Strawberry Letter 23
pulp fiction.

fat. fat. fat. quentin tarantino is a gaping anus. but that's a whole other story.. [...]

SHOW MORE

Track 3 from Jackie Brown Soundtrack
Length: 00:05:01
Year: 1997
Track Description:
pulp fiction.

fat. fat. fat. quentin tarantino is a gaping anus. but that's a whole other story...

SHOW LESS

6
James Brown : Papa's Got a Brand New Bag
face/off.

right. this is just bad.

SHOW MORE

Track 10 from 40th Anniversary Collection
Length: 00:04:19
Year: 0000
Track Description:
face/off.

right. this is just bad.

SHOW LESS

7
Dr. John : Right Place, Wrong Time
lucky numbers.

i'm so glad i never saw this movie. the right place is at home. never making a mov [...]

SHOW MORE

Track 1 from The Very Best of Dr. John
Length: 00:02:55
Year: 0000
Track Description:
lucky numbers.

i'm so glad i never saw this movie. the right place is at home. never making a movie. ever. again.

SHOW LESS

8
E-40 : Act A Ass
be cool.

yet again another gem i missed. but e-40??!! fucking rad.

SHOW MORE

Track 8 from Breakin News
Length: 00:04:28
Year: 0000
Track Description:
be cool.

yet again another gem i missed. but e-40??!! fucking rad.

SHOW LESS

9
Bon Jovi : Wanted Dead or Alive
wild hogs.

has this come out yet? i either missed it or its impending doom is looming over us all [...]

SHOW MORE

Track 5 from Slippery When Wet
Length: 00:05:08
Year: 1986
Track Description:
wild hogs.

has this come out yet? i either missed it or its impending doom is looming over us all.

SHOW LESS

10
The Charlie Daniels Band : The Devil Went Down to Georgia
urban cowboy.

i fucking hate this song.

SHOW MORE

Track 8 from Listen-Up!
Length: 00:03:36
Year: 0000
Track Description:
urban cowboy.

i fucking hate this song.

SHOW LESS

11
Elton John : The Bitch Is Back
john travolta, you are a bitch, sir!

SHOW MORE

Track 1 from Caribou
Length: 00:03:44
Year: 1974
Track Description:
john travolta, you are a bitch, sir!

SHOW LESS
Tag Board
You must log in to leave a tag
Stuff
Quick Jump
youandme's other mixes
Related mixes
recent visitors
show all