[?]
Not a member? Sign-up now, it's free!
Login
[?]
These are links to some of the major sections in the mixtape collective.
Lists: Browse various lists that are generated by the loads of data we have collected.
Contests: Check out the latest contests, see previous winners, and find out how you can be a part
Music: Check out our ever-growing database of musical knowledge! Use it to find any artist, album, or track that has been entered since the birth of the site and rate and find detailed usage statistics.
Main
[?]
Tired of looking at the same old pages? Try checking out a random one, you never know what you might find...
Random!
Detective Vic Mackey will kick your ass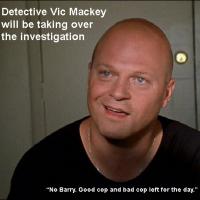 Detective Vic Mackey will kick your ass
Created by:
beel
Tracks:
17
Length:
01:17:06
Keywords
1. hewillkickassnothingtolose
2. dontmakemeangryyouwouldwanttoseemeangry
3. shielddirtycop
Created on
4/22/07 10:02pm
Level
6
Points
2748
Total visitors
105
Unique visitors
33
description:
This is my mix for Monday. I need to start it on a positive note for a change so
I will imagine that Vic Mackey from The Shield will kick people's asses when I ask him to. That's all.
tracklist
1
Radiohead : Myxomatosis.
Vic, the dry cleaner screwed up my sweater. Kill kill kill

SHOW MORE

Track 12 from Hail To The Thief
Length: 00:03:57
Year: 2003
Track Description:
Vic, the dry cleaner screwed up my sweater. Kill kill kill

SHOW LESS

2
The Sisters of Mercy : Lucretia My Reflection
Vic, I need new drums. Kick the music guy's ass for overpricing.

SHOW MORE

Track 10 from Floodland
Length: 00:04:56
Year: 1987
Track Description:
Vic, I need new drums. Kick the music guy's ass for overpricing.

SHOW LESS

3
Sex Gang Children : Deiche
Vic, my middle name IS Wilhamena, I heard someone laugh.

SHOW MORE

Track 1 from Deiche
Length: 00:07:29
Year: 1993
Track Description:
Vic, my middle name IS Wilhamena, I heard someone laugh.

SHOW LESS

4
Snowden : Counterfeit Rules
Hey fake money never hurt anyone, right Vic, but fake people, well they just gotta go.

SHOW MORE

Track 7 from Anti-Anti
Length: 00:03:14
Year: 0000
Track Description:
Hey fake money never hurt anyone, right Vic, but fake people, well they just gotta go.

SHOW LESS

5
Modest Mouse : Breakthrough
Vic, please punch your fist through my boss's chest.

SHOW MORE

Track 2 from This Is a Long Drive for Someone With Nothing to Think About
Length: 00:04:06
Year: 1996
Track Description:
Vic, please punch your fist through my boss's chest.

SHOW LESS

6
Primus : Frizzle Fry
Vic, someone caused my brain to hurt. Hurt them.

SHOW MORE

Track 5 from Frizzle Fry
Length: 00:06:04
Year: 1989
Track Description:
Vic, someone caused my brain to hurt. Hurt them.

SHOW LESS

7
Gang Of Four : To Hell With Poverty
Vic, my boss wants me to work overtime. I don't think so.

SHOW MORE

Track 1 from Return the Gift
Length: 00:03:58
Year: 2005
Track Description:
Vic, my boss wants me to work overtime. I don't think so.

SHOW LESS

8
Creta Bourzia : Fuck the Tough Guy
Vic, please kick that jock's ass, yeah the one at the gym who doesn't wipe the machines after use. Fucker!

SHOW MORE

Track 0 from Memories of Earth
Length: 00:03:02
Year: 0000
Track Description:
Vic, please kick that jock's ass, yeah the one at the gym who doesn't wipe the machines after use. Fucker!

SHOW LESS

9
Paris : Bush Killa
I know Vic, one fucker at a time, one fucker at a time.

SHOW MORE

Track 10 from Chuck D Presents Louder Than A Bomb
Length: 00:04:58
Year: 0000
Track Description:
I know Vic, one fucker at a time, one fucker at a time.

SHOW LESS

10
The Cure : Give Me It
Vic, we need to pay my landlord a visit.

SHOW MORE

Track 5 from Concert: The Cure Live
Length: 00:02:49
Year: 1984
Track Description:
Vic, we need to pay my landlord a visit.

SHOW LESS

11
Explosions In The Sky... : Catastrophe and Cure
Vic Mackey=Cure

SHOW MORE

Track 5 from All of the Sudden, I Miss Everyone
Length: 00:07:56
Year: 2007
Track Description:
Vic Mackey=Cure

SHOW LESS

12
tool : Intolerance
Vic, I don't like the way the mailman handed me my mail. Go postal on HIS ass!

SHOW MORE

Track 1 from Undertow
Length: 00:04:53
Year: 1993
Track Description:
Vic, I don't like the way the mailman handed me my mail. Go postal on HIS ass!

SHOW LESS

13
Thingy : Plenty
Damn I love Thingy and so does Vic.

SHOW MORE

Track 8 from To the Innocent
Length: 00:02:33
Year: 0000
Track Description:
Damn I love Thingy and so does Vic.

SHOW LESS

14
Fugazi : Burning
Vic, that meal gave me acid reflux, kick the cook's ass.

SHOW MORE

Track 4 from 13 Songs
Length: 00:02:39
Year: 1990
Track Description:
Vic, that meal gave me acid reflux, kick the cook's ass.

SHOW LESS

15
Rock 'n' Roll Soldiers : Can't Break The Glass
Vic can break glass and your asss!

SHOW MORE

Track 8 from The Two EPs
Length: 00:04:08
Year: 2005
Track Description:
Vic can break glass and your asss!

SHOW LESS

16
Sugar : The Act We Act
Vic, I don't like when people flip their shirt collars up. please rip them to shreds.

SHOW MORE

Track 1 from Copper Blue
Length: 00:05:10
Year: 1992
Track Description:
Vic, I don't like when people flip their shirt collars up. please rip them to shreds.

SHOW LESS

17
All Natural Lemon and Lime Flavors : Repetitive Monotonous
wet lather rinse repeat kicking ass. Thanks Vic, I love you.

SHOW MORE

Track 1 from Straight Blue Line
Length: 00:05:14
Year: 0000
Track Description:
wet lather rinse repeat kicking ass. Thanks Vic, I love you.

SHOW LESS
Tag Board
You must log in to leave a tag
Stuff
Quick Jump
beel's other mixes
Related mixes
recent visitors
show all