[?]
Not a member? Sign-up now, it's free!
Login
[?]
These are links to some of the major sections in the mixtape collective.
Lists: Browse various lists that are generated by the loads of data we have collected.
Contests: Check out the latest contests, see previous winners, and find out how you can be a part
Music: Check out our ever-growing database of musical knowledge! Use it to find any artist, album, or track that has been entered since the birth of the site and rate and find detailed usage statistics.
Main
[?]
Tired of looking at the same old pages? Try checking out a random one, you never know what you might find...
Random!
Visca Versa 1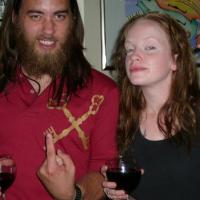 Visca Versa 1
Created by:
T-bag
Tracks:
6
Length:
00:27:48
Keywords
1. Buddies
2. Interview
3. Topics
Created on
6/25/07 10:35am
Level
5
Points
2357
Total visitors
40
Unique visitors
27
description:
I've wanted to do a interview/co-op style mix with somebody for a while, most of them fell through until now, my buddy Ian, known as Sledgbrainerd, stepped up to the plate and we came up with two awesome mixes. Our questions and answers are in the track descriptions, bitches.
tracklist
1
joakim : Drumtrax
IBAX:How many things can you do while you play percussions?
T-Bag:Just Myself
IBAX: Can you give [...]

SHOW MORE

Track 9 from Monsters and Silly Songs
Length: 00:06:07
Year: 2007
Track Description:
IBAX:How many things can you do while you play percussions?
T-Bag:Just Myself
IBAX: Can you give me a Hot Mustard Sandwich while you do these things?
T:Only a choclate hot pocket
I: I cant wait


SHOW LESS

2
Deerhoof : +81
IBAX:If you could make the winning shot at a Rock n Jock celebrity basketball game, what would it be?
SHOW MORE
Track 2 from Friend Opportunity
Length: 00:03:04
Year: 2007
Track Description:
IBAX:If you could make the winning shot at a Rock n Jock celebrity basketball game, what would it be?
T-bag:Pfssh, Slam Dunk, No Duh.
IBAX: Who would you play as if it was a video game? Dan Cortese or Simon Rex?
T: Oh, shit, your fuckin killin me smalls, Simon Rex from Karate Dog?
I: Yes that one



SHOW LESS

3
RJD2 : The Horror
IBAX:Where is my jacket?
T-Bag: I found it in the fridge when I was drunk and accidently ate it, oops. [...]

SHOW MORE

Track 1 from Deadringer
Length: 00:04:11
Year: 2002
Track Description:
IBAX:Where is my jacket?
T-Bag: I found it in the fridge when I was drunk and accidently ate it, oops. Don't worry bro, I'll buy a new one when I go to the grocery store.
IBAX: Grocery Store?



SHOW LESS

4
Mu : paris hilton
IBAX:Will you fuck me?
T-Bag:Eventually, I still have to get over my ex-girl friend, when I can feel [...]

SHOW MORE

Track 1 from paris hilton(single)
Length: 00:05:38
Year: 0000
Track Description:
IBAX:Will you fuck me?
T-Bag:Eventually, I still have to get over my ex-girl friend, when I can feel love in my heart, thats when I can feel love in my ass, man style.
IBAX: Docking?
T:Cum Aboard (Wink wink, nudge nudge, say no more)
I: Ay ay!


SHOW LESS

5
Yelle : Je veux te Voir
IBAX:Whats Worse: Spaghetti breath or Sardine lips?
T-bag:Sardine lips, when you kiss somebody with Sar [...]

SHOW MORE

Track 1 from Je veux te Voir
Length: 00:04:21
Year: 2006
Track Description:
IBAX:Whats Worse: Spaghetti breath or Sardine lips?
T-bag:Sardine lips, when you kiss somebody with Sard lips, its like thier teasing you, your not actually going to eat any, anytime soon 'cause they gobbled 'em down. Shriek 3 worst then anything, thought I'd throw that out
IBAX: DO You think I'll be ever to love again?
T:With a little help from your friends, I'm done with love, I can't do it anymore. I just masterbate all the time, at work, at other peoples work, at the middle school, under bridges...
I: Me too man, me too. We should do that together and make an inspirational buddy movie about it.



SHOW LESS

6
The Knife : You take my breath away
IBAX:Can I have a dollar for video poker?
T-bag:For a can of Sardines
IBAX: Can I have a War [...]

SHOW MORE

Track 8 from Deep Cuts
Length: 00:04:27
Year: 2005
Track Description:
IBAX:Can I have a dollar for video poker?
T-bag:For a can of Sardines
IBAX: Can I have a Warm Mayo Burrito?
T:If you eat your Choco Hotpocket.
I: I'll eat your hot pocket anyday of the week

SHOW LESS
Tag Board
You must log in to leave a tag
Stuff
Quick Jump
T-bag's other mixes
Related mixes
recent visitors
show all