[?]
Not a member? Sign-up now, it's free!
Login
[?]
These are links to some of the major sections in the mixtape collective.
Lists: Browse various lists that are generated by the loads of data we have collected.
Contests: Check out the latest contests, see previous winners, and find out how you can be a part
Music: Check out our ever-growing database of musical knowledge! Use it to find any artist, album, or track that has been entered since the birth of the site and rate and find detailed usage statistics.
Main
[?]
Tired of looking at the same old pages? Try checking out a random one, you never know what you might find...
Random!
Bass Elements... A mix for Bobobasso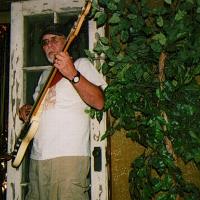 Bass Elements... A mix for Bobobasso
Created by:
johnny_luddite
Tracks:
13
Length:
01:02:14
Keywords
1. bobobasso
2. bass
3. bobcats
Created on
8/31/07 12:10am
Level
4
Points
1763
Total visitors
32
Unique visitors
14
description:
Oh joy! I was going to do a birthday mix to myself to celebrate 50 years exposure to that dang infernal beat music, but instead, I was pleasantly suprised to see that all my pestering has paid off, and I have finally persuaded someone to join MTC. Bobobasso is a member of The Bobcat Blues Band www.bobcatblues.com as am I. He is also a good friend, a rare commodity in these troubled times. This mix is about his instrument of choice, the bass guitar. This is a bass heavy selection for a bass heavy dude!
tracklist
1
The Who : My Generation
This mix could not start any other way. The mighty Ox, John Entwistle and (as far as I know) the first bass so [...]

SHOW MORE

Track 2 from Then and Now: 1964-2004
Length: 00:03:20
Year: 2004
Track Description:
This mix could not start any other way. The mighty Ox, John Entwistle and (as far as I know) the first bass solo on a hit record! Bobobasso holds himself like Entwistle onstage. (I mean his posture, not that he actually holds himself...you know!)

SHOW LESS

2
New Order : Blue Monday
Peter Hook, the bass player of Joy Division and New Order has always reminded me of Entwistle. He leads 'Blue [...]

SHOW MORE

Track 5 from Power, Corruption & Lies
Length: 00:07:29
Year: 1983
Track Description:
Peter Hook, the bass player of Joy Division and New Order has always reminded me of Entwistle. He leads 'Blue Monday' with a gigantic bass riff the way Entwistle led 'My Generation.' Brilliant stuff.

SHOW LESS

3
The Beatles : Helter Skelter
Four young lads from Liverpool who changed the world blah blah blah. Yeah we know, but one aspect of the whole [...]

SHOW MORE

Track 23 from The Beatles (White Album)
Length: 00:04:28
Year: 1968
Track Description:
Four young lads from Liverpool who changed the world blah blah blah. Yeah we know, but one aspect of the whole thing that is not made enough of is the revolutionary effect McCartney's bass playing had on modern popular music. Here it is a big booming monstrosity, just what was needed. On other fab four stuff, he darts in and out of the melody, goes up on the octave, fills out the sound.

SHOW LESS

4
Pink Floyd : Speak to Me / Breathe
I see a lot of McCartney's bass influence on Roger Waters of the Floyd. No flash, just simple notes that fill [...]

SHOW MORE

Track 1 from Dark Side Of the Moon
Length: 00:03:57
Year: 1973
Track Description:
I see a lot of McCartney's bass influence on Roger Waters of the Floyd. No flash, just simple notes that fill in the holes in that trademark sound. I always wanted to use this part way through a mix, rather than at the beginning!

SHOW LESS

5
Mogwai : Black Spider
And for me at least, a logical progression from Floyd is Mogwai. Dominic Aitchison is a very supportative bass [...]

SHOW MORE

Track 1 from Zidane: A 21st Century Portrait
Length: 00:05:04
Year: 0000
Track Description:
And for me at least, a logical progression from Floyd is Mogwai. Dominic Aitchison is a very supportative bass player, but he comes through with a few fills, and his contribution helps build the texture of the beautiful sound they make. I am suprised that the 'Zidane' soundtrack albujm was not listed up here, I find it entrancing.

SHOW LESS

6
The Allman Brothers Band : In Memory Of Elisabeth Reed
When Duane Allman died in a biker accident it was a tragedy for music, but so was the motorbike related death [...]

SHOW MORE

Track 4 from Idlewild South
Length: 00:06:56
Year: 1970
Track Description:
When Duane Allman died in a biker accident it was a tragedy for music, but so was the motorbike related death of Allman's bass player Berry Oakley. He was key to their improvised sound. On this instrumental, the music flows because of his interaction with the twin drummers and the rest of the band. He has an almost jazz feel without actually being a jazz player.

SHOW LESS

7
Charles Mingus : Goodbye Pork Pie Hat
So here we are in jazz quarters. The music of Charles Mingus defies description so I won't really try. My frie [...]

SHOW MORE

Track 2 from Mingus Ah Um
Length: 00:05:44
Year: 1959
Track Description:
So here we are in jazz quarters. The music of Charles Mingus defies description so I won't really try. My friend Dick Heckstall-Smith, who once spent an afternoon jamming with the man, and was forever in awe of his playing and compositional abilities.

SHOW LESS

8
Jack Bruce : Politician
Jack Bruce is another guitarist my friend Dick worked with. In fact they were in two bands together before Bru [...]

SHOW MORE

Track 8 from Cities Of The Heart (Disc 2)
Length: 00:05:49
Year: 0000
Track Description:
Jack Bruce is another guitarist my friend Dick worked with. In fact they were in two bands together before Bruce joined Cream, and worked many times with each other after Cream were no more. This was a song Bruce first recorded with Cream, but I prefer this live solo version. The bass riff dominates the song alongside Bruce's powerful vocal. Awesome stuff.

SHOW LESS

9
Yes : The Fish (Schindleria Praematurus)
Chris Squire was always one of my favorite prog rock bass players, here playing his signature piece with Yes. [...]

SHOW MORE

Track 7 from Fragile
Length: 00:02:42
Year: 1972
Track Description:
Chris Squire was always one of my favorite prog rock bass players, here playing his signature piece with Yes.

SHOW LESS

10
Red Hot Chili Peppers : Higher Ground
Whatever you think of the Chilli Peppers, Flea is a force in bass playing. Another example of the bassline com [...]

SHOW MORE

Track 2 from Mother's Milk
Length: 00:03:22
Year: 1989
Track Description:
Whatever you think of the Chilli Peppers, Flea is a force in bass playing. Another example of the bassline commanding the song.

SHOW LESS

11
Public Image Ltd. : Memories
Jah Wobble is a bass player who wears his world music roots on his fretboard. I loved the textures and tones h [...]

SHOW MORE

Track 2 from Second Edition
Length: 00:05:08
Year: 0000
Track Description:
Jah Wobble is a bass player who wears his world music roots on his fretboard. I loved the textures and tones he created for the former Mr Rotten to rant over. Wobble is one of the good guys.

SHOW LESS

12
The Stranglers : Walk On By
JJ Burnel shows us what the Doors might have sounded like if they had employed a proper bass player and not ju [...]

SHOW MORE

Track 18 from The Very best Of The Stranglers
Length: 00:04:25
Year: 2006
Track Description:
JJ Burnel shows us what the Doors might have sounded like if they had employed a proper bass player and not just Ray Mazarek's foot pedals. Trippy new wave bass playing at it's finest, oddly reminiscent of Chris Squire actually.

SHOW LESS

13
The Who : The Ox
Last word to Entwistle, 'The Ox'. Welcome to MTC my friend Mr Bobobasso. This was only ever meant to be a trol [...]

SHOW MORE

Track 10 from My Generation
Length: 00:03:50
Year: 0000
Track Description:
Last word to Entwistle, 'The Ox'. Welcome to MTC my friend Mr Bobobasso. This was only ever meant to be a troll through some bass playing I like, not a 'best of bass' thing, so if your favorite is not here, I am sorry. (I'm not really!)

SHOW LESS
Tag Board
You must log in to leave a tag
Stuff
Quick Jump
johnny_luddite's other mixes
Related mixes
recent visitors
show all