[?]
Not a member? Sign-up now, it's free!
Login
[?]
These are links to some of the major sections in the mixtape collective.
Lists: Browse various lists that are generated by the loads of data we have collected.
Contests: Check out the latest contests, see previous winners, and find out how you can be a part
Music: Check out our ever-growing database of musical knowledge! Use it to find any artist, album, or track that has been entered since the birth of the site and rate and find detailed usage statistics.
Main
[?]
Tired of looking at the same old pages? Try checking out a random one, you never know what you might find...
Random!
The Eternal Cabaret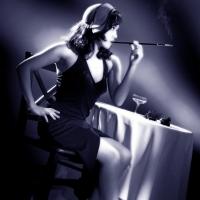 The Eternal Cabaret
Created by:
johnny_luddite
Tracks:
13
Length:
00:48:45
Keywords
1. Cabaret
2. decadence
3. hell
Created on
9/14/07 02:02am
Level
5
Points
2055
Total visitors
45
Unique visitors
22
description:
It is sometime in the last hundred years. In some once beautiful, now faceless European city, the ghosts of Nationalism, Fascism, Communism, rampant consumerism and inevitable wars haunt the almost deserted streets. Once grandiose buildings lay crumbling as the detritus of a society that has woefully failed on all counts litters the filthy sidewalks. Here and there a few old women and young children beg for food and clothing stamps, some resort to selling their bodies for pennies. Others fall by the wayside, understanding all too late that theirs is a lost cause.

In one particularly disreputable avenue, disreputable even by the terms of the day, music can be heard. It comes from what on first glance appears to be an abandonned warehouse. A black guy called Steve stands by what passes for a door. He looks for all intents and purposes to be a late 19th Century prize fighter, oddly reminiscent of a minor character in a Sherlock Holmes short story. Next to him, Rice Miller, AKA. Sonny Boy Williamson II and a man who calls himself Snoop Dog swap pimp stories as they frisk anyone foolish enough to seek to enter the building in search of the music that wafts through the broken walls. Sonny Boy brandishes a knife and seems like he knows how to use it. If you can get by this pair, then you would find yourself in what appears to be an endless corridor. After some minutes you would reach the box office where someone vaguely familiar yet nameless sits smoking, ready to dispense a pass for the evening, providing the compensation proves to be to his satisfaction. Finally, you clutch the ticket in your hand and you are through the swing doors. Immediately, your senses would become assaulted by the entertainment on offer. The Eternal Cabaret, ladies and gentlemen. The living, the dead and the yet to be born up there singing to you, singing about you. The world as you know it would cease to exist as the Cabaret enfolds you...Bienvenue, Wilkommen, Welcome...
tracklist
1
Marlene Dietrich : Give Me The Man
The boys and girls of the chorus slink onto the tiny stage in all their sultry decadence, moving in perfect sy [...]

SHOW MORE

Track 8 from Marlene Dietrich
Length: 00:03:05
Year: 0000
Track Description:
The boys and girls of the chorus slink onto the tiny stage in all their sultry decadence, moving in perfect sync to unknown silent music. As they freeze, an elegant woman can be seen leaning against a lamp-post, dressed in a man's pinstripe suit, smoking an unfiltered cigarette. She looks up, and demands to be given the man. The cabaret has begun...

SHOW LESS

2
Billie Holiday : Strange Fruit
The next time the performance space is lit, we see Lady Day herself, Gardenia in her hair, clumsy makeup faili [...]

SHOW MORE

Track 5 from The Ultimate Collection
Length: 00:03:14
Year: 2002
Track Description:
The next time the performance space is lit, we see Lady Day herself, Gardenia in her hair, clumsy makeup failing to conceal bruises on her arms and face. She approaches the microphone, and with a tear on one cheek, tells the story of lifeless black bodies hanging from Southern trees...

SHOW LESS

3
Frank Sinatra : In the Wee Small Hours of the Morning
A spotlight picks up a gaunt striking young man, pork pie hat on his head, highball in his hand. He is perched [...]

SHOW MORE

Track 29 from Sinatra 80th: All the Best
Length: 00:02:59
Year: 1995
Track Description:
A spotlight picks up a gaunt striking young man, pork pie hat on his head, highball in his hand. He is perched on a barstool, singing with the voice but not look of an angel...

SHOW LESS

4
Nico : Femme Fatale
We now see a once beautiful woman hunched over a harmonium, in all her junkie splendor. In her broken Mid-Euro [...]

SHOW MORE

Track 6 from Innocent & Vain
Length: 00:02:37
Year: 0000
Track Description:
We now see a once beautiful woman hunched over a harmonium, in all her junkie splendor. In her broken Mid-European accent she informs us that "You're written in her book, you're number 47, take a look."

SHOW LESS

5
PJ Harvey : Rid of Me
Another woman takes the stage, flanked by the boys and girls of the chorus brandishing snakes. She writhes on [...]

SHOW MORE

Track 1 from Rid of Me
Length: 00:04:29
Year: 1993
Track Description:
Another woman takes the stage, flanked by the boys and girls of the chorus brandishing snakes. She writhes on the groud as the sexual implications of her musical tirade become apparent...

SHOW LESS

6
Bjork : Possibly Maybe
A crescent moon descends from the rafters. Perched on it, Bjork weaves her magic as you suck the ice of your M [...]

SHOW MORE

Track 8 from Post
Length: 00:05:06
Year: 1995
Track Description:
A crescent moon descends from the rafters. Perched on it, Bjork weaves her magic as you suck the ice of your Manhattan.

SHOW LESS

7
Tom Waits : Earth Died Screaming
The chorus are dressed as skeletons in top hats, luminous paint on their luscious skin shining in the half lig [...]

SHOW MORE

Track 1 from Bone Machine
Length: 00:03:41
Year: 1992
Track Description:
The chorus are dressed as skeletons in top hats, luminous paint on their luscious skin shining in the half light. Waits crouches on the floor as the cacophony begins...

SHOW LESS

8
Django Reinhardt : Brazil
As the patrons swill their overpriced cocktails and try to decide who or what to sleep with after the show, th [...]

SHOW MORE

Track 7 from Jazz in Paris, Vol. 91: Nuages
Length: 00:02:27
Year: 2004
Track Description:
As the patrons swill their overpriced cocktails and try to decide who or what to sleep with after the show, the original Gypsy King works his magic on stage before the next assault on the senses begins.

SHOW LESS

9
Elvis Presley : baby Let's Play House
Many of the performers at the Eternal Cabaret exude a sexual energy that burns brightly but cannot possibly la [...]

SHOW MORE

Track 2 from Chronicles 1954 - 1963 Disc 1
Length: 00:02:17
Year: 0000
Track Description:
Many of the performers at the Eternal Cabaret exude a sexual energy that burns brightly but cannot possibly last too long. That is certainly the case by the electrifying young man gyrating from his hips. Backed by his friends Scotty and Bill the young man has complete control of hearts and minds. Then he is gone..;

SHOW LESS

10
Siouxsie & the Banshees : Spellbound
At the back of the stage, there is some webbing, not unlike a spiders web. Siouxsie Sioux is wrapped up in the [...]

SHOW MORE

Track 1 from Juju
Length: 00:03:17
Year: 1981
Track Description:
At the back of the stage, there is some webbing, not unlike a spiders web. Siouxsie Sioux is wrapped up in the web, caught in the spotlight like a deer in the thrall of a four by fours headlights... All the same, it is she who has caught us, not the other way round...

SHOW LESS

11
David Bowie : Wild Is the Wind
In the kingdom of the lost, the thin white duke is king...

SHOW MORE

Track 6 from Station to Station
Length: 00:06:04
Year: 1976
Track Description:
In the kingdom of the lost, the thin white duke is king...

SHOW LESS

12
Nick Cave And The Bad Seeds : Up Jumped the Devil
Next, a lounge act, but an act from a lounge you could never hope to own, and only pray that you never visit.. [...]

SHOW MORE

Track 2 from Tender Prey
Length: 00:05:16
Year: 1987
Track Description:
Next, a lounge act, but an act from a lounge you could never hope to own, and only pray that you never visit...

SHOW LESS

13
Lotte Lenya : Alabama Song
It is hard to tell whether the cabaret star on the stand now is young or old. Perhaps she is both. What is kno [...]

SHOW MORE

Track 17 from Kurt Weill: Berlin & American Theater Songs
Length: 00:04:13
Year: 0000
Track Description:
It is hard to tell whether the cabaret star on the stand now is young or old. Perhaps she is both. What is known is that she sings the words of her former lover to the music of her former husband. Music spills from her like drops from an almost empty whiskey bottle...

SHOW LESS
Tag Board
You must log in to leave a tag
Stuff
Quick Jump
johnny_luddite's other mixes
Related mixes
recent visitors
show all