[?]
Not a member? Sign-up now, it's free!
Login
[?]
These are links to some of the major sections in the mixtape collective.
Lists: Browse various lists that are generated by the loads of data we have collected.
Contests: Check out the latest contests, see previous winners, and find out how you can be a part
Music: Check out our ever-growing database of musical knowledge! Use it to find any artist, album, or track that has been entered since the birth of the site and rate and find detailed usage statistics.
Main
[?]
Tired of looking at the same old pages? Try checking out a random one, you never know what you might find...
Random!
Qualca - The Musical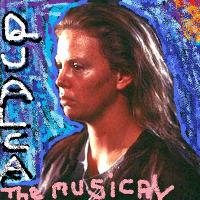 Qualca - The Musical
Created by:
johnny_luddite
Tracks:
17
Length:
01:19:36
Keywords
1. Qualca
2. fictitious
3. musical
Created on
12/01/07 10:31pm
Level
5
Points
2428
Total visitors
54
Unique visitors
22
description:
QUALCA - THE MUSICAL

A fictitious musical for a fictitious MTC member!

You have been warned!
tracklist
1
KLF : WHat Time Is Love (LP Mix)
There is a blinding flash in the sky! Is it a bird, is it a plane? No, it is an alien life form looking oddly [...]

SHOW MORE

Track 1 from The White Room
Length: 00:04:45
Year: 0000
Track Description:
There is a blinding flash in the sky! Is it a bird, is it a plane? No, it is an alien life form looking oddly like Charlize Theron in "Monster". Qualca (for it is she) has fallen to earth. She arrives in a bad part of Washington D.C. She sees poverty, violence and pain all around her, and with a tear in her eye, she says, "WHAT TIME IS LOVE?"

SHOW LESS

2
Chicago : Does Anybody Really Know What Time It Is?
She wanders lonely as a Qualca till she reaches Capitol Hill. Multitudes oif movers and shakers move along the [...]

SHOW MORE

Track 2 from Chicago Transit Authority
Length: 00:04:34
Year: 1969
Track Description:
She wanders lonely as a Qualca till she reaches Capitol Hill. Multitudes oif movers and shakers move along the sidewalks on their way to work. The only people not caught up in the rush are some itinereant time warped rock musicians with aspirations to be The Glenn Miller Band. She approaches them and poses the question. "DOES ANYBODY REALLY KNOW WHAT TIME IT IS?"

SHOW LESS

3
David Bowie : I'm Afraid Of Americans
She finds herself on the White House lawn. The President du jour is making a statement about something. Her at [...]

SHOW MORE

Track 8 from Earthling
Length: 00:05:00
Year: 1997
Track Description:
She finds herself on the White House lawn. The President du jour is making a statement about something. Her attention is drawn by a thin white squirrel who points at the ongoing scene and tells her, "I'M AFRAID OF AMERICANS!"

SHOW LESS

4
Kraftwerk : Trans Europe Express
The squirrel and Qaulca decide that to truly understand the nature of the land they must now call home, they s [...]

SHOW MORE

Track 4 from Trans Europe Express
Length: 00:06:42
Year: 1977
Track Description:
The squirrel and Qaulca decide that to truly understand the nature of the land they must now call home, they should explore it further. They take a cross country train heading for the West Coast, but stopping at all points. Onboard they meet some nice German computer operators who tell tales of a wondrous train system in their home country. Qaulca asks if that train would make it possible to "MEET IGGY POP AND DAVID BOWIE?"

SHOW LESS

5
Run DMC : Walk This Way
Leaving the German computer geeks to study Dusseldorf train timetables, Qualca and the squirrel wander the tra [...]

SHOW MORE

Track 3 from Ultimate Run DMC
Length: 00:05:11
Year: 2003
Track Description:
Leaving the German computer geeks to study Dusseldorf train timetables, Qualca and the squirrel wander the train. Eventually two ticket collectors meet up with them. One is an ageing cable reality TV star, the other a wrinkled old man with a passing resemblance to Mick Jagger. They ask for the pairs train tickets. When none can be produced, they ask them to "WALK THIS WAY!"

SHOW LESS

6
Devo : Red Eye Express
QUALCA tells the ticket collectors that they are "AS ONE WITH THE SEAGULLS WHO FOLLOW THE TRAWLER" This confus [...]

SHOW MORE

Track 13 from Duty Now For The Future
Length: 00:02:46
Year: 1979
Track Description:
QUALCA tells the ticket collectors that they are "AS ONE WITH THE SEAGULLS WHO FOLLOW THE TRAWLER" This confuses them long enough for her and the squirrel to make their escape from THE RED EYE EXPRESS!

SHOW LESS

7
Talking Heads : Heaven
They find themselves in rural Illinois. The Squirrel looks around at the verdant greenery and suggests that th [...]

SHOW MORE

Track 8 from Fear of Music
Length: 00:04:00
Year: 1979
Track Description:
They find themselves in rural Illinois. The Squirrel looks around at the verdant greenery and suggests that they must be in Heaven. Qaulca holds her rodent friend in the palm of her hand and tells him that "HEAVEN, HEAVEN IS A PLACE WHERE NOTHING EVER REALLY HAPPENS."

SHOW LESS

8
The Orb : Into The Fourth Dimension
The pair wander into Chicago, but the old school garage, hip-hop, blues and deep dish pizza that the WIndy Cit [...]

SHOW MORE

Track 5 from The Orb's Adventures Beyond The Ultraworld
Length: 00:09:15
Year: 0000
Track Description:
The pair wander into Chicago, but the old school garage, hip-hop, blues and deep dish pizza that the WIndy City has to offer hold no attraction for Qaulca. When the squirrel asks where she would like to go to next, she replies, "INTO THE FOURTH DIMENSION"

SHOW LESS

9
The Sugarcubes : Fucking in Rhythm & Sorrow
The Squirrel is not so sure how the fourth dimension can be reached without an advance reservation, but sugges [...]

SHOW MORE

Track 10 from Life's too Good
Length: 00:03:21
Year: 1988
Track Description:
The Squirrel is not so sure how the fourth dimension can be reached without an advance reservation, but suggests that they can catch a plane to the West Coast. As they board the L Train on the way to O'Hare, Qaulca notices a couple who appear to be fornicating on the floor of the train. She points out that they are "FUCKING IN RHYTHM & SORROW"

SHOW LESS

10
Kate Bush : How to Be Invisible
The Squirrel trades his stash of nuts for plane tickets and soon they are on a flight bound for LA. The insura [...]

SHOW MORE

Track 5 from Aerial (Part One: A Sea of Honey)
Length: 00:05:32
Year: 2005
Track Description:
The Squirrel trades his stash of nuts for plane tickets and soon they are on a flight bound for LA. The insurance rep sitting next to Qaulca asks her what she is doing as she strikes a strange pose. She replies that she is learning "HOW TO BE INVISIBLE!"

SHOW LESS

11
The Eurythmics : Angel
The insurance rep is bemused, so much so that he asks the talking squirrel what manner of being is Qaulca. He [...]

SHOW MORE

Track 5 from Angel
Length: 00:05:11
Year: 1989
Track Description:
The insurance rep is bemused, so much so that he asks the talking squirrel what manner of being is Qaulca. He looks the man in the eye and tells him that she is an "ANGEL."

SHOW LESS

12
Depeche Mode : John The Revelator
The insurance rep spontaneously combusts, and the rest of the journey passes without incident. Arriving in LA, [...]

SHOW MORE

Track 2 from Playing The Angel
Length: 00:03:42
Year: 2005
Track Description:
The insurance rep spontaneously combusts, and the rest of the journey passes without incident. Arriving in LA, Qualca, seeking reason in a chaotic universe, approaches an old beggar dressed in an English flag and a 1968 Fleetwood Mac US tour tee shirt. She asks him for the answer and he proceeds to give her a vinyl LP record. She asks his name, and is told that he is JOHN(NY_LUDDITE) THE REVELATOR!

SHOW LESS

13
Nick Cave And The Bad Seeds : Deanna
Squirrel and Qaulca hike to Hollywood. There they find an imposing office. They read the sign. "SLEDGBRAINERD [...]

SHOW MORE

Track 4 from Tender Prey
Length: 00:03:45
Year: 1987
Track Description:
Squirrel and Qaulca hike to Hollywood. There they find an imposing office. They read the sign. "SLEDGBRAINERD INC. Your impossible dreams are my mundane reality." SLEDGBRAINERD (for tis he) begins to sing to Qaulca. "I'M NOT DOWN HERE FOR YOUR MONEY, I'M NOT DOWN HERE FOR YOUR LOVE, I'M DOWN HERE FOR YOUR SOUL!"

SHOW LESS

14
John Frusciante : Scratches
Unfazed by this, Qualca shows Sledgbrainerd the record. He attempts to play it but all that can be heard are h [...]

SHOW MORE

Track 10 from Inside Of Emptiness
Length: 00:04:19
Year: 2004
Track Description:
Unfazed by this, Qualca shows Sledgbrainerd the record. He attempts to play it but all that can be heard are hisses and clicks. Squirrel asks what the trouble is, and Sledg tells him, "SCRATCHES!"

SHOW LESS

15
The Beatles : Why Don't We Do It in the Road?
Sledg suggests consulting a young sage in the San Francisco area who may have a way to play the LP of destiny. [...]

SHOW MORE

Track 15 from The Beatles (White Album)
Length: 00:01:39
Year: 1968
Track Description:
Sledg suggests consulting a young sage in the San Francisco area who may have a way to play the LP of destiny. They set off on a road trip. At one point, Sledg helpfully suggests, "WHY DON'T WE DO IT IN THE ROAD!"

SHOW LESS

16
Bob Dylan : Not Dark Yet
They arrive in SF. Osborne (for it is he) hooks up his old world hi-fi in order to play the LP of destiny. The [...]

SHOW MORE

Track 7 from Time Out of Mind
Length: 00:06:29
Year: 1997
Track Description:
They arrive in SF. Osborne (for it is he) hooks up his old world hi-fi in order to play the LP of destiny. They all then marvel as his Bobness speaks to them in all his geriatrically cool glory. He tells them that it is "NOT DARK YET"

SHOW LESS

17
Pink Floyd : Any Colour You Like
As soon as the record finishes, the same blinding light which sent Qaulca to Earth some 16 songs ago returns t [...]

SHOW MORE

Track 7 from Dark Side Of the Moon
Length: 00:03:25
Year: 1973
Track Description:
As soon as the record finishes, the same blinding light which sent Qaulca to Earth some 16 songs ago returns to take her back to a land far far away. As Sledg and Osborn (and Eric and Galaxepi and Rachel and T-Bag and Youanddme and Beel and all the others I wanted to work in but didn't quite manage to)inappropriately dance the watusi, Squirrel asks Qaulca how he should remember her. As she fades away into the ether that is time and space she calls to him, saying "ANY COLOUR YOU LIKE!"

SHOW LESS
Tag Board
You must log in to leave a tag
Stuff
Quick Jump
johnny_luddite's other mixes
Related mixes
recent visitors
show all